The Morning Wellness Ritual That Keeps Actress Anna Camp So Damn Perky
Former mbg Deputy Editor
By Elizabeth Inglese
Former mbg Deputy Editor
Elizabeth Inglese is a writer living in San Fransisco, California. She earned her bachelor's in english literature and cultures from Brown University and her master's in writing from The University of Southern California. She's the former Deputy Editor of mbg, and has also worked for Vogue, Architectural Digest, Bon Appetit, and Good Magazine covering food, health, and culture.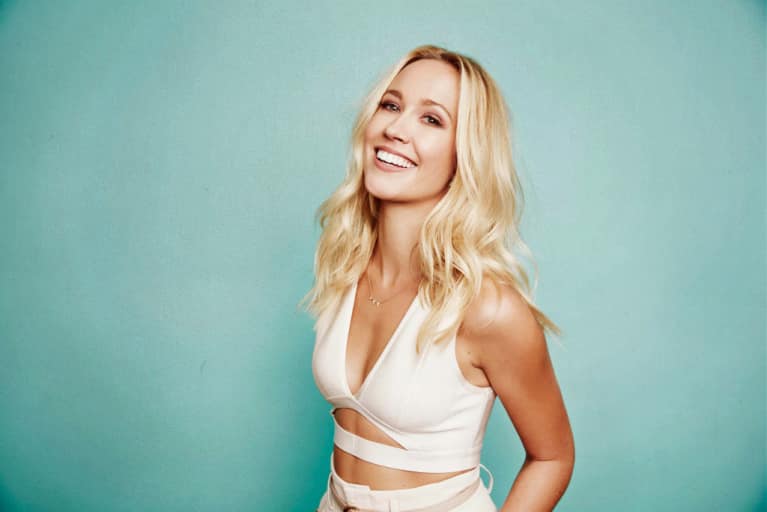 Anna Camp's roles in True Blood, Good Girls Revolt, and the Pitch Perfect franchise keep the South Carolina native on her toes. Her famously peppy personas require a carefully balanced wellness regimen. Here's exactly how Anna stays energizes and glowing throughout long days on the set.
mbg: Growing up, did your family instill in you healthy habits?
Anna Camp: My mom, Dee, always wanted me to eat my vegetables. I vividly remember HATING anything green. Now, I can't get enough! I loved my mom's spaghetti and also when my parents would cook pancakes in the morning sometimes. They both were great at making pancakes.
mbg: How did you learn about healthy eating?
AC: I learned about healthy eating when I was in college through friends and teachers. I went to UNCSA, an acting conservatory, and we were taught to treat our bodies very well because they are our tools and our temples.
mbg: What does a typical day of meals look like for you?
AC: I usually have a bottle of water as soon as I get up and then make a coffee or latte with almond milk. Then, I make scrambled eggs, black beans, avocado, and salsa if I'm really hungry or have yogurt with blueberries and almonds with a bit of honey. For lunch, I'll try to have a salad with a bit of protein like tuna or chicken and maybe half of a banana with almond butter for dessert. For dinner I'll have salmon fillet with steamed veggies like carrots and broccoli and finish with some chocolate almond popcorn squares for dessert.
mbg: What keeps you energized during a long day?
AC: Definitely a handful of almonds and a green juice and water. I keep the almonds in the glove compartment of my car in case I get trapped on the freeway between meetings and auditions.
mbg: How do you stay fit?
AC: Cardio all the way. Elliptical, running, hiking, swimming (my favorite), and dancing are my go-to's for a great workout.
mbg: What do you do to keep balance in your life?
AC: I unplug by taking my dog Rocky for a hike in LA. I usually don't listen to music on the hike. Just connecting with nature and being out in the sun (wearing SPF, of course) is my way of unwinding.
mbg: What do you do to feel extra beautiful before a red carpet or shoot?
AC: I'm very careful with my skin and with products. I wash every morning and night with Kate Somerville gentle cleanser and swear by Mario Badescu Rose Hips oil. No lotions or creams for me.
mbg: Favorite weird beauty/wellness tip?
AC: I don't think I do anything weird for beauty or wellness. I'm pretty low-maintenance.
mbg: The drink that keeps your peppy?
AC: Iced almond milk latte with vanilla.