Morning Routines In The Age Of COVID: How Team mbg Is Switching Ours Up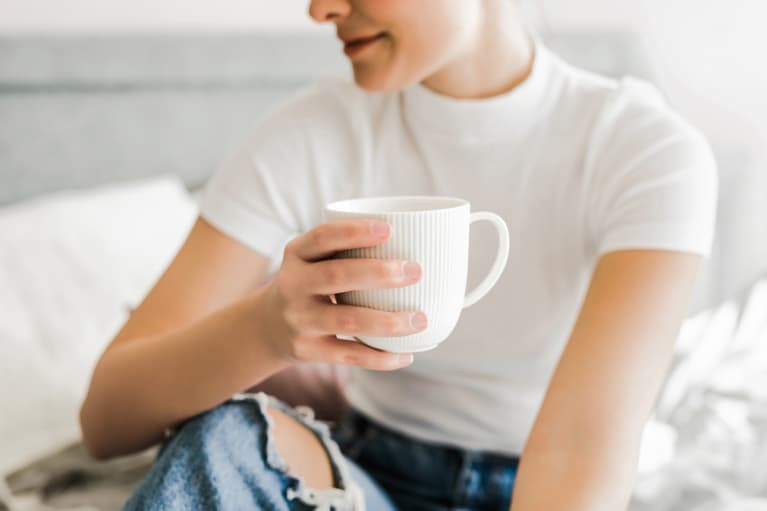 During normal times, some people stick to their morning routines with a level of rigidity and focus that's almost Olympian. They work out, meditate, journal, meal prep, and stretch—all before opening their first email.
Now, things are different. We're working from home or braving a world that feels unsafe. We're constantly at least a little bit stressed. We're finding the stuff that used to feel important—say, waking up early and hitting the gym—needing to take a back seat.
Well, the beauty of a routine is that it can shift and evolve to suit any times, even the weird ones. Here's how team mbg is making our mornings a little bit more gentle and supportive right now:
I'm ditching my alarm and waking up naturally.
One thing I've done is to stop using an alarm (well, I have one set right before the workday starts, just to be safe). It feels really great to wake up by my own internal clock, and I've found I might not be as bad of a morning person as I thought. I will not go as far as to say it's making me a morning person—I'm not!—but listening to my body about when its ready to get up has really changed my mood. I'm more relaxed and more eager to get things started.
—Alexandra Engler, Senior Beauty & Lifestyle Editor
I'm trading in my coffee for gua sha.
I've never had a good gua sha game until now, but I've been giving myself a mini facial massage each morning and find that it actually wakes me up and gets my blood flowing. It's strangely energizing! I also sleep on my stomach with my face smashed into the pillow, so it helps that puffiness subside. Then I make myself a cup of tea because I've found that too much caffeine makes me a bit wired when I can't leave the house. I'm on Day 6 of no coffee (!!!).
—Jamie Schneider, Editorial Assistant
I'm leaning on calming supplements.
Prior to quarantine, I used to have an entire morning routine: I'd meditate and listen to my favorite podcast on the way to work. But these days, I wake up feeling anxious before I even open my eyes. The first thing I do in the mornings is take mbg's hemp multi+ supplement. The full-spectrum hemp oil helps manage my anxiousness, and the vitamin D supports my immunity. I've also started streaming The Class by Taryn Toomey and have found that it helps my day start on a more positive note.
—Samantha Schwartz, Client Experience Director
I'm easing into the day with a morning meditation.
I've been trying to do my daily meditation in the morning (doesn't happen every day but here and there), and when I do, it's a really nice way to ease into the day. Also, my pup usually needs to go outside sometime between 9:30 and 10 a.m., which is a good excuse to stand in my backyard sipping coffee for a few minutes.
—Sarah Regan, Editorial Assistant
I'm making movement more of a priority—even if it's just a few minutes.
There are a couple of morning rituals I've tried to keep the same, like enjoying my cup of coffee and having a breakfast staple (usually oatmeal or a smoothie). But since I no longer have a commute to guarantee my body moves before work, I've been trying to start my day with some kind of movement. Sometimes it's a run outside, but other days it's just 15 minutes of yoga or Pilates. While I've always liked the idea of exercising every morning, I'm not exactly a "morning person" and usually default to a post-work workout. But now, I'm making it a priority!
—Kristine Thomason, Senior Health Editor
I'm starting the day with a walk and a good podcast.
With the new time in the morning, I've been prioritizing getting moving—I've always liked the idea of it, but I've never been motivated enough. I'm feeling really lucky to be somewhere I can go for a long walk in the a.m., and I usually listen to a podcast to keep me company. Also making a strong homemade latte as soon as I get back because I am not strong enough to quit my morning cuppa, and it gives me some sense of normalcy.
—Eliza Sullivan, Editorial Assistant