More Athletic Women Tend To Have More Sex Partners, Study Shows
Contributing Sex & Relationships Editor
By Kelly Gonsalves
Contributing Sex & Relationships Editor
Kelly Gonsalves is a sex educator and journalist. She received her journalism degree from Northwestern University, and her writings on sex, relationships, identity, and wellness have appeared at The Washington Post, Vice, Teen Vogue, Cosmopolitan, and elsewhere.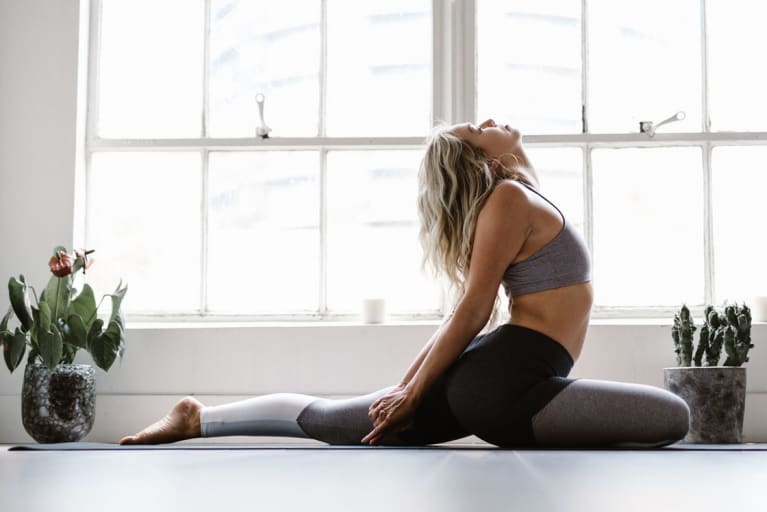 Certain types of people are apparently more likely to have a long list of past sexual partners, according to a new study published in the BMJ Sexual & Reproductive Health journal. One group of folks who tend to have had a more exciting sexual life? Women who work out.
An international team of researchers parsed through data on nearly 7,000 people in their 50s and older who'd completed a questionnaire on their sexual history, demographic background, and lifestyle. About 39 percent of the women had zero or one sexual partner ever in their lifetime, 37 percent had two to four partners, 16 percent between five and nine partners, and about 9 percent had more than 10 partners. Athletic women—i.e., women who reported regularly engaging in moderate to vigorous physical activity—were 73 percent more likely to have had more than 10 former lovers, the New York Post reports.
"Women who reported engaging in moderate and vigorous physical activity at least weekly were more likely to report a higher number of lifetime sexual partners than those who were less active," the researchers wrote in the paper. "Vigorous physical activity is usually achieved via participating in sport. Sport participation has been shown to track across the lifespan and may provide a setting for social interaction, thus increasing the potential to meet a greater number of potential sexual partners."
Past studies have shown interval training can boost hormones related to sex, such as testosterone, cortisol, and the growth hormone, and some research has found exercise itself can increase women's arousal.
Among men, 30 percent had zero or one partner, 31 percent had between two and four partners, 20 percent between five and nine partners, and 20 percent had more than 10. The researchers theorized that men tended to have more sexual partners than women either because having more testosterone makes them tend to have more sexual desire or because of the so-called sexual double standard, which is the dominant cultural notion that having a lot of sex is a positive thing for men and negative thing for women. Men's higher reported number of partners "may also be at least partly attributable to social desirability bias, with men more likely than women to overreport the number of sexual partners they have had," the researchers add.
Other personal qualities that seem to be associated with having more sex partners in your lifetime, according to the study:
Being young
Being divorced or being single
Being a smoker or drinking alcohol fairly regularly
For men, being gay
For women, being bisexual
For men, being really rich or really poor
For women, being white
Importantly, none of this should be construed as license to make assumptions about people of particular identities and lifestyles. These were just general trends; they're not definitive determinations (i.e., not all sporty gals are sleeping around). At the end of the day, having more or fewer sexual partners is just about personal preference. To each their own.
The researchers primarily wanted to know what kinds of people are having more sex out of a fear of them having greater risk of contracting and spreading STIs—so just make sure that if you are someone having a ton of sex with lots of different people, you're making sure to engage in safer sex practices that keep your body happy and healthy.