This Just In — Moon Juice Is Launching Adaptogenic Skin Care
Contributing Wellness & Beauty Editor
By Lindsay Kellner
Contributing Wellness & Beauty Editor
Lindsay is a freelance writer and certified yoga instructor based in Brooklyn, NY. She holds a journalism and psychology degree from New York University. Kellner is the co-author of "The Spirit Almanac: A Modern Guide to Ancient Self Care," with mbg Sustainability Editor Emma Loewe.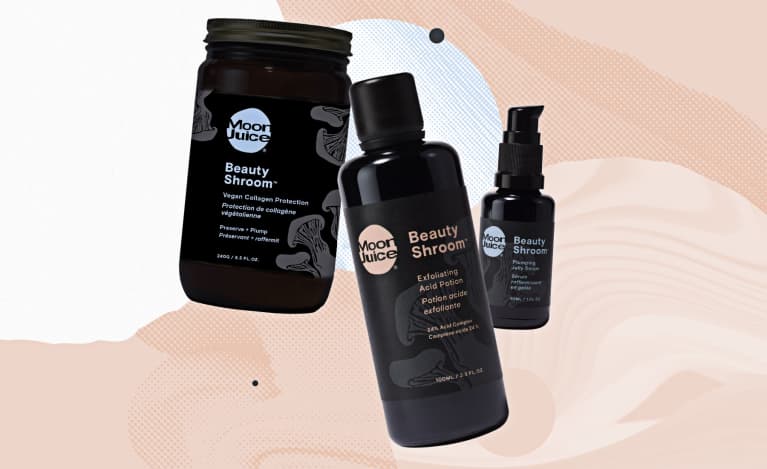 Over breakfast at Cafe Clover in New York City's West Village, Amanda Chantal Bacon told a room of beauty editors that, until she turned 35, she didn't really use skin care. This was especially shocking to hear because her skin has looked taken care of—dewy, clear, smooth—every time I've seen it in person. Tack on that Chantal Bacon is a mom; the founder of fast-growing adaptogenic, Los Angeles-based beauty and well-being company Moon Juice; and a newlywed who told me she's on the road for work more often than not, and the condition of her skin seems almost unfair to those of us who rely heavily on product and a skin care regimen for healthy-looking skin.
When she started noticing a few fine lines and wrinkles, she said an editor friend turned her on to Biologique Recherche's Lotion P50, a cult-favorite acid-based toner that would ultimately inspire her company's first foray into skin care. "I saw real changes," said Chantal Bacon. She didn't like that she had to turn to conventional skin care to get the desired results, nor did she want to continue using a product with potentially questionable ingredients, so she started thinking about how to make a version that speaks to Moon Juice's ingredient-conscious audience.
The three-product beauty and skin care line is called Beauty Shroom. If you want the Exfoliating Acid Potion, her version of P50 that retails for considerably less at $39, you'll have to pre-order on June 19 and wait until August to receive it. It's 25 percent acid, composed of five different ones—AHA (alpha-hydroxy acid), BHA (beta-hydroxy acid), salicylic acid, lactic acid, and glycolic acid. At the breakfast, Chantal Bacon said she doesn't even use a cotton ball but dispenses the product into her hands, spreads it over her fingertips, and just pats it into her skin for an instant glow.
The other two products are available starting on June 19. A $58 vegan collagen powder supplement called Vegan Collagen Protection that contains tremella mushroom to provide an antioxidant boost, tocotrienols to help fight oxidative stress, and sodium hyaluronate—an edible version of hyaluronic acid—for skin hydration. The Plumping Jelly Serum, also $58, is a thick, viscous, opaque serum that gets its color and texture from the silver ear mushroom. Chantal Bacon recommends using it after Exfoliating Acid Potion in the morning and/or evening.
Look for the collection online at Moon Juice and Sephora on June 19.