A Minimalist's Guide To The Holidays
mbg Sustainability Editor
By Emma Loewe
mbg Sustainability Editor
Emma Loewe is the Sustainability Editor at mindbodygreen and the author of "The Spirit Almanac: A Modern Guide To Ancient Self Care."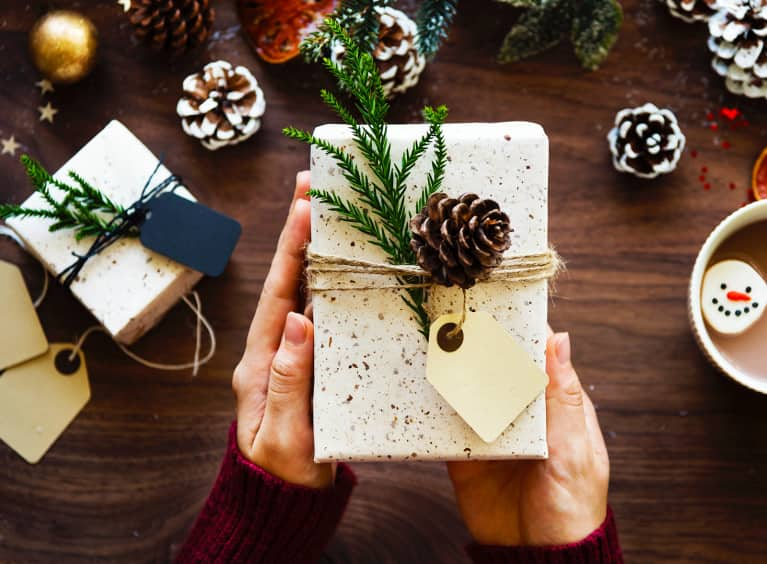 The holidays are often a time of excess: richer food, more alcohol, and extra shopping trips to find gifts for everyone on your list. Adopting a more minimalist mentality may just be the secret to a healthier, happier holidays, with a lower environmental footprint at that. In keeping with mbg's new push toward making wellness a You. We. All journey, here are a few ways to simplify the holiday season and make it more about tradition and togetherness—and less about consumerism.
When you're decorating your home:
Instead of buying new ornaments to add to your collection every year, test out this easy DIY tree décor hack: Cut up some citrus circles, bake until fragrant, and hang the circles using some wire. This zero-waste ornament looks like stained glass, smells like happiness, and provides a beautiful, unexpected accent to your tree or wreath.
Don't purchase anything that has an expiration date.
The holidays can become wasteful when they cause us to buy things we use once a year and then throw away or relegate to storage. If you buy an artificial tree, vow to use it for the next nine years (this is the magic number when using a fake tree usually starts to become less environmentally taxing than buying a real one every year), or consider an understated "wall tree" if you live in a smaller space. And instead of buying themed decorations that only make sense to display during the holidays, go for items that speak to the season and can be used for the next few months, like woody candles, white hanging lights, and cozy throws.
Make everything do double duty.
Have some tinsel lying around? Use it to form letters on a wall for New Year's or your next celebration. Not sure what to do with baubles after you take your tree down? Use them as table accents during your next dinner party. Adopting a reuse mentality will help you remember that every purchase—even the seemingly spontaneous—should be an investment, not a whim.
When you're choosing gifts:
Go for experiences over things.
Ordering gifts for all of your loved ones from lands near and far can lead to some serious carbon emissions. Instead, check out mbg's 2017 holiday gift guide that prioritizes experiences over things. Studies show that in the long run, experiential gifts are far more fulfilling than material ones anyway, and small acts of kindness are the ones that pack the most love. So write a thoughtful letter, give a donation in someone's name, or plan a day to do something new together. And when somebody else asks what you want this year, make it known that you'd prefer non-gifts too.
One way you can keep your gifting in check is by adopting the $100 holiday pledge that activist Bill McKibben describes in Mother Jones. He defends his choice to spend no more than $100 for family gifts on Christmas in saying, "If you believe that our consumer addiction represents our deepest problem—the force that keeps us from reaching out to others, from building a fair society, the force that drives so much of our environmental degradation—then Christmas is the nadir. Sure, advertising works its powerful dark magic year-round. But on Christmas morning, with everyone piling downstairs to mounds of presents, consumption is made literally sacred."
For any physical gifts you are giving this year, forgo wrapping paper in favor of brown paper bags, newspaper, old maps or calendars, or a reusable bag. This way, you're giving items a second life instead of buying new wrapping just to trash it.
When you're planning activities:
Seek out quiet moments of gratitude.
Instead of spending the holidays huddled around the TV, start a new tradition and welcome them with a gratitude ritual. Gather your family in a circle and ask each person to share one thing they are grateful for from the year that has passed, going one by one for a few moments. Then, cap it off by walking outside. Expressing gratitude and moving in nature are simple, proven ways to boost happiness—and they don't cost a thing.
This 3-day simplification plan will help you organize your life and cut out excess before the New Year.