New Study Proves How Mindfulness Helps Anxiety & Trauma
mbg Editorial Assistant
By Christina Coughlin
mbg Editorial Assistant
Christina Coughlin is an editorial assistant at mindbodygreen. She graduated from Georgetown University in 2019 with a degree in psychology and music.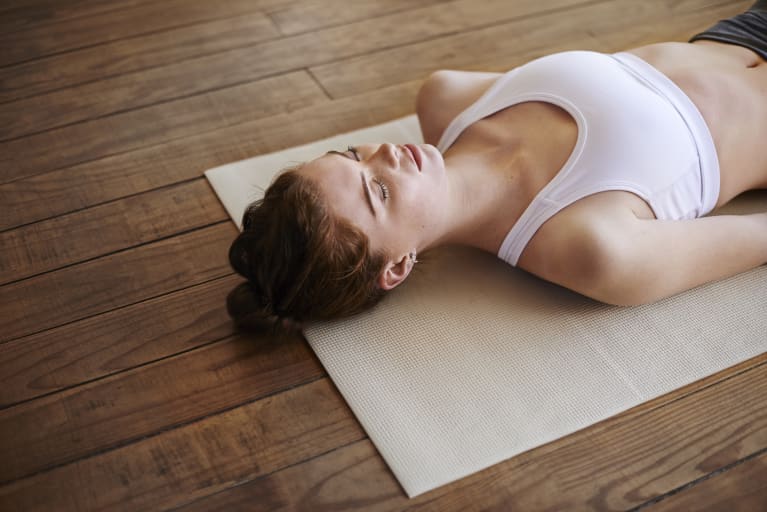 January 7, 2020 — 20:04 PM
With the stress of the holidays and family time finally starting to wind down, now is a good time to take a moment and reflect inward. Both meditation and mindfulness are essential pillars of self-care and are a great way to start off 2020 on the right foot.
Now, new research from the University of Southern Denmark found it can rid the body of negative emotions like fear and anxiety, giving us another reason to practice mindfulness.
Researchers recruited 26 participants and placed them into either an experimental or control group. While the experimental group went through a four-week mindfulness training consisting of daily practices of short breathwork or meditation through a smartphone app, the control group did not. After the monthlong training period, participants were brought into a lab to complete an experiment in emotions.
Researchers were able to condition specific fear reactions linked to certain images by subjecting participants to a small shock after showing them the images. The association of the shock with the images created a physiological response of fear within the body. Typically, these learned fear reactions are acquired through any sort of trauma or psychological disorders and can be very difficult to forget.
The following day, participants were brought back to test their reactions to the same images. The researchers discovered that subjects who had been trained in mindfulness were able to completely extinguish the fear reactions from the previous day, showing no response when faced with the images. The results, therefore, established the link between mindfulness and eliminating fearful and anxious emotions, which is the first time a study has proved this with direct physical evidence.
While we've been aware of the positive impacts mindfulness can have on a person, this study is groundbreaking in its proof of how these practices can work as a way to help someone who is suffering from fear and anxiety due to a past trauma. Things like guided meditation may offer assistance to typical psychological treatment, and patients could improve their control over trigger responses.
According to lead author Johannes Björkstrand, "We can show that mindfulness does not only have an effect on subjective experiences of negative emotions, as has been shown previously, but that you can actually see clear effects on autonomic arousal responses, even with a limited amount of training."
Due to the small size of the study, the researchers intend to conduct a more large-scale experiment following many of the same procedures, but with more participants and the incorporation of fMRIs to provide more in-depth data.
"We hope to show that the effect is robust and that we can replicate the current findings and also say what processes in the brain are involved in producing these effects," says Björkstrand.
If you want to get started with your mindfulness practice, check out these simple yet effective ways to be mindful in your everyday life.