mbg's Co-Founders Open The Door To Their Blissed-Out, Plant-Filled Apartment
mbg Sustainability Editor
By Emma Loewe
mbg Sustainability Editor
Emma Loewe is the Sustainability Editor at mindbodygreen and the author of "The Spirit Almanac: A Modern Guide To Ancient Self Care."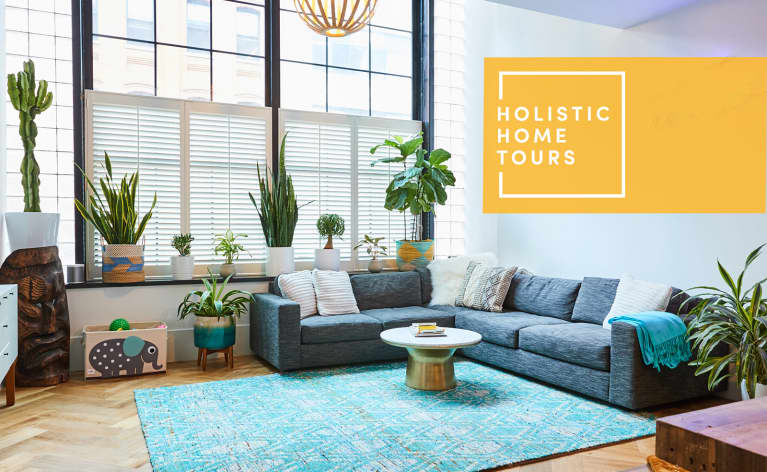 In this special edition of Holistic Home Tour, mindbodygreen's co-founders Jason and Colleen Wachob let us into their apartment in Dumbo, Brooklyn. Also home to their 13-month-old daughter, Ellie, the space comes alive with family photos, colorful artwork from friends, lush natural materials, and plenty of vibrant plants. Let's take a peek!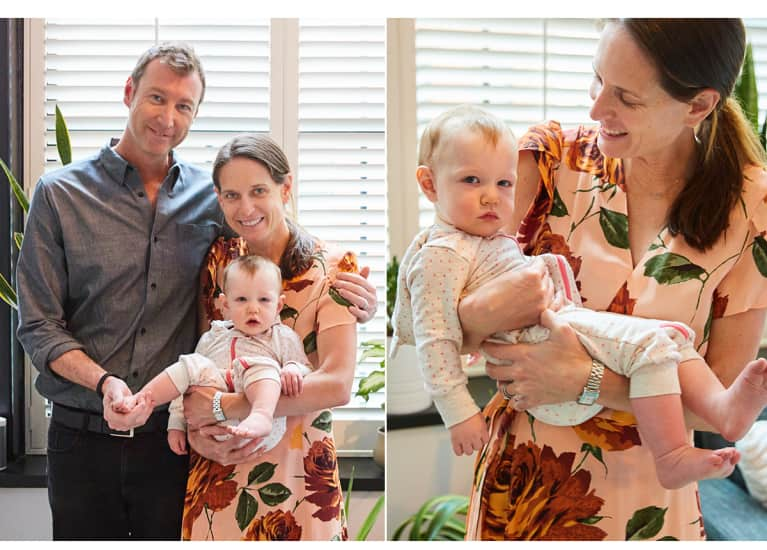 What's your favorite place to buy furniture and accessories?
"A lot of the larger furniture is from the nearby West Elm, like our reclaimed wood dining table. Our couch and a lot of our plants are from there, too. Some of our smaller accessories like the cushions on the dining bench—a gift from Tata Harper—are from ABC Home," says Colleen. They made a point of pulling Ellie's high chair up, so she has a spot at the table, too. "The big rug in our living room is from Gilt. It was on mega-sale, so we went ahead and bought two because we knew Ellie would make a mess of it! We also have a lot of family heirlooms and art from friends, which make the space feel more like ours."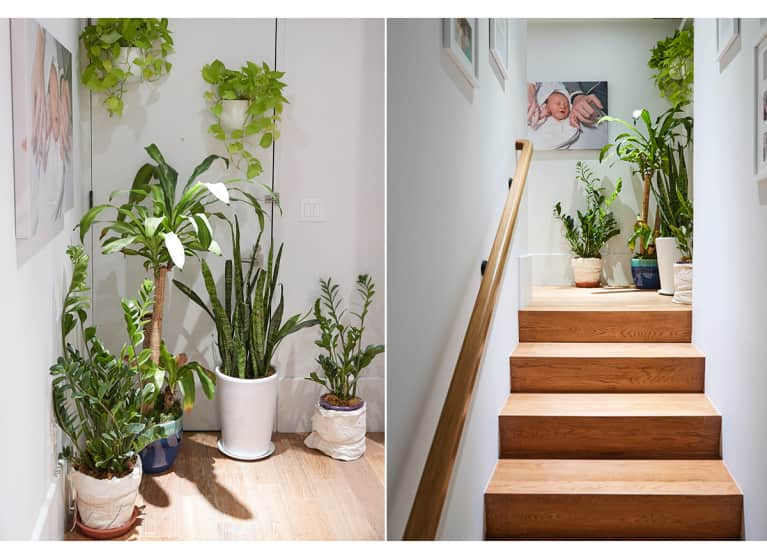 "Most of them are from La Catrina flower studio close by in Dumbo," says Jason, who has become a pro at knowing when the apartment's dozens of plant varieties—from the herb garden on the kitchen wall to the looming potted tree in their bathroom and air plants throughout—are in need of a watering.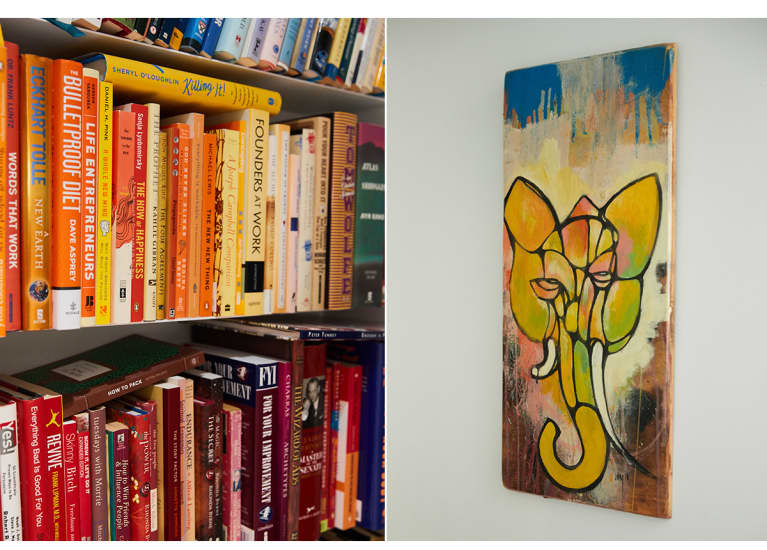 You moved in pretty recently—did it take a lot of work to get the apartment where it is now?
"We worked with our good friend and feng shui designer Dana Claudat when we first moved in last year. She went on our initial plant runs with us and wrapped a lot of the larger planters in burlap for a super-natural feel. She also helped us with some feng shui–approved touches, like organizing the books on our shelves by color and staggering the artwork," they explain. "We also repainted the whole place in soothing, light colors since it had really dark baseboards and doors when we first moved in."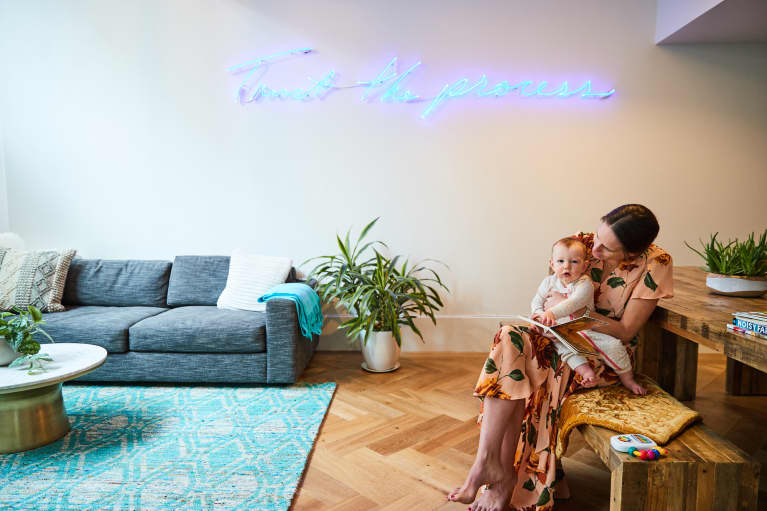 Coziest spot in your home and why?
"The living room! Before this, we lived in a 700-square-foot apartment for eight years and had a tiny futon for a sofa. We couldn't really sit together and watch TV, so when we knew we were moving here, we knew we'd be buying the biggest sectional that fit so we could sit together," says Jason, who comes in at 6-foot-7 to Colleen's 6 feet. "We didn't like being at home in our old place, but we love it now. And when you have a kid, that's important because you're at home a lot!"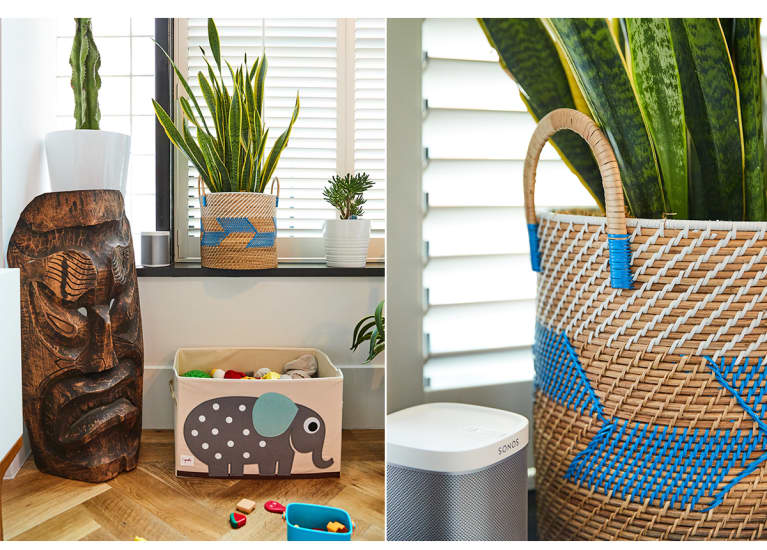 What noises can be heard in your home? What smells?
"We are pretty obsessed with our Sonos speakers to say the least," Colleen raves. "Whether it's relaxing music when we're hanging out or motivating music to help us get work done, they're almost always playing something in the background."
"And every morning I'll make my version of bulletproof for breakfast, which fills the space with that invigorating coffee smell," Jason adds.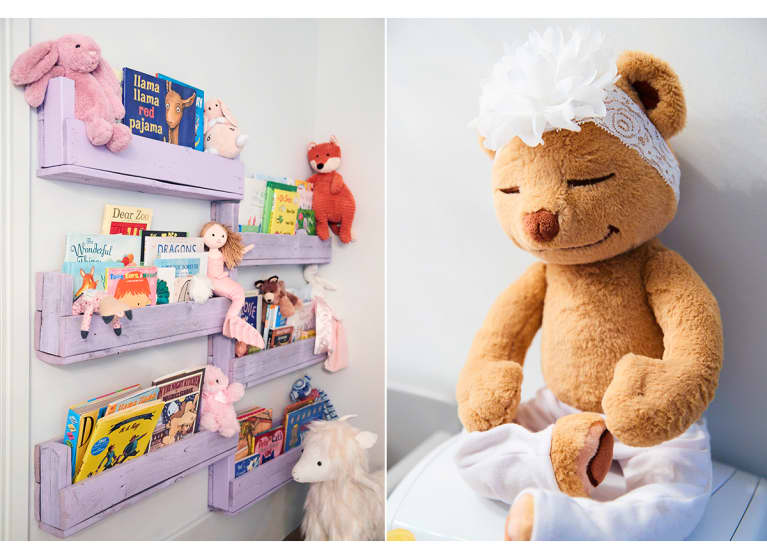 Ellie's room is so adorable!
"Thanks! Some of her stuffed animals and toys are from our childhood, and we got her a Meddy Teddy to get her into meditation. She has her Sonos, too, and we put on white noise sounds for her at night. Dana also added that flamingo pattern on the wall for some fun."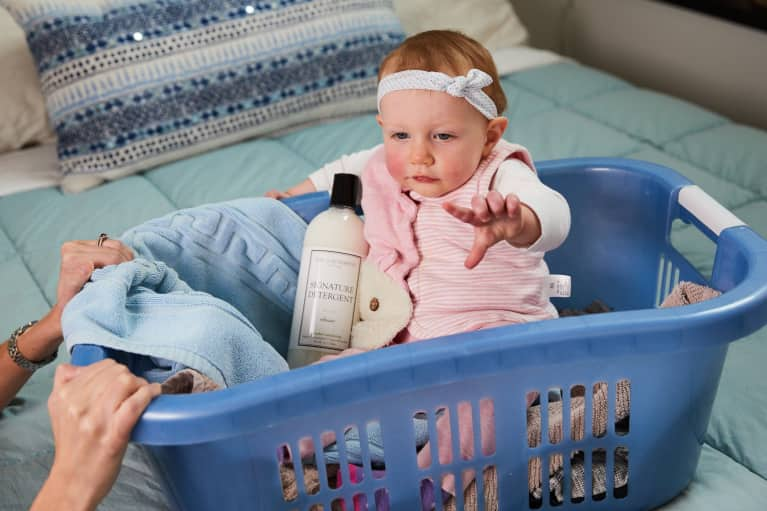 What else did you keep in mind when designing a home that is safe for her?
"It was also really important for us to switch over to natural cleaning products when Ellie came along. Now we use The Laundress for safe, non-toxic laundry care and Mrs. Meyer's for pretty much everything else."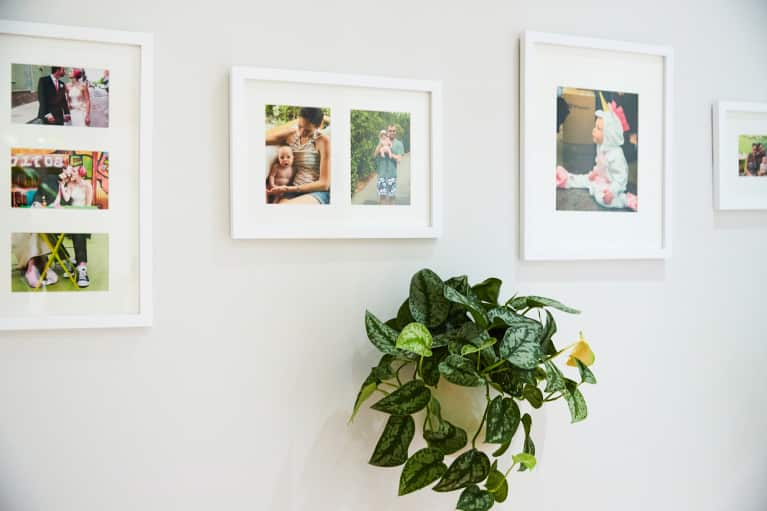 How does your home inspire gratitude?
"All the pictures in the hallway," says Jason, pointing to dozens of uniformly framed family photos from throughout the years, hung staggered along the stairway. "The bedroom, too. Jason is so good about starting the day with a little moment of gratitude," adds Colleen. In the bedroom, a photo the couple took on a trip to Big Sur soothes the space, and grounding crystals from Energy Muse provide the finishing touch.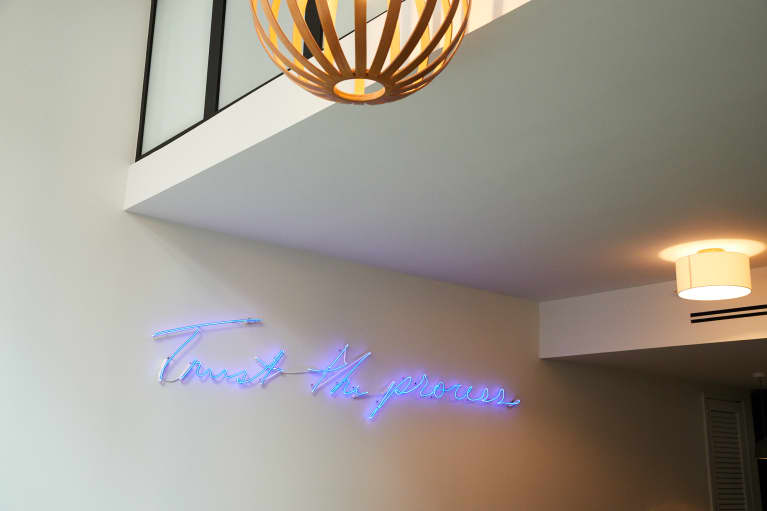 How does your home relax you? How does it motivate you?
"I would say that our home is reflective of who we are. There's a story and purpose behind everything here—all the plants are from our local florist; we know a lot of the artists on our walls," Jason says, pointing to a print by mixed-media artist Peter Tunney (whose art also hangs in mbg's HQ), a neon "Trust the Process" sign from Olivia Steele, and a Ganesh painting by local Dumbo artist and friend CAM. "It's a sanctuary that feels like us—but it took a while to get there. We took a lot of inspiration from Marie Kondo to pinpoint what exactly belongs and brings us joy."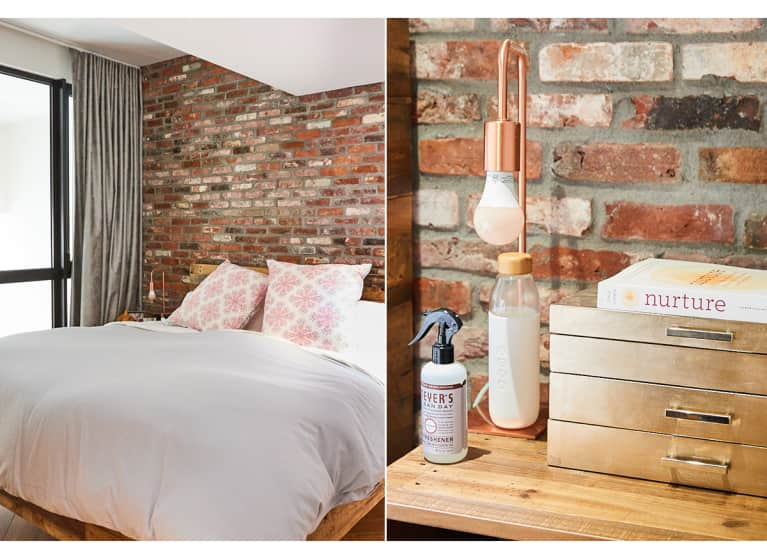 "Our bedroom is super relaxing, and there's nothing better than cozying up in bed—we're obsessed with our Avocado Green Mattress—with a cup of tea to wind down after a long day."