This Velvety Body Cream Makes My Skin Seriously Feel Expensive

mbg Beauty & Wellness Editor
By Jamie Schneider
mbg Beauty & Wellness Editor
Jamie Schneider is the Beauty & Wellness Editor at mindbodygreen. She has a B.A. in Organizational Studies and English from the University of Michigan, and her work has appeared in Coveteur, The Chill Times, and Wyld Skincare.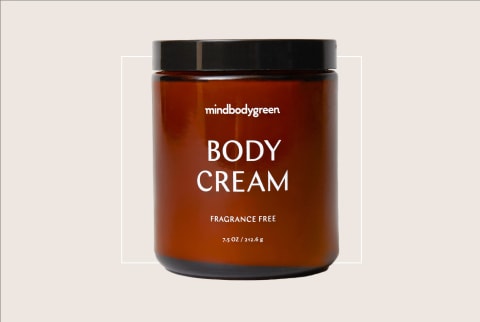 April 6, 2023
Part of my job as a beauty editor involves testing a bunch of new and buzzy products. It's a great perk, but that doesn't mean I'm offhandedly recommending every sample I receive for the sake of growing my personal collection. In fact, it makes me even more discerning.
My ultimate goal is to help our beauty audience become more conscious consumers, which is why I'm constantly diving into the research, ingredient lists, and sustainability efforts of each and every formula—so I'm able to tell you whether that cult-favorite $200 night cream is really worth the hype or if you're better off saving coin with a more wallet-friendly pick.
Advertisement
This ad is displayed using third party content and we do not control its accessibility features.
All that to say: I've tested my fair share of body creams, some of which do come with a very hefty price tag. But ever since I got my hands on mindbodygreen's new $38 body cream, I find myself counting down the testing days until I can come back to the velvety formula. It makes my skin feel just plain rich.
The formula
If you're familiar with mbg's personal care line, then you know we're sticklers for skin barrier support. This body cream fits right into the roster, as it's rich in botanical butters, oils, and nourishing extracts to feed skin with fatty acids and antioxidants. Think certified organic aloe (great for dark spots), shea butter, mango seed butter (a natural source of vitamin C), cocoa butter, squalane (superb for fine lines), and vitamin E.
But because of those aforementioned butters, the whip-thick formula makes my skin feel so. Dang. Smooth. See, those botanical butters are rich in emollients that are known to fill in microcracks in the skin—they're also what gives the cream its smooth, luxurious texture.
Shea butter, in particular, has specifically been shown to seal moisture into the skin and protect the skin barrier1. One study even suggests it has similar topical effects to ceramides2—or the lipids that are literally responsible for sealing your skin barrier. And thanks to the types of fatty acids it contains (namely linoleic acid and oleic acid), it tends to be nongreasy and easily absorbed. And mango seed butter, being a natural source of the antioxidant vitamin C, can help support the skin's collagen layer—plus this is further bolstered with vitamin E, to further improve the antioxidant capabilities of the cream.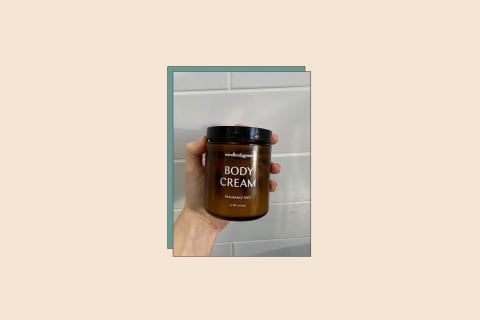 Image by Jamie Schneider / mbg Creative
Advertisement
This ad is displayed using third party content and we do not control its accessibility features.
My results 
The first time I scooped up a dollop of this cream, I immediately thought: Wow, that really is a cloudlike texture. It almost feels like frosting—thick, fluffy, and oh-so-creamy. It definitely rivals the more expensive blends I've tried, which do often boast a glorious sensorial experience.
Despite the deliciously thick consistency, my skin eagerly lapped it up when I smoothed it on post-shower. There was no gummy residue or lingering slimy feeling—in fact, I could barely tell it was even on. And my skin felt noticeably soft for hours; I kept running my fingers up my arm in disbelief.
It's fragrance-free, so it's safe for even the most sensitive skin types. I will note that it does have a very slight nutty aroma if you sniff inside the jar (not that you ever would, but clearly I get up close and personal with my products). I suspect the shea and cocoa butters are what give it that naturally toasted scent, and I honestly enjoy it. It reminds me of the nurturing butters that are softening my skin in real time.
The takeaway
I have strict criteria for a quality body cream: deeply hydrating (duh), deliciously rich, and velvety soft. mindbodygreen's body cream ticks every single box, and I can feel it actively strengthening my skin barrier with every use. Every beauty editor has a few staple products they eagerly revert to after testing new formulas—for me, mindbodygreen's body cream has certainly reached stalwart status.
Advertisement
This ad is displayed using third party content and we do not control its accessibility features.