Young Women Are Getting Unnecessary Pelvic Exams, Study Finds
mbg Editorial Assistant
By Abby Moore
mbg Editorial Assistant
Abby Moore is an Editorial Assistant at mindbodygreen. She earned a B.A. in Journalism from The University of Texas at Austin and has previously written for Tribeza magazine.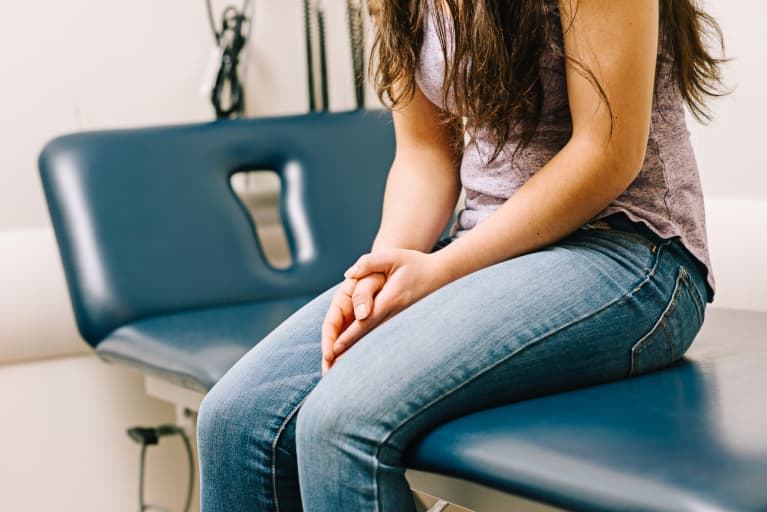 January 7, 2020 — 17:41 PM
Many women probably agree that getting a pelvic exam isn't the most enjoyable thing to do, but we do it because it's recommended by our OB/GYNs. But for women under 21, these exams can be uncomfortable, traumatic, and, according to the medical standard of care, completely unnecessary.
For several years, practice advisories from the American College of Obstetricians and Gynecologists (ACOG) and the American Cancer Society (ACS) have stated that cervical cancer screenings should begin at age 21.
Despite those guidelines, a new study published in JAMA Internal Medicine found about 2.6 million young women received a bimanual pelvic exam (BPE) in the last year, and 2.2 million received a Papanicolaou test (Pap smear). In both cases, more than half were not medically needed.
Invasiveness and overdiagnosis of HPV from these unwarranted exams can lead to psychological trauma, according to OB/GYN Suzanne Gilberg-Lenz, M.D.
So, why is this happening?
"Compliance with the current professional guidelines regarding the appropriate use of these examinations and tests may be lacking," the study said. Additionally, OB/GYNs who aren't board-certified may not be as aware of changes in standards of care, said Gilberg-Lenz.
Another OB/GYN, Wendie Trubow, M.D., agrees, adding that physicians working with high-risk teens may view all of them as high-risk, and therefore treat them all the same to avoid missing anything potentially dangerous.
What are the risks of unnecessary screenings?
"Pap tests will show abnormal cells on the cervix. However, since the teenage immune system is so effective, it may show abnormalities that will not be present for long," said Trubow. "Intervention [for low-risk patients] is almost universally unwarranted and causes the patient anxiety, stress, and distress."
Low-risk individuals include young women who are not pregnant, are HIV-negative, and show no symptoms of cervical cancer. The study said when these women get screenings, it can "cause harms, such as false-positive test results, overdiagnosis, anxiety, and unnecessary costs."
According to a news release, the estimated annual cost of unnecessary exams was around $123 million.
How can you prevent unnecessary screenings?
Under no circumstance should Pap tests be given to anyone under 21, but Gilberg-Lenz and Trubow both stated the importance of sexually transmitted infection (STI) testing on all women who are sexually active. STI tests can be done through speculum exams and bimanual pelvic exams, but those exams should not be indicated in annual or routine testing, said Gilberg-Lenz.
Young women, parents (if the patient is under 18), and medical practitioners should be openly communicating about whether or not pelvic exams are necessary. These conversations should take place clearly and often, according to lead author Jin Qin, ScD, epidemiologist with the Division of Cancer Prevention at the CDC.
If you're 30 to 65 years old, you may not need an annual Pap smear either. And while there is no danger at all in doing pelvic exams, Trubow said, "In this day of awareness of consent, it's important to allow women to decline the exam."