What You Need To Know About The Mexico City Earthquake & How To Help Out
mbg Sustainability Editor
By Emma Loewe
mbg Sustainability Editor
Emma Loewe is the Sustainability Editor at mindbodygreen and the author of "The Spirit Almanac: A Modern Guide To Ancient Self Care."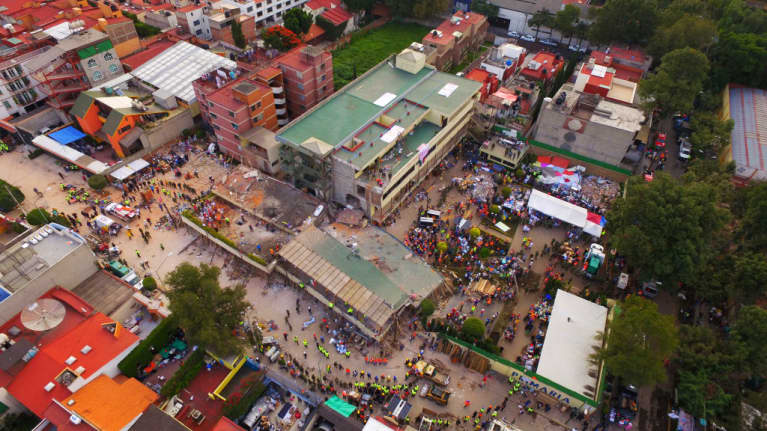 September 20, 2017 — 15:23 PM
Tuesday afternoon, a magnitude 7.1 earthquake rocked the Mexico City metro area, killing at least 217 people according to early reports.
"One word: apocalyptic. We heard the earth roar and the buildings creak. My heart was still pounding fast, minutes afterwards," one onlooker told The Independent of the disaster.
In an eerie coincidence, the quake hit on the anniversary of Mexico's largest earthquake, which killed 5,000 people in 1985. There were already earthquake drills scheduled for Tuesday to time with the anniversary. It also comes just 12 days after the second-largest earthquake in Mexican history shook nearby Chiapas and Oaxaca earlier this month.
Mexico's geology atop the intersection of three major tectonic plates makes it more susceptible to seismic activity. Over the past century, 19 earthquakes have hit within 155 miles of Mexico City. And though Mexico does have an alert system in place for early storm detection—meant to give citizens a minute or two to find shelter before these quakes hit—it is outdated and doesn't extend to some of the country's poorer regions. In the short term, those affected are lacking basic necessities like food, clothes, and water, and looking forward, the country will need money to restore the infrastructure lost and put systems in place to can better warn citizens of oncoming natural disasters.
Help those affected by with a monetary donation to UNICEF Mexico, Oxfam Mexico, The Mexican Red Cross, or Save The Children Mexico.