Merino Wool: The Case For This Sustainable Sweater Fabric

mbg Associate Beauty & Wellness Editor
By Jamie Schneider
mbg Associate Beauty & Wellness Editor
Jamie Schneider is the Associate Beauty & Wellness Editor at mindbodygreen, covering beauty and wellness. She has a B.A. in Organizational Studies and English from the University of Michigan, and her work has appeared in Coveteur, The Chill Times, and Wyld Skincare.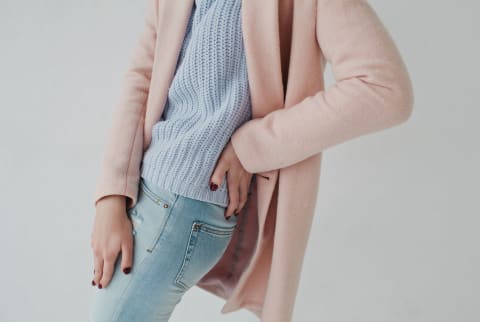 Image by Sergey Filimonov / Stocksy
Our editors have independently chosen the products listed on this page. If you purchase something mentioned in this article, we may
earn a small commission
.
November 26, 2019
One of the biggest contributors of plastic pollution, believe it or not, comes from our clothing. While we've made great strides toward purchasing recycled garments, we don't realize that even the process of washing our favorite separates (yes, even on delicate!) contributes to the growing plastic pollution epidemic—the microplastics from our clothing filter out of our washing machines and into our oceans, which can build up and harm our marine environments. In efforts to combat this microplastic crisis, people are figuring out new ways we can help save our planet—and look stylish at the same time.
Enter Merino wool: A type of wool that's biodegradable, renewable, and organic. This fabric is taking the fashion industry by storm, and with its sustainability benefits and high-quality composition, it's no secret why.
Advertisement
This ad is displayed using third party content and we do not control its accessibility features.
What is Merino wool? 
Merino wool actually comes from a different breed of sheep, called—you guessed it—Merino. While all wool fleece is technically renewable, as it's harvested from sheep and grows back each year, Merino sheep actually produce finer wool during the process than any other sheep breed. The fibers from Merino measure about one third of the diameter of human hair, so it can easily be made into high-quality, comfortable clothing.
"Superfine Merino wool can be even finer than cashmere," says Stuart McCullough, managing director of The Woolmark Company, the largest supplier of Australian Merino Wool.
How is it so sustainable?
The main thing about Merino wool is that it's a 100% natural, renewable, biodegradable fiber. That means it can biodegrade in both land and water and doesn't shed any microplastics when thrown away or washed.
Even when you do throw this wool away, it'll take about a year to disappear in the ground. However, because the fabric is completely biodegradable, the earth will actually absorb the protein and amino acids back into the soil.
Although raising sheep does have its carbon footprint (these animals do produce greenhouse gas emissions), if Merino sheep are raised on farms with regenerative agriculture practices, they can actually make the soil healthier while producing this sustainable fiber—it brings a whole new dimension to lessening our environmental impact.
Merino wool also has long-wear and low-care requirements. It lasts way longer than other fibers, which is why it represents about 5% of clothing donated to charity. And even though this fabric won't shed any microplastics when it goes through the rinse cycle, you'll find that you don't have to wash Merino wool as much, which cuts back on water usage as well.
"Clothes made from wool require less washing than clothes made from other fibers, not only saving you time but also money on energy and water bills!" McCullough tells me.
Advertisement
This ad is displayed using third party content and we do not control its accessibility features.
What are other benefits of using Merino wool? 
Despite its impressive environmental benefits, this type of wool even reigns supreme in other ways, including comfort and performance. It's a versatile fiber that can be introduced into the manufacturing process at any stage, according to McCullough. That said, it has a wide array of benefits for various uses. After all, sheep have "worn" this fabric for their whole lives, and they seem pretty happy adapting to any landscape, from frigid climates to sweaty temperatures.
Because the fiber is so fine, it's incredibly soft and even has a natural resistance to wrinkles. It's not prickly like what you might think of when you imagine a warm wool sweater—it's so thin, it can't even stand up to the weight of itself. Like McCullough said, this makes the fiber feel buttery and luxurious, comparable to even cashmere. It's no surprise that designer Phillip Lim used Merino wool in his recent fall/winter collection.
Advertisement
This ad is displayed using third party content and we do not control its accessibility features.
This type of wool is porous, meaning, it can absorb sweat and moisture and transport it as a vapor. While synthetic fibers can make you feel clammy and cold when exposed to the elements, Merino can keep you warm and dry after a workout or camping trip in the mountains.
3.
It can protect you from the sun
Merino wool clothing can also provide UV protection, compared to other garments. Because this natural fiber has been responsible for protecting sheep against the sun, it can do the same for us. That said, many outdoor brands have incorporated this fiber into their collections, as it can absorb UV radiation from the sun.
Advertisement
This ad is displayed using third party content and we do not control its accessibility features.
Where can you buy Merino wool clothing? 
In addition to the new 3.1 Phillip Lim Merino Series, this type of wool has been incorporated into many consumer brands, from high-end couture to swimwear and activewear—even denim.
Outerknown, a clothing brand already known for incorporating used fishing nets into its garments, has started to take their sustainability efforts a step further by using 100% Merino wool in their latest line of swim trunks. Similarly, Prada's sponsored sailing team has used the fabric for their team's wet suits. Companies like APL and streetwear brand House of Holland have also hopped on the Merino bandwagon, offering wool-rich pieces to their curated collections.
Despite all these consumer brands on board, it seems like we're only scratching the surface in terms of the growth potential of Merino wool. But it's exciting that we have yet another ingredient we can add to the list of products that prioritize sustainability without sacrificing quality.
Designer Phillip Lim agrees. He tells me: "We all need to consider the future of fashion by thinking about the impact of our actions without compromising style. As creators, we should be able to use our creativity to shift gears and still make products that create magic and desire."
All in all, your wool sweaters are accomplishing way more than simply keeping you warm. Who knew something that's been passed down from your grandmother could be so sustainable-chic?
Advertisement
This ad is displayed using third party content and we do not control its accessibility features.
Reset Your Gut
Sign up for our FREE doctor-approved gut health guide featuring shopping lists, recipes, and tips