Menopause Causes Dry Skin: A Derm Explains Why + What To Do
mbg Beauty Director
By Alexandra Engler
mbg Beauty Director
Alexandra Engler is the Beauty Director. Previously she worked at Harper's Bazaar, Marie Claire, SELF, and Cosmopolitan; her byline has appeared in Esquire, Sports Illustrated, and Allure.com.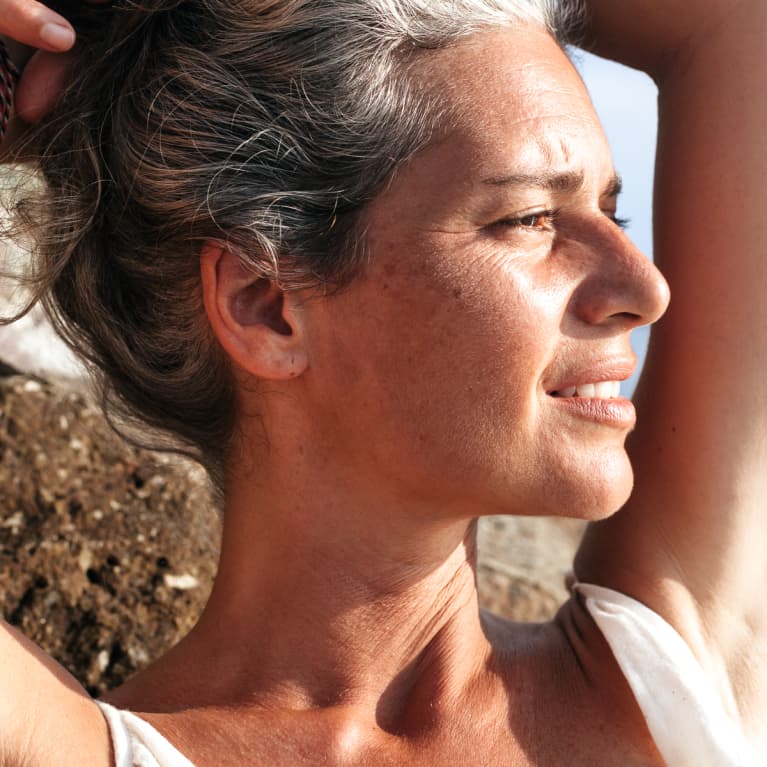 This article was produced to support the mindbodygreen supplements+ line. Our supplements adhere to the highest standards of ingredients and quality. We hope you enjoy these products, for more information
click here
.
As we age, our skin becomes drier. For the most part, it happens progressively. In your teens and 20s, for example, maybe you have a bit oilier skin, which then fades away by your 30s. Then, in a few additional years, you've switched over to thicker creams and a less astringent face wash. By your 40s, you've begun looking for hydrating serums rather than exfoliating ones.
However, there is a period of time in which this notable skin change upticks: menopause. During this time, changes in your skin become much more dramatic and noticeable. So if you're currently in this stage, you may be thinking, How do I tend to my newfound dry skin?
Why does skin get drier in menopause? 
Skin changes during menopause are because of the steep drop in sex hormones, like estrogen and progesterone.
"As our hormones diminish in menopause, the functions they perform to maintain the health and vitality of the skin diminish as well, characterized by a decrease in sweat, sebum, and the immune functions resulting in significant alterations in the skin surface including pH, lipid composition, and sebum secretion," board-certified dermatologist Keira Barr, M.D., previously explained to us about changes in skin during menopause. "These changes also provide potential alterations in the skin that may affect the skin microbiome."
See, these hormones actually affect our skin in some pretty serious ways. Estrogen, most notably, is deeply connected to our skin's various functions: "Estrogen is key for the normal functioning of the skin as well as the blood vessels, hair follicles, oil glands, and our pigment-producing cells called melanocytes. It is associated with collagen production, increased skin thickness, increased hyaluronic acid production, improved skin barrier function, maintaining skin hydration, reduced sebaceous (oil) gland activity, and improved wound-healing. It also plays a role in modulating inflammation," says Barr.
Progesterone, another sex hormone that drops during this time, is less connected—or at least its role is less understood. However, it does contribute to your skin's new behavior. "The effect of progesterone on the skin is less well defined but is thought to contribute to skin elasticity, pigmentation, as well as increased circulation and sebaceous gland activity observed in the second half of the menstrual cycle, largely due to the influence of progesterone," she says. "Androgens, including testosterone, play a role in oil gland production."
Essentially the drop in these sex hormones means your skin barrier function is weakened, you produce less oil, and your delicate microflora will likely see shifts as a result.
3 hydration tips for those in menopause. 
Reviving your skin back to its lush, supple self may take a few new tricks, but luckily, they're not too hard:
1.
Focus on skin barrier support.
Because your skin barrier function is weakened, you should do all you can to help repair the damage. The reason is twofold: Compromised skin barrier is more susceptible to inflammation, which can cause a variety of skin issues including wrinkles, redness, and irritation; the second reason is transepidermal water loss, or when moisture literally evaporates from your skin. Ingredients that tend to your barrier include things like fatty acids, colloidal oat, ceramides, squalene, and hyaluronic acid.
Because your pores produce less sebum, you may consider adding an oil to your regimen, if you hadn't already. Do be mindful that oils are occlusive, meaning they act as a seal and trap in anything below and aren't inherently hydrating themselves, so they need moisture underneath to do their job. You can apply an oil after a hydrating mist or atop a water-based cream or lotion.
3.
Take a smart supplement.
Menopause affects the skin in a number of ways. One of the most noticeable is dryness. If you are currently experiencing this issue, there are a number of ways to help, including strengthening your barrier, adding oils, and using supplements.*