Meditation Not Your Thing? Here's What You Should Do Instead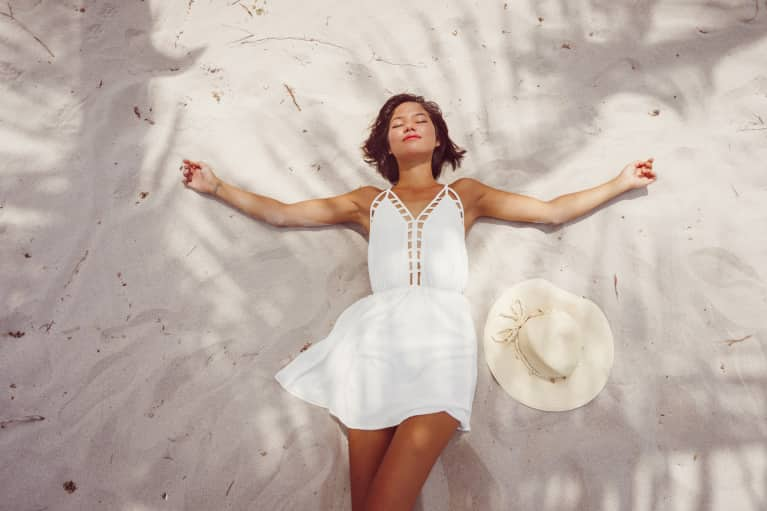 Our editors have independently chosen the products listed on this page. If you purchase something mentioned in this article, we may
earn a small commission
.
"You need to meditate" doesn't always get the best response from people. At this point we all know how good meditation is for our health, but many people still think it's just too woo-woo for them. I get it. As a frustrated meditation beginner, albeit 20-year yoga practitioner, I understand how hard it can be to quiet the mind. Luckily, I have a secret weapon that is a lot more accessible to the masses: three deep breaths.
I have found that taking three deep breaths tends to be very effective: in through the nose, out through the mouth. It calms and refocuses me, and I don't call it anything but what it is: breathing. No client of mine has ever told me that stopping to take three breaths is too woo-woo or that they don't have the time for it, and it's rare that someone hasn't found that it shifts their energy, letting in a feeling of calm.
There is something quite mindful about focused breathing. It's short, simple, and perhaps an invitation to something more. I might even suggest that it become an experiment, which could turn into a practice—or not. In order to grow and succeed, we must take the opportunity to find out what works for us in both focused energy and mindset.
New research on breathing and mood.
The more skeptical might appreciate new research published in March 2017 in Science magazine by Mark Krasnow, M.D., Ph.D., professor of biochemistry at Stanford University. Krasnow's research concludes that there are neurons in the brain that connect breathing to our state of mind. Said neurons link breathing to relaxation, attention, excitement, and anxiety, which does connect to the practice of yogic breathing (pranayama). Hey, maybe I don't give myself enough credit for the breathing I do in yoga class!
The development is that you can change your mood by focusing on your breathing. The neurons in your brain can be triggered into letting you relax just by taking that deep breath, thus giving you more focus. The best leaders utilize mental training techniques for emotional intelligence, which in turn makes them better leaders. Could this focused breathing be the start of more accessible mindfulness? I certainly hope so.
Give it a try. It only takes a few moments.
I recently read 10 Percent Happier by Dan Harris, the ABC news anchor, a memoir about his "on-air meltdown" and exploration into mindfulness, which he realistically touts as making him 10 percent happier. He was skeptical, like me, and wasn't sure of how meditation could appeal to a mainstream audience or himself.
He wasn't into any self-help mumbo-jumbo, and took on mindfulness as a journalistic project that ultimately changed his life for the better. For the questioning person, this type of mindfulness journey is relatable. I contend that the small step of taking three deep breaths is easy to try to employ as a strategy for getting more focused or calming oneself down. But don't do it once and give up; play with it for at least a week and see what happens when you direct your energy to this simple task.
There are many types of breathing exercises you can try, but I go for simplicity. The next time you're feeling unfocused or anxious, try to stop yourself and take those three deep breaths. Perhaps take three more, or do it as many times as you need to shift your mind and avert your focus to your breath—deeply, in through your nose, and out through your mouth. If you find yourself questioning it, remember that the science says this simple practice could be creating new neural pathways in your brain. Or perhaps, don't think any more about it than what it is: breathing.
Last year, at the start of a triathlon, an age-group winner and business professional said to me, "I'm still doing your trick! I always take three deep breaths just like you said, and it calms me down and gives me focus." I smiled and remembered to take my three breaths too. And now, some scientific research confirms what I have believed all along.
Want more meditation in your life? Read up on how to become a meditation teacher and a simple meditation for when your heart is broken.