How Can You Tell If A Health Trend Is Worth The Money? Bindiya Gandhi, MD, Breaks It Down
mbg Sustainability Editor
By Emma Loewe
mbg Sustainability Editor
Emma Loewe is the Sustainability Editor at mindbodygreen and the author of "The Spirit Almanac: A Modern Guide To Ancient Self Care."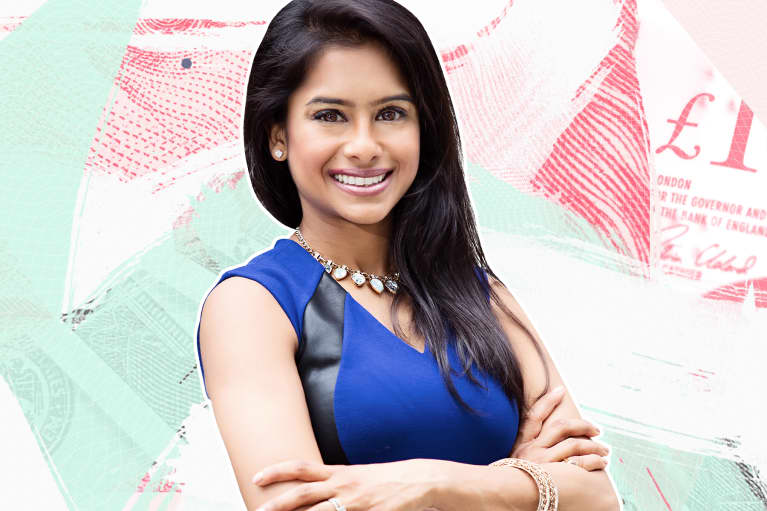 With an estimated 67 percent of Americans at least a little anxious about paying the bills, and 58 percent worried they won't have enough money for retirement, it's becoming increasingly clear that being financially well is an integral part of overall wellness. Of course, money management isn't one-size-fits-all, so we're talking to people from all walks of life to find out how they achieved a healthy relationship with their finances. We hope it empowers you to live a life Well Spent.
In this week's Well Spent, Bindiya Gandhi, M.D., an integrative doctor who regularly writes about all things preventive medicine on mbg, describes the role that financial wellness plays in overall well-being. Along the way, she dives into how her own relationship with money has evolved over the years, how to practice self-care on a budget, and how to decide if a health trend is really worth the money.
What does financial well-being mean to you?
To me, it means having financial autonomy: being able to pay your bills and still have enough to do the things that you want to do, like going out to eat and going on trips. Basically, it's about enjoying life and not being restricted or tied to your bank account.
What has your financial journey looked like so far?
I've been very fortunate in that my parents really helped me out as much as they could growing up. I did have medical school debt, though. Back when I was a poor college student, and then in med school and residency, there were stressful times. But I did always have a job, and I think that work ethic helped me save some money and pay off debt faster.
Then, when I finished residency at 31 years old, I was making something like $40,000 a year, so not that much. And I wasn't saving any money because you're kind of living paycheck to paycheck. You also have your daily bills to pay—your apartment, utilities, car, whatever it is.
I remember having this moment like, "Wow, I'm 31 years old and I don't have too much money saved. People I know my age have bought houses. Or they've saved $200,000 from 10 years of working when I was at school." Not only did I not have money saved, but I also owed money.
How did you cope with that?
Honestly, for me, I think every time I had thoughts like, "I'm 31 and I don't have any money. What am I going to do with my life?" I tried to change my dialogue to sound more like: "OK, I'm going to pick up more ER shifts." It just pushed me to work more.
I think you have to be proactive because it's so easy to be down in the dumps. You have two option: You can either do nothing about it and be sad, or you can take this situation and make it positive by picking up an extra shift every week.
Looking back, what money advice would you give your younger self?
I worked for two years between undergrad and medical school as a researcher—and I didn't really save any money in that time. I went out, ate out, and bought Starbucks all the time. It was the Sex and the City era, and I had lots of shoes and purses. I would think, "Oh, I have some money. I can finally do all of these fun things!"
This weekend, I actually donated all of these designer purses and shoes and thought, "That's not who I am right now." I'm 36, and I'm laughing at that girl. I wish I had been a little smarter and saved that money. But that era was what it was, and it's made me more cautious with my spending now. That's not a bad thing.
Also, I'd say it's a good idea to start a retirement plan in your 20s. A lot of time when you're young, you're all about living in the movement and don't think about getting older. Many of my friends started a 401(k)s later in life and regretted it.
Fast-forward to today: How do you decide when something is worth spending money on?
For me, I will splurge on health and wellness. That's my background. I'll pay for a gym membership; I'll pay for yoga and spinning classes; I'll pay for supplements.
The way I look at it, you have to invest in your health early. I don't want to be 65 years old and on 10 different overpriced prescription medications. I want to take care of myself now so that when I get older, I'm still healthy. And now that I have a 1-year-old daughter, I want to make sure that everything she's exposed to is going to keep her healthy too.
Has having a daughter changed the way you think about finances?
It has. I think twice before buying things for myself now. I'll go to the store and buy everything for her and nothing for me! But that's OK. It gives me much more joy to buy stuff for her than for myself.
What tips do you have for people who want to practice self-care on a budget?
Working out is something you can do cheaply. Now, I spend money on spin and yoga classes, but back when I was a student, I'd run outside. It's about picking and choosing. I'm a big fan of following the Dirty Dozen and Clean Fifteen. Eat organic when you can, but don't stress about eating organic everything. Avocados, for example, are fine to get conventional. Buying in bulk is another good habit.
Wellness trends will come and go. Whatever you do should not be a trend. It should be part of your lifestyle.
Also, you don't have to take 20 different supplements! Take what you need. Often, patients will come to me having already done a Google search and started out on multiple supplements. I think that's a waste of time and money. Don't do things blindly. Instead, spend that money to see an integrative medicine doctor one time, and you'll know exactly what one supplement you need to be taking.
Wellness trends will come and go. Whatever you do should not be a trend. It should be part of your lifestyle.
What's the best money you ever spent?
My education. I'm so grateful to have gone to medical school and done my functional medicine training and integrative medicine fellowship. As my aunt once told me, "The best investment you can make for yourself is your education because no one can ever take away your mind and knowledge."
You can buy lots of things, and you can lose them, or they can be taken away from you. But nobody can ever take away your knowledge.
This interview has been edited and condensed.