This Scandi Home's Rugs Serve A Surprising Stress-Busting Purpose
mbg Sustainability Editor
By Emma Loewe
mbg Sustainability Editor
Emma Loewe is the Sustainability Editor at mindbodygreen and the author of "The Spirit Almanac: A Modern Guide To Ancient Self Care."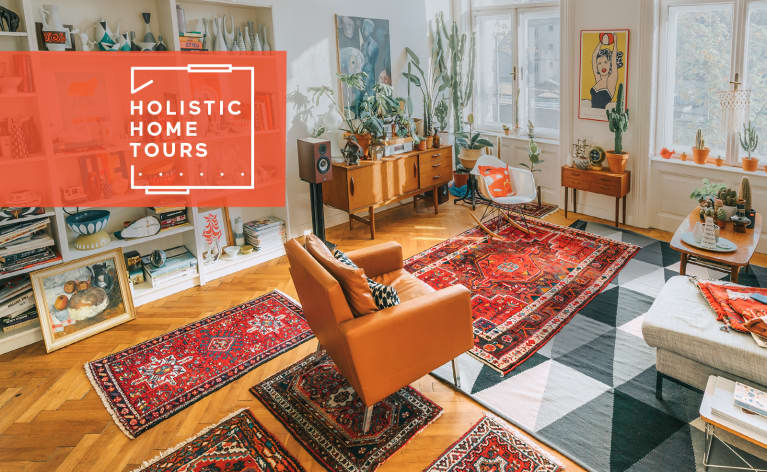 The first thing you'll likely notice about Jan Skácelík's home is the floor—blanketed in layers upon layers of colorful rugs. As your eye makes its way up, you'll find a beautiful mix of vintage and new pieces that seamlessly come together to feel like another kind of textile. We asked the designer and artist who lives in Olomouc, a small city in the Czech Republic, all about how he uses Scandi design to craft his sanctuary.
What are a few words that describe your design philosophy at home?
Thrifted and new. I love adding vintage pieces to my interior, and I always prefer them if possible.
What's the oldest thing in your home? The newest?
The oldest thing is probably the apartment itself as it is from 1892. I also know that some of my vintage ceramic pieces are from 1950 to 1970, maybe even older than that. Newest would be definitely some IKEA pieces from the current catalog.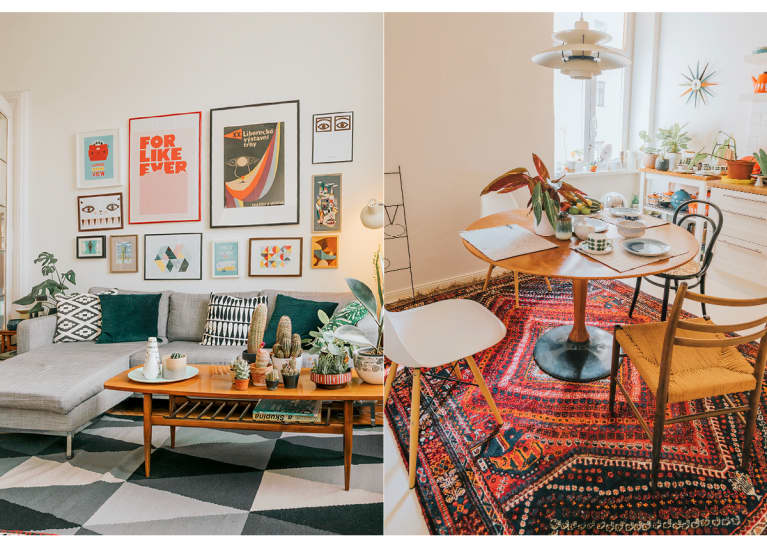 What noises can be heard in your home? What smells?
I have a grand piano in my studio room, and I play that a lot during the day. Smells would definitely be some ginger and cinnamon tones coming from the tea I am constantly drinking.
Love all your rugs! What do you look for when buying a new one?
I love geometric shapes and bold colors. I buy what I like visually, so I don't worry much about their age or history—but they have to be hand-woven!
Tell me more about your design shop. Where do you find inspiration for your prints?
I started ReStyle back in 2010, when I was a big collector of Scandinavian midcentury design pieces. I realized that there really was not that much art available these days that is inspired by these prints, so I started my own small line. Then I gradually started adding pieces inspired by the other stuff I like: abstract art, pop culture, and more.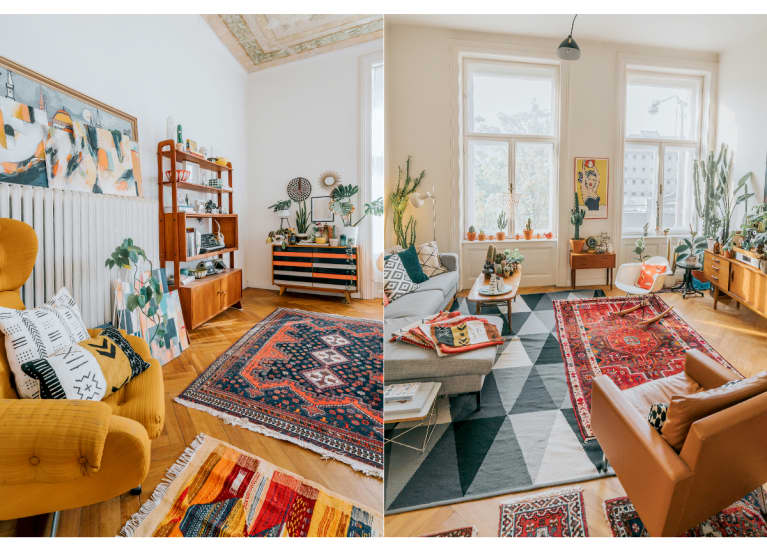 How does your home reflect your personality?
I'm an old soul; I mostly like art, music, and design from bygone eras (luckily these styles are having a comeback lately), and my home reflects this.
How does your home relax you? How does it motivate you?
Well, I put an at-home gym into one large hallway, which helps motivate me to stay healthy. The home also just has a very calm atmosphere, and the high ceilings (almost 13 feet) give it a nice feeling of space. Sometimes I just lie on the ground on some rugs and look up. I don't know why, but it is so relaxing.