How To Stay Positive Even Though You're In Major Debt — From A Health Expert Who's Been There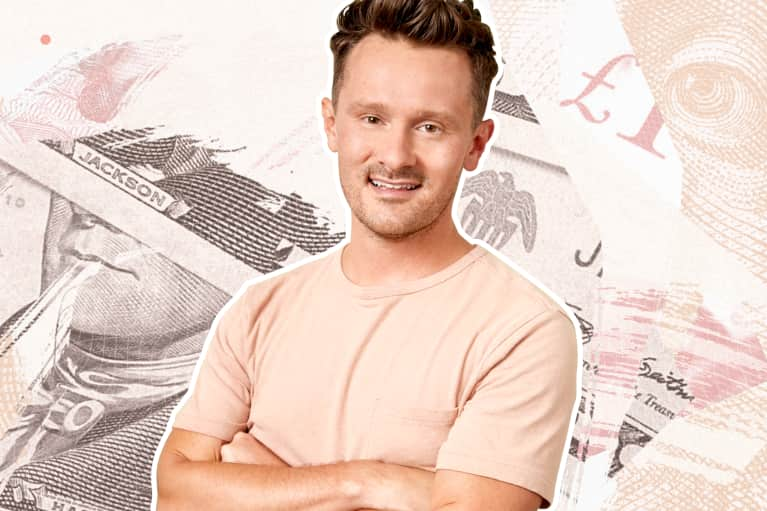 With an estimated 67 percent of Americans at least a little anxious about paying the bills, and 58 percent worried they won't have enough money for retirement, it's becoming increasingly clear that being financially well is an integral part of overall wellness. Of course, money management isn't one-size-fits-all, so we're talking to people from all walks of life to find out how they achieved a healthy relationship with their finances. We hope it empowers you to live a life Well Spent.
Will Cole, D.C., is one of the most in-demand functional medicine practitioners around—and for good reason. Beyond being notoriously kind, generous, and thoughtful, the mbg Collective member and class instructor is great at distilling complex health problems like thyroid issues, autoimmune conditions, and digestive disorders down into terms that people can understand.
Cole consults with patients from around the world virtually and in person at his popular clinic in Pittsburgh. We were super curious about how he rose through the ranks of functional medicine to get to the place he is today—and it turns out it required a fair amount of sacrifice. Read on to find out how he overcame hundreds of thousands of dollars in student debt to get to a place of abundance.
What does financial well-being mean to you?
For me, it's about having peace with whatever you have and not being stressed about material things. Looking back on my life, I've been able to find real happiness—even in times when I didn't have a lot of money. As long as I had food, clothing, and a roof over my head. That's the bare minimum. Anything else is a bonus and a blessing.
What has your financial journey looked like?
Through school, I worked multiple jobs since getting a doctorate costs a lot of money. I had a couple hundred thousands of school loans when I graduated. Of course, at the time I was thinking, "Oh my gosh, I owe all of this money and I'll never be able to come out from that student loan debt."
You don't have to be a doctor to feel this tug. But it's just a matter of working hard, staying consistent, and allowing time to pass as you slowly pay things off.
The other side of this is I would always think, "When I pay off my school loans, I won't be stressed about anything, and my life will be so much better." Then you pay off your school loans and you feel exactly the same. We think that when this thing happens in the future, we'll have peace. But peace can happen at any point.
Were there any points in your life when you stressed about money?
Yes! By the time I was out of school, I was married, had a toddler, and my wife was pregnant. I was like, "What the heck am I going to do?" I felt so ill-prepared and like I was never going to be able to make it.
Staying true to my calling and staying in my lane helped. That's not to say it was all rosy and fantastic, but I can look back and honestly say that during those times when we really had nothing and were very frugal—we would keep all the lights off and rarely turned the heater on, to save money—those were some of the precious times I had with my son.
I wouldn't trade that for the world. My family was really all I had at that point. If I had tons of stuff, I maybe wouldn't have cherished those times as much.
Even when I didn't have much money, I still had an envelope to give to people who needed help.
Reflecting on that time, do you have any advice that you'd give to your younger self?
I would say, "Don't stress out about it because it really won't fix the problem." Having peace might feel illogical in the moment, but ultimately it can help you cultivate a trust in the larger purpose of life.
I remember I took a course by a financial teacher named Dave Ramsey, called Financial Peace University, when I got out of school. He taught me this great, simple system of saving, giving, and spending. Even when I didn't have much money, I still had an envelope to give to people who needed help. That might seem illogical. When you don't have a lot, why would you give anything away? But I think that's a spiritual practice that people, no matter where they are financially, can tap into.
At the time, I thought I was bad off, and then I would hear other people's stories and think, "Whoa, it's not that bad, comparatively. Let's help them." It gets you out of your own head and worry.
Did you always know you wanted to open your own clinic one day?
Yes. When I first graduated, I worked in another clinic as an associate doctor, but within a year, I went and started on my own, which was another big leap of faith. I still had all of that student loan debt. I didn't have x, y, z all lined up. It was just a matter of saying, "No, this is what I'm going to do." Luckily I had a few really supportive friends who told me I needed to do it. And I did it. I don't know how I did, but I just stayed in my lane. I worked when I didn't feel like working. I wrote when I didn't feel like writing. I just stayed consistent with what I knew would be fruitful in my life.
Is there a financial mantra you live by today?
This is probably obvious, but don't spend what you don't have! I really don't have credit cards. I don't put things on credit. I know some people have to do that, but it's just not something that I do. If I don't have it in my bank account, I'm not charging it. My education was enough debt for me—I don't need more banks and credit cards in my life.
What kinds of things do you think about when deciding to make a larger purchase?
I kind of do the Marie Kondo method, and I hold it in my hands. Or if I'm shopping online, I don't typically buy something when I first see it. I will just look at it. If I still want it in two weeks, then I'll get it. There are a few exceptions, but for a bigger purchase, I'll sit on it for a while and mull it over. A lot of times, the feeling of "Oh I just have to have this" passes.
Plenty of companies will game us to buy something right away, but that doesn't mean it's going to bring you any peace, satisfaction, or happiness. Instead, just sit on it. If it's not sticking with you before you get it, it's not actually going to add to your life when you get it.
Do you have any self-care practices for people on a budget?
Getting into nature—it's free! Go outside and have a moment of stillness, silence, and breathing. Honestly, you can spend all of that money on the trendier self-care things that are interesting and cool, but I don't think any of those compare to getting outside. To me, there's nothing more game-changing on a physical, mental, emotional, and spiritual level.
What's the best money you ever spent?
Student loans. I couldn't do what I'm doing without my education. I think a lot of people can do amazing things and affect people without a doctorate, but for my career, I had to do that. If I didn't work through that loan debt, I wouldn't be affecting people the way that I am right now.
This interview has been edited and condensed.