Robin Berzin Of Parsley Health On The 2-Second Trick That Will Make You Excited To Put Money Into Savings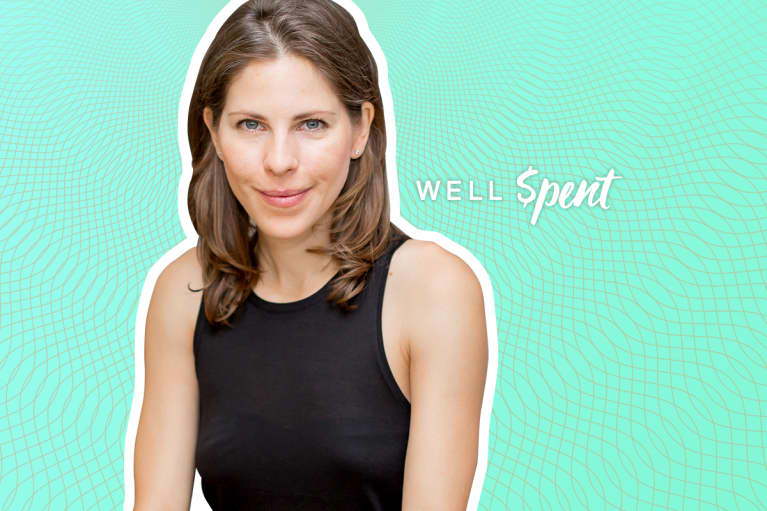 With an estimated 67 percent of Americans at least a little anxious about paying the bills, and 58 percent worried they won't have enough money for retirement, it's becoming increasingly clear that being financially well is an integral part of overall wellness. Of course, money management isn't one-size-fits-all, so we're talking to people from all walks of life to find out how they achieved a healthy relationship with their finances. We hope it empowers you to live a life Well Spent.
Robin Berzin is on a mission to reinvent today's health care system—and she's well on her way. Her functional medicine practice, Parsley Health, has clinics across San Francisco, New York, and Los Angeles, and just closed a $10 million Series A funding round. The membership-based practice has recently been praised in Business Insider, Tech Crunch, and Forbes for its unique operating model that blends technology with face time to give patients unparalleled access to doctors who work to address the root cause of illness.
It's easy to assume that Robin was born an über-successful entrepreneur, but in this installment of Well Spent, the Columbia-trained M.D. dives into a few of the financial roadblocks she had to overcome to get where she is today (namely: hundreds of thousands of dollars in student loans and bills from her first two companies). Along the way, she gives smart insights on how to tackle your debt head-on, master your savings account, and call on a money-tracking app like it's your best friend.
What does financial well-being look like for you?
Ultimately, money is energy. When you think about having money, it's important to think more about what you're going to do with it. When people get honest with themselves about what they want of money, it becomes easier to manage. For me, it's about being able to have experiences in this world and share them with my friends and family. And it's certainly about the feeling of security.
What has your financial journey looked like?
In my 20s, I was mainly a student. Medical training takes a really long time, so I would say that I came to financial independence later in life than some people. One of the things that I hope to impart to my child, although he's nowhere near ready for this, is a confidence in practicing financial independence early in life.
When did your money education start?
I started learning to flex that financial muscle mostly through starting companies. Parsley is actually my third company—I started the first two during and right after med school (one was a jewelry business, and the other was a medical technology company). When you're building a business, you have no choice but to become an expert in money. I put one foot in front of the other and asked for as much advice as I could. I still ask for financial advice from other startup founders, my parents, my husband, investors—all people who have a stake in my success.
Let's rewind a little. Student debt can be debilitating, especially in the medical industry. How do you manage it?
I was lucky that I didn't have debt from undergraduate school, but I did have significant—and still have significant—debt from medical school. When I started med school, I had no financial education, and all of a sudden I was expected to take on hundreds of thousands of dollars of loans. And you kind of just go with what the school tells you—you're very much beholden to the sliver of advice you get from the institution.
When I was in school, I would close my eyes and try not to think about the fact that I had hundreds of thousands of dollars in school debt. You almost don't want to deal in that case, so you shy away from learning more about it.
The greatest opportunity in health is when we have someone to learn from. I'm a big supporter of investing in expert guidance.
What were some tricks that helped you through this time of tighter finances?
Number one was ripping off the Band-Aid and getting interested in where my money was going. Transitioning from a mindset of avoidance to a mindset of ownership and excitement is an important shift. When you're excited about your financial health, you can do something about it. If you don't look at it, you're not going to get very far.
The second thing is a piece of advice I got somewhere along the way: "Make sure to pay yourself." Meaning, every month that you get a paycheck, after you pay the grocery store, pay the rent, pay the bills—make sure you pay yourself. And that means putting something in savings. Instead of thinking, "Ugh, I have to put money into savings; that's so annoying," reframe it as a payment to yourself.
Is there a particular percentage you try to pay yourself each month?
I have personal goals for the amount I want to save. It changes from year to year based on my expenditures. So if we have big home or child-care expenditures, guess what? I'm not saving a lot that month. But if I can, I try to make sure that my savings is going up every year anywhere from 25 to 100 percent.
What is your No. 1 tip to your younger, less money-savvy self?
Get interested in the money! Don't be scared by it. When I was younger, I didn't feel like I had any money of my own. When I was teaching yoga classes to make pocket money in med school, it was like sand slipping through my hands. It didn't feel particularly useful except to fulfill some of my day-to-day needs. I wish I had been more interested in saving and investing during that time of my life. It doesn't take a lot. If you had spent $200 on a share of Apple stock in 2007 when the iPhone came out, it would be worth thousands of dollars right now. Back then, I didn't think that way, but I wish I had.
What's one investment in health you think is totally worth splurging on?
Parsley Health! I think investing in your health at every single age is essential. That can start with investing in a gym membership that you love and are going to use, a yoga studio membership that is a place that you love to be, or a personal trainer, or a doctor, or an acupuncturist. The greatest opportunity in health is when we have someone to learn from. I'm a big supporter of investing in expert guidance.
In your own life, what do you think about when you buy something?
When I'm going to buy something that is more than $100, I'm thinking a lot about what kind of mileage I'm going to get out of it. For instance, I love clothes. But if I am going to purchase an item of clothing, I ask if it's going to be in my closet for a long, long time. Ask any of my friends: I am the person who whips out the shirt she got on study abroad in Paris in 2001. I buy things and I take care of them, and they last with me.
You recently had your first child! How did that change your financial life?
You look at money differently when you become a parent, for sure. When I was pregnant, my husband and I sat down and ran a spreadsheet of our household using the money-tracking app Mint. I think Mint is great for giving you a view of what you're spending so you're not blinded by the light. It's a great reality check and gut check. We plotted out the expenditures we thought we would incur and quickly realized that child care would be the No. 1 thing. We really forecasted—and I'm glad we did.
What is the best money you've ever spent?
Well right now it's child care, but pre-baby it was travel. When I think about the trips that I took when I was younger, and even the ones I've taken in the past few years, they opened my eyes to so many new things.