6 Things You Need To Know Today (May 10, 2018)
Contributing Wellness & Beauty Editor
By Lindsay Kellner
Contributing Wellness & Beauty Editor
Lindsay is a freelance writer and certified yoga instructor based in Brooklyn, NY. She holds a journalism and psychology degree from New York University. Kellner is the co-author of "The Spirit Almanac: A Modern Guide to Ancient Self Care," with mbg Sustainability Editor Emma Loewe.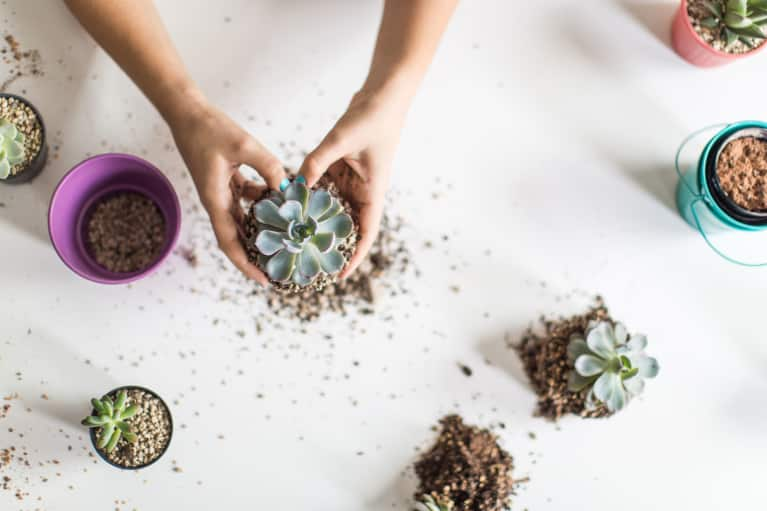 1. IKEA is sending plants to schools—to be bullied.
IKEA installed two of its potted plants at the GEMS Wellington Academy in Dubai. The plants were treated exactly the same, but one was bullied with words like "You're not even green," and the other was exposed to encouraging words like "Seeing you blossom makes me happy." At the end of the experiment, the bullied plant was looking worse for wear, but many people are questioning the study's methodology. (Ad Week)
2. Yes, your allergies do change over time. This might be why.
Ever wonder why you're perfectly fine one year, and by the next spring you're sneezing like crazy and have the most watery eyes ever? This could be for a variety of reasons, from outgrowing allergies (60 to 80 percent of kids with milk and egg allergies outgrow them!) to moving to a new place that presents new opportunities for sneezing to the fact that your body changes and shifts over time. More research needs to be conducted on where allergies come from, but these are important factors to keep in mind. (Popular Science)
3. Suffering from stomach problems? You might want to try hypnosis.
A number of studies have shown that hypnotherapy has real benefits, especially for afflictions like IBS, Crohn's disease, and ulcerative colitis. Experts theorize that this may be due to correcting faulty wiring in the communication between the brain and the gut. Whatever the reason, people are experiencing real relief, so it might be worth a shot! (WSJ)
4. Looking at photos of underweight models probably isn't great for your self-esteem.
A new study recently found that women between the ages of 18 and 25 who were at a healthy weight and who looked at photos of underweight models felt less satisfied with their own bodies while looking at photos of women who were either at a healthy weight or overweight led to an increase in satisfaction with their own bodies. If there was ever a convincing argument for portraying healthier-looking women in media, this is it. (Science)
5. For fathers, exercise benefits their children, too.
A new study has found that the amount of exercise a father does can directly affect the cognitive thinking and intelligence of offspring. The study's findings found that brain benefits of physical activity might be passed on to children, even if a father doesn't begin working out until adulthood. (NYT)
6. The dirty air in Los Angeles can trigger inflammation and cancer-related genes in rodents.
Researchers have found that air pollution in Los Angeles is tied to a host of diseases including cancer in rats. Certain materials in the air like nickel may play a larger role in genetic changes related to disease development. The study found that these materials entered the body in two ways: through the lungs and through the nose, and both pathways eventually led to the brain. (Science Daily)