Drinking Maté Tea May Help With Maintaining Healthy Weight, Study Finds
mbg Editorial Assistant
By Eliza Sullivan
mbg Editorial Assistant
Eliza Sullivan is an editorial assistant at mindbodygreen. She received a B.S. journalism and a B.A. in english literature from Boston University.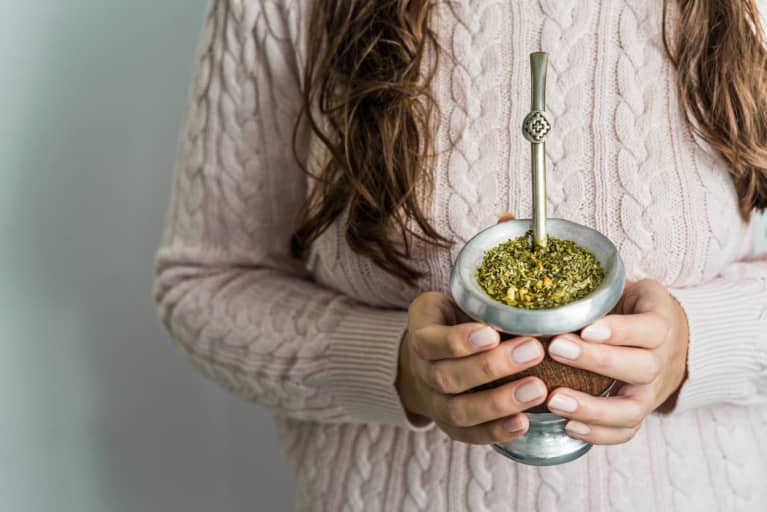 December 27, 2019 — 17:20 PM
As we head out of the holiday season, we're all looking for changes we can make to boost our wellness routine going into the new year. Enter yerba maté, a morning beverage alternative, which in a recent study was linked to weight maintenance.
The study, published in the Journal of Functional Foods, isolated the caffeine from yerba maté tea and found that it helped prevent weight gain and accumulation of fat in rats.
What did the researchers find?
The researchers investigated the impact of the caffeine from maté and found that it was a contributing component to mitigating weight in rats who were fed a high-fat, high-sugar diet.
They found that it specifically reduced fat tissue overall and regulated the further formation of fat cells. Rats who were given caffeine from maté saw 16% less weight gain and 22% less body fat accumulation than those fed simply a high-sugar diet. The caffeine did not have to exist in isolation for the rats to see benefits for weight maintenance: Researchers found that rats who consumed maté in its tea form also benefited.
Over a month, rats were fed a less-than-optimal diet and were given some form of caffeine. The researchers used caffeine from maté, decaf maté, caffeine from coffee, and fabricated caffeine. They hoped to establish what it is about maté that may be providing support for healthy weight, and it seems caffeine is critical to this benefit.
Wait, what is yerba maté?
Yerba maté is a plant, from which the tea beverage known as maté comes. Maté is popular in South America, and the plant itself is a variety of holly-like bush. The leaves and shoots are used when brewing the tea. The resulting brew contains more caffeine than a classic cup of tea but less than your average coffee, making it a popular morning option for people looking to ease off caffeine or to limit their intake.
Maté tea has a slightly bitter, earthy flavor, that for many is an acquired taste. Its benefits also go beyond helping maintain a healthy weight: It has many antioxidants and has been linked to supporting a healthy immune system, blood sugar level, and heart health—in other animal studies. Future studies will need to assess these impacts further in human tests.
What's next for research?
While these are exciting results, there are serious limitations to this study (which the researchers acknowledge). The primary limitation is, of course, that the effects of the study were viewed on rats and not on humans. In terms of establishing what it is about maté that supports healthy weight, the researchers were able to isolate caffeine as key to that process, suggesting that a morning cup of coffee or tea, and definitely a cup of maté, may be able to help those looking for healthy ways to maintain weight.
If you're looking to change up your morning routine but still need a helpful beverage to get your day started, wellness leaders shared some of their favorites with us (yerba maté included!).