The World's Largest Hotel Chain Has Decided To Ban Mini Toiletries
mbg Editorial Assistant
By Jamie Schneider
mbg Editorial Assistant
Jamie Schneider is the Editorial Assistant at mindbodygreen with a B.A. in Organizational Studies and English from the University of Michigan. She's previously written for Coveteur, The Chill Times, and Wyld Skincare.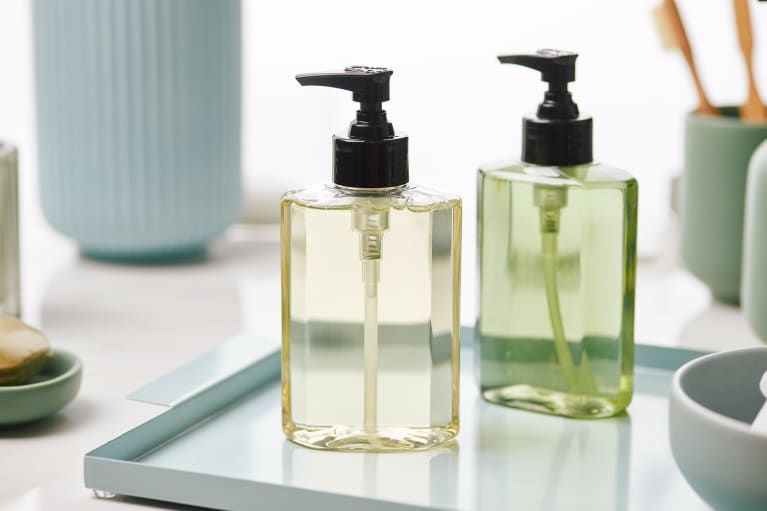 August 29, 2019 — 20:30 PM
Marriott International has joined the fight against tiny toiletries. Like other hotel chains including the InterContinental Hotels Group, Marriott has recognized our widespread plastics problem and has proposed a plan to help alleviate our landfills.
The proposal states that Marriott Hotels will no longer carry mini bottles of shampoo, conditioner, and shower gel by December 2020. Instead, the world's largest hotel chain will supply bigger, pump-action bottles that will be recycled by the staff post-use. According to Denise Naguib, Marriott's vice president of sustainability and supplier diversity, these larger bottles are easier to recycle than the minis. While those mini soaps may look cute, their effects on our environment are quite ugly. And although Marriott hasn't made a plan to give up plastic entirely—implementing recyclable bottles sure is a start.
Similar to the ban on straws, people might not think tiny plastic products as small as these would have much of an impact on our growing climate crisis. However, we do know that single-use products are detrimental to our environment as they accumulate in landfills. Around half of our annual plastic production is designed for a single-use product, and most of these do not even make it to landfills or are recycled—32% of the 78 million tons of plastic packaging produced annually is left to flow into our oceans.
When millions of these tiny plastics are piled on top of each other, they can quite literally be suffocating the life out of our oceans and wildlife. Those cute little bottles you might have swiped from a hotel bathroom to display on your own shelf become way less adorable and a whole lot more daunting.
Although people are starting to recognize that there is a need for change, the challenge lies in seamlessly blending our long-term goal for the health of our planet with our short-term desire for luxury experiences. Considering that the Ritz-Carlton and St. Regis are owned by Marriott and will be part of this major change, signs are looking good.
"Our guests are looking to us to make changes that will create a meaningful difference for the environment while not sacrificing the quality service and experience they expect from our hotels," Arne Sorenson, Marriott International's president and CEO says. Marriott must work toward catering to the needs of their high-end hotel customers while also trying to create action for environmental change. It's a dilemma that raises the question: Could sustainability and luxury someday go hand-in-hand? With companies like Marriott making strides like these, we certainly hope so.