Marcus Samuelsson On Community & Purpose-Driven Work
mbg Chief Content Officer
By Olessa Pindak
mbg Chief Content Officer
Olessa Pindak is the chief content officer at mindbodygreen and one of the hosts of the mindbodygreen podcast. Formerly the executive editor at Prevention, she's worked at Condé Nast, Rodale, and Martha Stewart Living Omnimedia.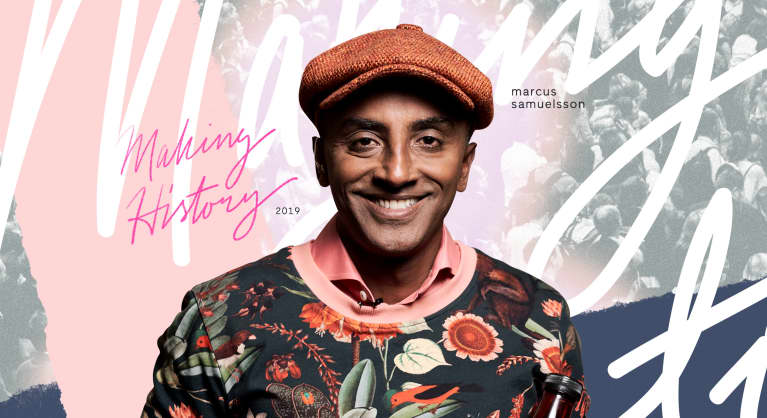 In our series,
Making History
, we're talking to people who are leading the charge to bring much-needed diversity to wellness. They're sharing with us the work that they do, highlighting the voices that need to be heard, and telling us what we as a wellness community aren't talking about—but should be. This week, we spoke with chef and restaurateur
Marcus Samuelsson
, founder of
Red Rooster
in Harlem, New York. He's known for his amazing meals—as well as bringing communities together at the table and bridging worlds through food.
How has your personal background informed your food perspective?
Having been born in Ethiopia has had a huge impact on me. When you've been fortunate like me to be adopted, you think about that constantly; you come back to that: I wouldn't be here speaking to you without having a blend between mother that I was born to, but then also the goodness of others, like the family in Sweden who raised me.
I think about this a lot in creating purposeful work. Filling a restaurant is very important as a chef, but then once you've done that, you start thinking larger about your community. I wanted to feed the community where I lived, which when I moved was Harlem. When I opened Red Rooster, it created jobs in that community, and then there's Harlem EatUp!—now 12 to 14,000 people come a year to Harlem to eat. With projects like that, we need partners, whether it's restaurant partners or ones like Pure Leaf, who is launching new hibiscus-infused herbal iced teas and has been an amazing partner in building the community. I think it starts with being passionate about food but also understanding how you cook and eat and making your decisions based on a spiritual compass. If you let the community guide the decisions, you're going to end up meeting people and making delicious food.
Did you move to Harlem and open Red Rooster because you felt there was a need that wasn't being met there?
No, my mother taught me to think, "Why don't you do a restaurant in your community?" I moved to Harlem, so it became my community. I think that is really why. Everything in our work should be purpose-filled. Everyone works hard, but if it's not purpose-filled, it's a little bit harder to get a team to be excited about it.
Are there narratives that aren't being told in the food world?
I think the hospitality community over the last five years with the help of the internet and social media has become much more diverse in telling better stories.
Before, there were just a couple of platforms and gatekeepers. So it was heavily French and male-driven, although that was not how America cooked—it was just one sliver of it. Now it's become much bigger, wider than that, and now social media allows anybody to share. The great thing with that is you hear different stories and not just in New York, San Francisco, Los Angeles, and Chicago; they are all over this country. And, of course, as they should be because cooking is something that belongs to all of us, and we should all be excited and passionate about it.
Also shows like Chopped and Top Chef have done a great job to connect with an audience that makes somebody that was not into food super-excited about food.
And shows like yours, No Passport Required!
That show has been a real joy; it's such a pleasure, my dream job. I love America, and I love to tell food stories, and No Passport allows us to do that. I just came back from Los Angeles shooting the Armenian American community, or like last year we did a show about Detroit and told a story about the Arab American community or in Chicago the Mexican American community. As a black man, you're used to people pushing a false narrative around you, so when you hear this about immigrants and being lazy, it's just laughable because nothing could be further from the truth. It's great to be able to tell a story about real America: It's delicious; it's people working together, people fighting really hard to hold on to their communities and stories.
Are there things you wished people did when they went to a new city to better appreciate the diversity of food and cultures?
Explore! I think, again, social media and all the work different bloggers are doing is great. It allows you to explore and learn about neighborhood restaurants that are not necessarily only in the trend space or with the biggest light fixtures, but their food is amazing. When you travel, be a traveler, do what the locals would do, get off the beaten path and taste food, and when you do that you're going to run into some great communities.
What's the first thing you eat or drink when you wake up in the morning?
It depends. Now when it's super cold, we have this sort of homemade fermented honey that we have sent to us from Ethiopia, and I bring that to boil with some fresh turmeric slices and cardamom and let it simmer. I'm very fortunate; I rarely get sick, so I think this prevents that. Almost every morning I have pink grapefruit or overload on vitamin C; it's just something I've done all my life; it's helped me a lot.
What does wellness mean to you?
I draw my wellness from many different things like being from Africa, and my wife is from Ethiopia as well, but she comes from a tribe where wellness is everywhere. When they wake up in the morning, it can be that they cut a leaf from a tree and put it on their skin, for example, or sometimes she just puts fermented butter on her hair, if her scalp is dry or something like that. Wellness comes much more from the environment, and that's something that she taught me. Also I've lived in Sweden, where wellness comes from this balance in nature, so when it's cold or snowing, that didn't mean that you were inside; it meant that you were outside still. So wellness comes from spending time outside, whether it's the ocean, the forest, or just being outside. Then thirdly, being able to travel and seeing, staying open to what wellness can mean whether you're in Southeast Asia or South America, so it's not something that was invented only in Europe and told from one narrative. I've been fortunate enough to be around Africa, in Northern Europe, and traveled in Southeast Asia, so I bring all of that, all of those sort channels with me when I think about wellness.
Post–Second World War, when we started to choose convenience, it did rip out a lot of those natural ebbs and flows that we were doing. Now we can say, "Time out"; maybe we pushed it too far, and we have to bring it back in. You see that in the environment; you see that in being aware of what seafood you buy, what meat you produce, how do I cut back on animal protein. I think the great thing with America is there are several dialogues going on, and I think the wellness dialogue is needed—and it does not mean that you don't eat delicious.