Your Weekly Forecast Is Here: What's In The Stars For You?
mbg Contributors
By The AstroTwins
mbg Contributors
Ophira and Tali Edut, known as the AstroTwins, are professional astrologers based out of New York and Seattle. Their work has been featured in The New York Times, Elle Magazine, Vogue and Good Morning America and they are the authors AstroStyle, Love Zodiac, Shoestrology, and Momstrology.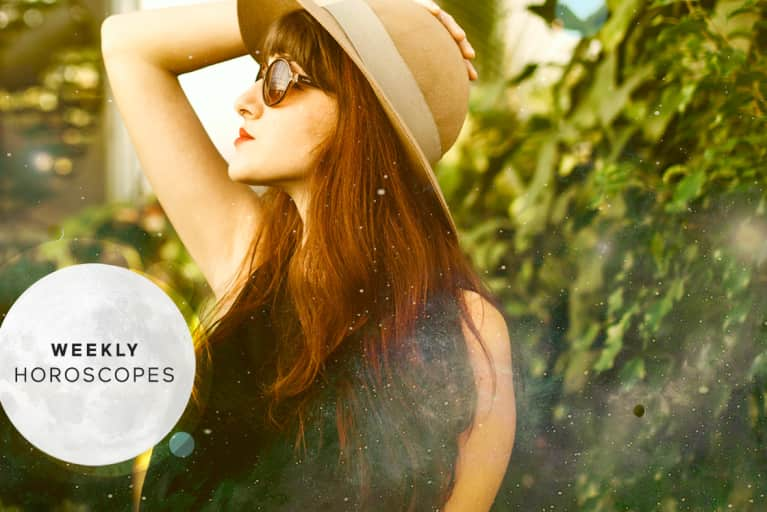 On Monday, we'll be able to sniff out the truth when Mercury moves into Aries.
No more mincing words. This Monday, March 5, messenger Mercury makes a direct hit in refreshingly real Aries. There's no point in faking anything during this Mercury cycle, which wages on until May 13—an extended phase due to an upcoming retrograde from March 22 to April 15. People will just be able to sniff out authenticity…and snuff out phony platitudes. This lively phase can bring out the performers in us all. Just watch the aggressiveness, people! In warrior Aries, Mercury can fire up tempers and make us quick to come to fisticuffs over a silly competition or ego bruise.
On Tuesday, Venus moves into Mercury and ushers in some calm.
Fortunately, on Tuesday the 6th, passionate peacekeeper Venus will join Mercury in the Ram's realm. This can tone down some of the Mercury's bluster AND pump up everyone's sexy swagger. With the planet of love strutting through this fire sign until March 31, spring flings could go from lukewarm to scorching hot in a matter of seconds. No lovebird likes to wait when Venus is in Aries, but try not to jump into anything too serious without thinking it through first.
On Thursday, Jupiter goes into retrograde, making it the perfect opportunity to make long-awaited changes.
Here's another reason to look before you leap (into bed or any sort of deal): On Thursday, March 8, live-out-loud Jupiter slams on the brakes and shifts into his annual retrograde. Since October 10, 2017, the red-spotted optimist has been simmering in Scorpio, the sign of sex, power, and espionage. The last five months have certainly been intense but also transformational! Under Jupiter in Scorpio's watch, news of the Harvey Weinstein scandal broke, and the #MeToo movement was born. As gut-wrenching as the revelations have been, this courageous honesty about sexual abuse has Jupiter in Scorpio written all over it. The Russia investigation wages on, and now the gun control movement is gaining ground in response to the horrific public and school shootings of 2018. During the retrograde, which lasts until July 10, we may have a chance to really synthesize all the change—or put practical structures and laws (Jupiter's domain) in place to support real change. Benevolent Jupiter in Scorpio may have offered protection to a few shady characters with nefarious actions to guard. But with Jupiter off duty, the lock could come off the chamber of secrets—even if the data is leaked from anonymous sources on the dark web.
On a personal note, Jupiter's backspin in Scorpio can help us tackle areas of life in need of an extreme makeover. But rather than rushing in with pumped-up optimism—which may have already failed us once—we can ease our way into change. Swearing off sugar might just lead to a chocolate ganache bender, for example. Planning protein-rich meals with lots of fruits and veggies might just fill us up, leaving room for a slice of cake instead of an entire tray of cookies. Jupiter lives for the moment and Scorpio likes to invest for the long haul: definitely a paradox. Over the next four months, we may have to make some tough decisions about how we spend our time, money, and loving feelings.
Check out your entire astrological forecast for March here.