Your Complete Astrological Forecast For March Has Arrived
Astrologers & Best-Selling Authors
By The AstroTwins
Astrologers & Best-Selling Authors
Dubbed the "astrologers to the stars," identical twin sisters Ophira and Tali Edut, known as the AstroTwins, are professional astrologers who reach millions worldwide. The AstroTwins have been featured by The New York Times, Good Morning America, the Today Show, and People Magazine, and have read charts for celebrities including Beyoncé, Stevie Wonder, Karlie Kloss, and Emma Roberts.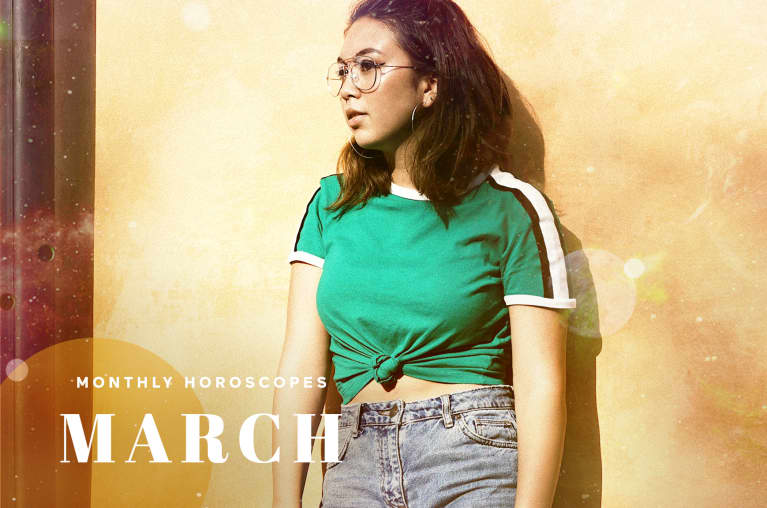 This year has gotten off to an active start in the skies. From the doubleheader of supermoons in January to the intense eclipses on January 31 and February 15, it's been one change after another. Even the curveballs that were fun surprises could have left you a little ungrounded.
While March isn't exactly devoid of action, it will present an opportunity to integrate, process, and reflect. Whew! But like January, this month is once again bookended by TWO full moons—in sensible Virgo on March 1, and then balancing Libra on March 31. Full moons bring moments of clarity and action, as they signal that situations have reached completion or a turning point.
A retrograde brigade arrives this month, as two planets—abundant Jupiter and meticulous Mercury—slow into their rearward motion. Jupiter is the first, making a U-turn in Scorpio from March 8 until July 10. With the cosmic truth-teller retrograde in the sign of sex, power, and transformation, we may finally start seeing traction around Scorpionic topics that have topped the headlines ever since Jupiter started its 13-month visit on October 10, 2017. From the Mueller investigation to the sexual misconduct cases to the outcry of gun violence, global Jupiter's reflective period could be a time for diving in and making actual change. If you've been wondering, "This is all corrupt and terrible...but what are we gonna DO about it?" Jupiter retrograde could turn up long-awaited answers.
Mercury retrograde is the prom queen of all retrogrades—most gossiped about, the most worshipped yet disliked. It's also the most common (all planets go retrograde, but none as often as this one!). Mercury rules technology, travel, transportation, and communication, so all of these areas can get wonky during this three-week backspin.
This time, Mercury backtracks through fiery Aries from March 22 to April 15. Ease up on the Snapchat filters and selfies for a minute, as we'll all be prone to sending out the wrong message, especially when representing ourselves. Choose your battles—Mercury in Aries can make us a little TOO self-focused. But if you haven't been asserting yourself, make an effort to be more honest and direct.
The March for Our Lives against gun violence, organized by an inspiring wave of outspoken, heroic teens, will also take place during this retrograde. This is an excellent demonstration of how to harness the energy of Mercury retrograde in Aries: silenced voices refusing to be muffled and starting to speak out in protest. Here's hoping that the righteous anger gets through to lawmakers during this Mercury cycle and doesn't devolve into even more fighting that distracts from the point.
The other big news is that Mars, the planet of action and drive, will start a two-month stint in can-do Capricorn, where it's "exalted," on March 17. In exalted position, Mars gets to behave at its personal best: heroic, ambitious, and productive. During this biannual visit, Mars will join structured Saturn and transformational Pluto, which are also in this sign.
Capricorn rules governments, businesses, systems, and policies—and with these three luminaries combining their superpowers, leaders will be held accountable by their followers. It's also a time to find your OWN inner leader rather than blaming politicians for our woes. With courageous Mars here, don't be surprised if you heed the call and step into a powerful role in some part of your life.
Ready for more astrological insights? Here's your complete guide to 2018.