This Map Shows Which Countries Are Best With Food Sustainability
mbg Editorial Assistant
By Eliza Sullivan
mbg Editorial Assistant
Eliza Sullivan is an editorial assistant at mindbodygreen. She received a B.S. journalism and a B.A. in english literature from Boston University.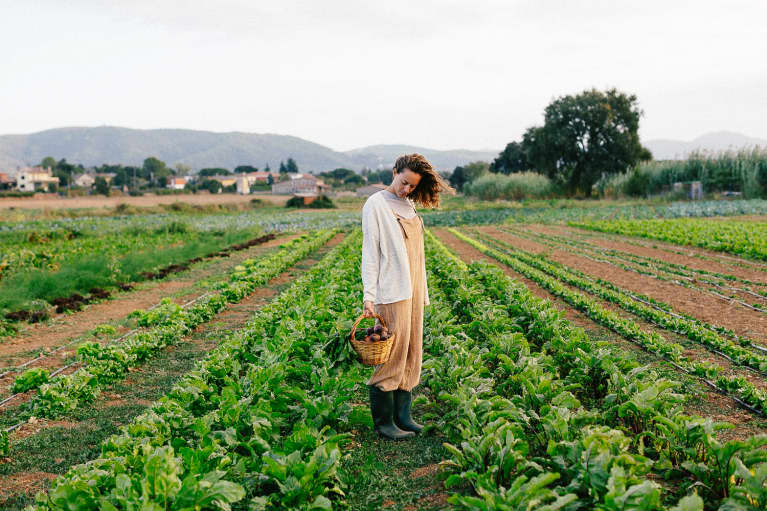 November 27, 2019 — 0:23 AM
The issue of sustainable global food systems has come up increasingly as we've become more aware of how our diet and food choices can impact climate change. But with such a complicated issue, how can we know what areas really needs work on a larger scale?
The International Center for Tropical Agriculture (CIAT) released a new map that rates food sustainability across the globe using an extremely thorough set of guidelines for evaluating food sustainability.
What did the researchers find?
The primary objective of this research was to establish a better way to evaluate food sustainability, but it also produced new findings in that area. The map indicates nations' sustainability scores, with the blue shades indicating a high score and the red shades indicating a lower score.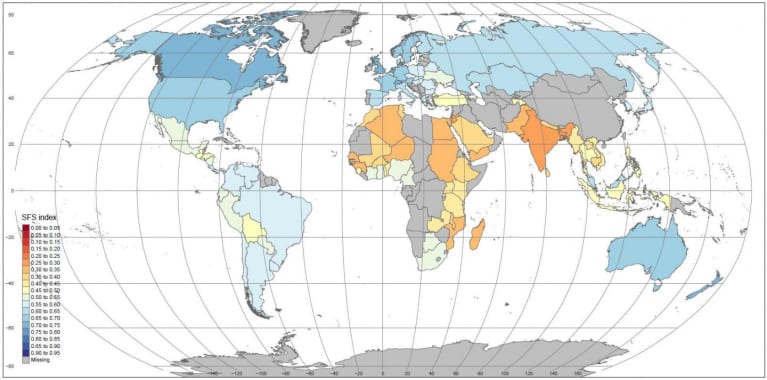 According to the map, nations like Canada, Great Britain, Switzerland, and the Netherlands have higher scores for food sustainability, while India, Bangladesh, and Jordan had lower scores. According to the study, India is also among the nations whose score has fallen over the last ten years.
The researchers were determined not to only evaluate based on environmental sustainability, but also in a way that takes further factors into account. They also acknowledge how these scores will continue to change over time.
"The food system is probably the largest employer in the world, so the sustainability of food systems is also about the economic and social contributions of those hundreds of thousands of people and enterprises," said Christophe Béné, the study's lead author and senior policy expert at CIAT.
Why this particular study was ambitious
Previous studies have taken on the massive questions of sustainability in the food supply system, but this study ambitiously set out to establish a clear and comprehensive set of indicators from which to base their map's ratings.
Beginning with a literature review, they isolated four primary "dimensions" of sustainability: environmental, economic, social, and food & nutrition. From here they created sub-dimensions, and then categories, each of which had an assigned indicator. Some of the indicators used were greenhouse gas emissions, crop diversity, food loss rates (as a measurement of food waste), diet diversification and obesity rate.
"This research represents a critical step forward in understanding the relationship between the structure and function of food systems and their sustainability," said Steven Prager, a co-author senior scientist at CIAT, "The global food system is really a set of interconnected subsystems and this work offers one of the most systematic attempts to date to unpack food system dynamics, from farm to fork to policy."
What's next for research?
As the map this research produced clearly shows, there's some major gaps in knowledge as to food supply and sustainability in some part of the world.
"Our research highlights how little is currently known about food systems," said Béné. "The reason is that national statistical systems, in both high- and lower-income countries, are collecting only a small portion of the information that is needed to build a comprehensive picture of the whole system."
Going forward, this research provides a comprehensive basis of factors to consider when looking at food sustainability. And while it evaluated the concept on a macro-level, if you're looking to make your food habits more sustainable there's simple changes you can make, like shopping with less plastics, trying 'closed-loop cooking', or go a step further and use these hacks from our staff to eliminate plastic everywhere (including the kitchen).