Manuka Honey May Be Coming To A Hospital Near You
mbg Editorial Assistant
By Eliza Sullivan
mbg Editorial Assistant
Eliza Sullivan is an Editorial Assistant at mindbodygreen. She has bachelor's degrees in journalism and english literature from Boston University.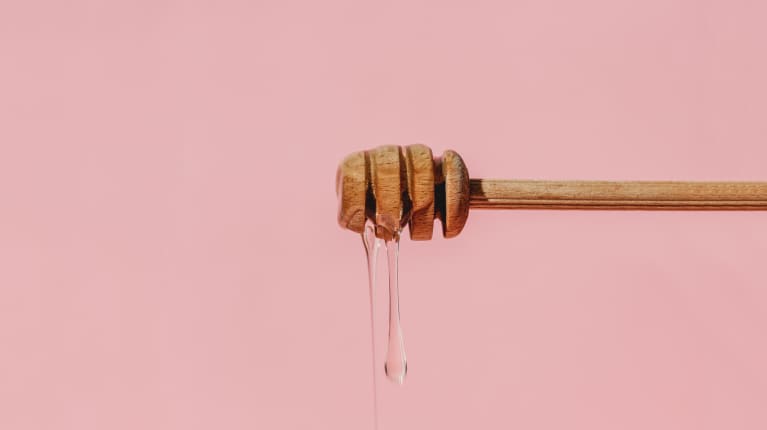 December 4, 2019 — 0:01 AM
Manuka honey, the magical healing honey from New Zealand, has caught the eye of the surgical community and may have found a new sweet spot in the medical world.
Researchers, led by scientists from Newcastle University and Ulster University in the United Kingdom, found that layering tiny amounts of Manuka honey between layers of surgical mesh could act as a natural preventive antibiotic to stop infections that are a risk after operations.
What did the researchers find?
Using alternative layers of Manuka honey and surgical mesh, they were able to create a natural antibiotic barrier, which helped prevent infections such as MRSA, Staphylococcus, and E. coli.
The researchers fit 16 layers of alternating mesh and honey into mere nanometers to create the technology, which was tested in lab in vitro applications. These so-called nano-layers of the honey between the mesh created an "electrostatic nano-coating" that actively fought bacteria for three weeks by slowly releasing the honey.
Though only lab tests, these results offer promising evidence for the application of this technology after operations. But there is a fine line for the use of honey in this way:
"Too little honey and it won't be enough to fight the infection but too much honey can kill the cells," said Piergiorgio Gentile, Ph.D., lead author and a biomedical engineer at Newcastle University. "By creating this 16-layer 'charged sandwich' we were able to make sure the honey was released in a controlled way."
The antibacterial benefits of Manuka honey have been applied in health and wellness, and honey in general has been used in medicine historically: "Honey has been used to treat infected wounds for thousands of years but this is the first time it has been shown to be effective at fighting infection in cells from inside the body," said Gentile.
"By sandwiching the honey in a multilayered coating on the mesh surface and slowly releasing it, the aim is to inhibit the growth of the bacteria and stop the infection before it even starts," he added.
This research was motivated by the expansion of antibiotic-resistant bacteria and the search for alternatives in the surgical space: "Although numerous antibiotic-based coatings, constructed through layered approaches, and intended for the development of antibacterial implants have been investigated so far, it has been found that the effect of antibiotics may decrease with time, since antibiotic resistant bacteria may potentially develop," said Elena Mancuso, Ph.D., a lecturer within the Nanotechnology and Integrated Bioengineering Centre (NIBEC) at Ulster University.
What's next for research?
As previously mentioned, this study didn't go so far as to test their technology on living subjects, so further research is needed to test the application.
The researchers see their research being applied in the development of medical implants that are infused with honey to naturally fight infection: "With our study we have demonstrated the promising combination of a naturally derived antibacterial agent with a nanotechnology approach, which may be translated to the design and development of novel medical devices with advanced functionality," said Mancuso.
While you might not be seeing honey in the OR particularly soon, there are tons of reasons to add it to your arsenal for helping with everything from insomnia to gut health, acne, or allergies.