6 Strategies For Manifesting Your Dream Job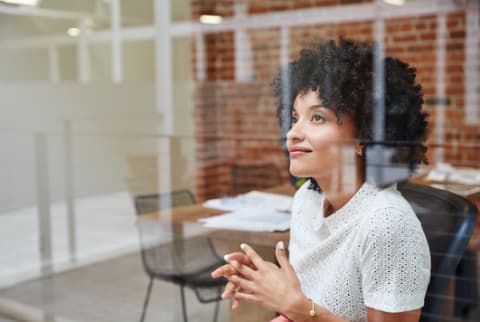 April 19, 2016
As a professional career strategist, I often hear from clients, "This is the job I'd love to have, but I don't think I'm qualified for it."
Here's my take on it: If you feel a calling to a particular job—and a level of self-awareness that gives you pause—recognize that part of you is perfectly aligned with that career path. The trick is figuring out how to identify the barriers and work around them in order to get to your dream job and fulfill that calling.
Advertisement
This ad is displayed using third party content and we do not control its accessibility features.
Are you immediately thrown by the words "dream" and "job" in the same sentence? Apologies for the shock, but it comes with some pretty important news:
You can manifest your dream job.
A dream job is the ability to fuse your career with your interests, skills, and values. It's that role you can't stop thinking about—one you know will give you the opportunity to make a tangible impact with your skills. It's the kind of work that makes your energy levels soar and gives you hope for great success—even if you hate the work you're doing while you dream about it.
A dream job is where you know your ultimate career happiness lies. There's nothing more rewarding than loving what you do and doing what you love.
So, how do you manifest a rewarding career path?
Here are six key strategies for making your dream a reality:
1. Identify your core values.
What is your bottom line? Are you all about the dollar signs, regardless of the role, or would a job that appreciates and applauds your creativity suit you best? It's perfectly OK if you feel a calling to something on the opposite end of the spectrum from where you are right now.
Compile a list of what you want out of your job—enact what I call a Theoretical Job Search—and ask yourself what you're willing to do and for what payoff. This is an integral step in aligning yourself with ideal career opportunities.
Advertisement
This ad is displayed using third party content and we do not control its accessibility features.
2. Know where you belong.
Now that you've targeted your values, it's time to see where they fit. There are four different types of corporate cultures—each one unique in its work ethic, structure, and attitudes. Each culture carries its own set of values as well. Do some research on each type of culture to help you get a better understanding of where you'd thrive most. This will definitely help you narrow down your list of potential target jobs.
3. Use technology for your benefit.
So, you're homing in on the job you want. How do you find it? These days, both job seekers and employers are relying more and more on social media. Developing a strong LinkedIn profile and making connections online is the next best thing to a real-life handshake. (And a digital connection can easily lead to a real-life one!)
Research the roles you're interested in using LinkedIn, and apply the information you come up with in at least two ways: locating companies and people to connect with for real conversations and identifying the transferable skills you'll need for the rest of your job search. This is how you create a LinkedIn profile and résumé completely tailored to the needs of your dream job.
Advertisement
This ad is displayed using third party content and we do not control its accessibility features.
4. Surround yourself with support.
Embarking on a career search (especially one that should land you in your dream role) is a really big deal. As with anything else that rocks your world, you'll want to take the ride with a trusted support system. There is strength in numbers, as they say. I believe in the power of connecting with those who want to see you succeed. They'll be committed to helping you get there.
Think about the people in your life who not only provide excellent perspective but will gently guide you back on the path when you veer off. Whether they're friends, family, a spouse, or even a career adviser, good advice, intelligent insight and strategy, as well as a bit of confidence-building, make a huge difference during this process. Take it from me, you don't want to go it alone.
5. Be flexible.
Roll with the punches. Take life as it comes. Change on a dime. These are three concepts to keep in mind in the process of manifesting your dream job. Why? Flexibility is key—locking yourself into one particular role and going about it in one specific way can be the catalyst for disappointment and easily throw you off course.
Think of the goal of landing your dream job as a special, committed relationship—one that will likely require compromise. If you ask me, compromise just might be the key component to any successful relationship—so make sure you are willing to bend a bit where necessary. The outcome will be worth it!
Advertisement
This ad is displayed using third party content and we do not control its accessibility features.
6. Adopt a "Consistency of Excellence" attitude.
Were you aware that you, too, carry a Consistency of Excellence card somewhere in your back pocket? Have you taken the time to compile all your excellent career accomplishments to date? With a detailed list of all of the change you've effected in your industry, you can approach the manifestation of your dream job fully loaded—with measurable outcomes that illustrate your efficacy in your career.
Be prepared to speak about the transferability between your background and future goals. Approach every part of your job search with a Consistency of Excellence mindset, and you'll see the bridge to your dream job materialize a little more firmly with every step you take.
Happy career-hunting: I look forward to seeing you manifest your dreams!
Related reads:
Advertisement
This ad is displayed using third party content and we do not control its accessibility features.
Reset Your Gut
Sign up for our FREE doctor-approved gut health guide featuring shopping lists, recipes, and tips
Emily Kapit, M.S.
Emily Kapit, M.S., is a triple certified Master Resume Writer and the Founder, Lead Writer, and Head Career Strategist at ReFresh Your Step, LLC, a career advisory firm based in Miami, Florida with clients located nationally and internationally. She and her team of highly certified writers and career advisors work extensively with clients on all facets of their career progression, including resumes/cover letters, LinkedIn profiles, job search strategies, mock interviews, career guidance, and more.
Although much of her company's work focuses on career success, she believes wholeheartedly that a life well-lived is one that is in balance; as such Emily ensures that each client is on a path to life fulfillment. Emily's balance is found between running her company and raising her toddler daughter with the same empathy and dedication she gives to her clients. She collaborates with each client, regardless of education level, background, sector, and goals, to identify opportunities for life fulfillment and balance.