My Journey Into Motherhood Was Filled With Grief — Here's How I Found Joy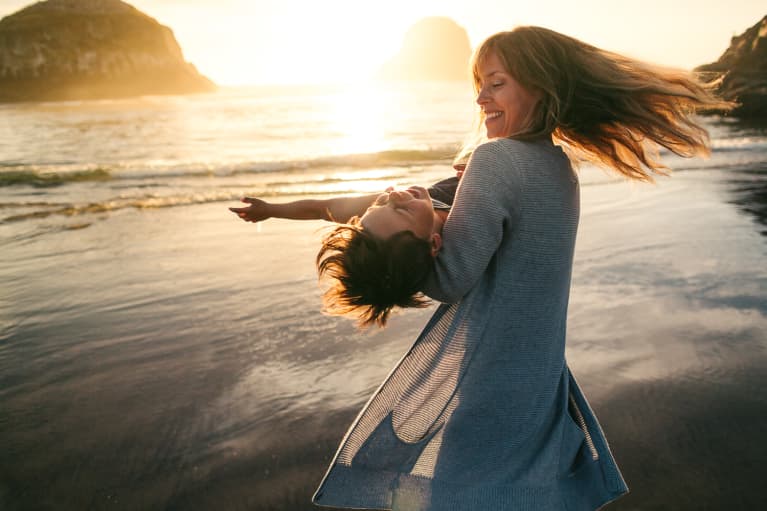 Here at mindbodygreen, we believe in trying your best but accepting that life—and parenthood—is a journey, with ups, downs, and potholes along the way. That's why this
Mother's Day week
we're introducing (Mostly) Mindful Mamas week, where we're offering stories to help the mother figures in our lives get back a bit of that time, through wellness that isn't perfect but feels achievable. Instead of spending one day at the spa, our stories this week focus on small changes moms can make now that will last long past Sunday. We also know this isn't an easy week and time of year for a lot of people, and our hearts are with anyone feeling tender. Wishing you all a good week...
If my baby daughter had lived past her birth, she would have had her 18th birthday last Mother's Day. I wonder what she would have been like. I picture her with skin still creamy and luminous, the dark hair she had as a newborn baby now grown long and shiny—maybe caught back in a ponytail, maybe cascading loose over her shoulders. I never saw her eyes—her lids were closed by the time I held her, already dead, in my arms—so I invent them: green, like mine, rather than golden brown like her younger brother's. But they are light-filled and sparkling, like his.
I imagine my daughter texting me from school like her teenage brother just did: "I just got cast as Moist in Dr. Horrible's Sing-Along Blog!" "Mom, I'm not feeling so good; can you pick me up today?" I envision the way she would roll her eyes at my haphazard outfits, the clothes of a writer and meditator who works at home in sweatshirts and yoga pants—"God, Mom, can you at least put on matching socks before you leave the house?" (Her brother doesn't even notice what I wear, but I'm sure she would.)
Of course, in this fantasy, her brother and stepsister are here too—how could they not be? The three of them are spotting jack-rabbits and bobcats in the drought-baked hills above our house or arguing about whether to watch Bridesmaids or Star Wars on family movie night. The girls are singing along as their brother plays "Hysteria" by Muse on his electric guitar.
But, of course, that's not the way it would be. Because if she had lived, everything would have been different.
—
Hidden somewhere in my mind, unacknowledged, was the illusion that my yoga and meditation practice was a magic talisman that would protect me from disaster. I would eat organic food, do yoga every day, and have a virtually painless home birth that would be like a slightly more strenuous vinyasa practice. I would carry my baby with me everywhere in a sling, like the Mayans, and sleep with her in a family bed—and therefore she would not have colic, not cry all night, not even spit up. Parenthood would add a whole new spiritual dimension to my relationship with my baby's father. Our days would be a festival of family meditations and pancake breakfasts, and after we tucked our little one into bed each night, we'd fall into each other's arms in passionate gratitude for our good fortune.
When I was four months pregnant, I put on a little black dress with a stretchy waistband and trotted into the office of a New York editor to pitch her my new book idea.
"A Buddhist yoga mom's journey into motherhood," I told her. "A cross between Anne Lamott and the Dalai Lama."
"It's a great idea," the editor told me, leaning back in her chair. She was in her 60s, with 40 years of publishing experience and a couple of children of her own. Later, I would realize that she had probably seen plenty of book proposals—and lives—that didn't go as planned. "Send me a draft when the baby is a year old."
But the story I thought I was telling ended before that.
—
I tried a few years later to tell the story again. By that time my 1-year-old son was toddling through my house, clutching a blue baby blankie and a stuffed lion. My daughter's footprints were framed on an altar beside his diaper-changing table, next to a statue of Kuan Yin, the Buddhist goddess of compassion who is said to hear the cries of the world.
I thought that this new story would be a transformational tale of death and rebirth. I would write about how yoga and meditation helped me transform grief into love and wisdom—and the tale would end with me and my husband and son living happily ever after together.
I wanted to use that story to highlight the power of mothering as a meditative practice in its own right. Since my son had been born, it had become achingly clear to me that the classical yogic and Buddhist canon didn't have much to say about mothering—or intimate relationships in general. Over the centuries, meditation and yoga had primarily been paths for renunciate men. "How can a person who is attached to family life, with his senses uncontrolled and bound by strong ties of affection, liberate himself?" asked one ancient yoga text.
Intimate relationships were dangerous because they inflamed desire—"It is better that you enter the mouth of a hideous cobra or a pit of blazing coals than enter a woman," Buddhist monks used to be warned. They could ensnare the practitioner in family life, leaving no time to meditate. The young prince who would become the Buddha named his son Rahula, meaning "fetter." In order to pursue spiritual awakening, he had left both wife and son behind, slipping out of the house in the middle of the night and galloping off on horseback, apparently to avoid a nasty scene.
Early Buddhist nuns wrote poems about their lives, recounting how they'd turned to spiritual practice after their children were carried away by hawks, buried in mudslides, or swept away down rivers. Their poetry sings of the freedom that lay on the other side of unfathomable loss: "I have seen the jackals eating the flesh of my sons in the cemetery. My family destroyed, my husband dead, despised by everybody, I found what does not die." Such texts offered me little guidance for how to find that profound awakening while still caring for children, or still grieving ones who had died, and nothing at all about negotiating the complex, ever-changing constellation of intimate relationships that make up a family.
Sure, the selfless compassion of a mother for her child was presented as the model for lovingkindness meditation. But that was a metaphor. Actual moms—cursing in childbirth, leaking milk, kissing bruises, pounding a wall in the middle of the night so they didn't pound their babies—as spiritual practitioners? My search of the classical yoga and Buddhist sutras came up empty.
But those were the things I wanted to write about. I wanted to tell the story of a real mother, finding awakening with her shirt stained with peanut butter. I wanted to write about how the lofty ideals of spiritual practice intersected with the wild, chaotic, hilarious, heartbreaking details of everyday life. I filled my journal with notes about parenting.
But then my marriage went down in flames. Grief overtook my journals too.
I wanted to write a story that turned out well. So I set this one aside.
I knew that my daughter's life and death had not just shattered my heart, but they had also rebuilt it, wider and deeper and more tender than it had been before. I knew that the path I was walking with my growing son was opening me in ways that no meditation retreat or yoga practice ever had.
I wanted to write a book about mindfulness and parenting as a spiritual practice—but how could I reveal the ragged details of my own life? Surely someone truly mindful wouldn't be screaming at her soon to be ex-husband and then kicking a wall so hard she broke her toe. An enlightened being wouldn't have a tantrummy toddler whose first words to another child would be "Go away." She wouldn't have a boyfriend who would climb through her window in a drunken rage in the middle of the night, thinking she had been out carousing with another guy, when in fact she had been sipping chamomile tea at her former mother-in-law's 85th birthday party.
I figured I better keep my mouth shut about this whole motherhood-as-spiritual-practice idea.
—
Now, years later, I finally understand—waiting for a happy ending isn't the point of writing, or of life. Don't misunderstand me. As I write this, my life is filled with joy. My son is a radiant high-school student with a pack of friends and a passion for environmental science, creative writing, and theater. I share my home and my heart with a beloved partner—a musician and martial artist who plays guitar with my son and teaches him to spar with wooden swords on our deck.
My son's father is happily married to a beautiful, raven-haired woman whom I don't know well but who I know loves my son. Last Father's Day I helped my son pack up a picnic lunch of salmon salad and sparkling apple juice and sent the three of them all off for a walk around a nearby lake. Then I went on a different hike with my partner and his daughter, who has become my child too—a 20-something artist with creamy, luminous skin and long dark hair that cascades over her shoulders like a waterfall.
I know this happy moment is not the end of the story. If there's one thing that my journey into motherhood taught me for sure, it's that life swirls and eddies on and on like a river. Oceans evaporate into mist. Clouds rain into mountain streams. Streams sing their way back to the ocean again. Love always walks hand in hand with impermanence. All human stories of love are the stories of loss, eventually.
But here's the other side of that truth—love doesn't end when someone we love is gone.
Long before I got pregnant with my first baby, I was on a meditation retreat in the south of France. The Vietnamese Zen master Thich Nhat Hanh began a dharma talk one morning with these words: "She was just 18 years old when I met her." We retreatants were riveted as, over the course of our three-week retreat, he told us the story of how as a young novice monk he had fallen in love with a nun. He never touched her—"I didn't even place my hand upon the top of her head." The war swept them apart, and she eventually left the order of nuns. But that love changed the trajectory of his practice, his teachings, and his entire life.
At the end of the retreat, a woman raised her hand and asked, "Did you ever see her again?"
"Have you not understood what I have been telling you?" Thich Nhat Hanh asked. "She is here in the room with us. I see her every moment of every day. You hear her whenever I speak."