What New Research Reveals About Crafting A Non-Toxic Home For Kids
mbg Sustainability Editor
By Emma Loewe
mbg Sustainability Editor
Emma Loewe is the Sustainability Editor at mindbodygreen and the author of "The Spirit Almanac: A Modern Guide To Ancient Self Care."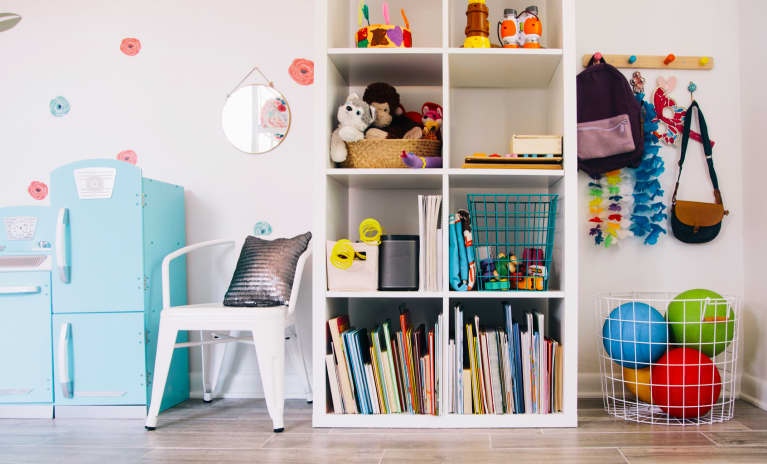 These days, limiting kid's chemical exposures can seem next to impossible. And recent reports that some popular baby formulas and foods tested positive for lead and arsenic, and BPA and its potentially harmful substitutes can be passed from mother to child in utero only make matters worse for health-conscious parents.
A new guide by Made Safe—a certification scheme that labels products with ingredients that don't harm our health or the environment—seeks to demystify some of the over 80,000 chemicals in our products today. It presents parents with information on which ones are actually dangerous and small swaps they can make to craft a healthier home.
"The problem is that right now, parents almost need a Ph.D. just to go shopping and figure out whether or not something is safe to use with their families," says Cassidy Randall, Made Safe's director of marketing and business development. "Parents are already busy enough without having to research what harmful chemicals might be lurking in their child's bottle, mattress, or baby wash. With scant regulation of harmful chemicals, confusing labeling, and rampant greenwashing, parents are left to navigate a health minefield with little help."
The guide is focused on plastics in particular, and it analyzes the threat certain plastic products pose to our bodies, our children's bodies, and the world around us. (Since many kids' products are used for a brief period and then tossed, it's an especially wasteful market.) It breaks down some of the toxic chemicals in plastic, recommends plastic alternatives, and points to products that are certified eco-friendly by the Plastic Pollution Coalition, an organization that seeks to reduce the amount of plastic in the environment, and deemed safe by the Made Safe label. Developed last year, this relatively new certification for nonfood items like household products, skin care, cleaners, etc., names a product safe when third-party scientists find that it's free of chemicals thought to harm human health (meaning no carcinogens, endocrine disrupters, fire retardants, or VOCs allowed). Here's what the report had to say about how to cut down on chemicals at home without driving yourself crazy:
1. First and foremost, look for BPA-free plastics.
The FDA banned BPA—a chemical shown to cause reproductive problems—in baby bottles and children's sippy cups in 2012. However, it's still present in many other plastics products and is easily absorbed by adults and children. BPA alternatives like BPS could be just as potent and harmful. Made Safe recommends making this one of the first class of chemicals you look to phase out at home, especially if you have kids. Other chemicals of concern include phthalates—plastic softeners that come in a variety of toys that can cause endocrine disruption. The solution? Avoid baby products that are made of plastic and foam (another material that's often loaded with chemicals) whenever possible, starting with toys, since they often end up in kid's mouths. Instead, look for toys made from wool, cotton, and uncoated wood. They list Bioserie and Baby Green Thumb as good brands to start with. For when you can't avoid plastic, like with pacifiers, look for ones made with 100 percent hospital-grade silicone, like those from Life Factory.
2. Avoid single-use baby and personal care products when possible.
Once you've started to phase out plastic toys, move on to single-use plastic products for the sake of the environment. "Whenever you can, avoid things that get used once and disposed of. Think plastic baggies, disposable plastic bags, straws, etc. With baby products, think less is more and try to simplify the number of products in your home," advises Randall. Items like baby food pouches are especially troublesome. The market for them grew from $8 million in 2010 to $45 million in 2015, and that means a lot more plastic in the environment since they're not recyclable. Baby wipes pose another problem, and while they're harder to avoid, Made Safe recommends trying out soft cotton washcloths with warm water (and gentle soap when necessary) instead. When you do need to use wipes, go for ones that are made from compostable materials and don't use fragrance, like Bloom Centric's.
3. Remember that little changes go a long way.
If you're someone who constantly worries about your child's health at home, Randall gives you permission to stop panicking. "While it can seem overwhelming to try to protect your child from all the chemicals lurking, studies show that even small steps to reduce exposure can tip the scales toward better health," she says. "For example, replacing a plastic baby bottle or sippy cup with a stainless-steel option can lower the levels of BPA and other bisphenols in their bodies, which are hormone disrupters linked to cancer, infertility, heart disease, and other health problems. So pick one room or product to start with, celebrate your efforts, and keep moving from there. Every little thing you do to protect your children from toxics truly matters."
Check out the full report and all its recommended products here. And check out this mom's guide to the ultimate green, clean nursery.