The Regimen That Helped Me Recover From Lyme Disease & Chronic Fatigue When Nothing Else Did
CSCS-certified strength & conditioning specialist
By Rachel Straub, M.S.
CSCS-certified strength & conditioning specialist
Rachel Straub, M.S. is an exercise physiologist, nutritionist, biomechanist, certified strength and conditioning specialist (CSCS) with master's degrees in nutritional sciences and exercise physiology from San Diego State University, and a master's in bio-kinesiology from UCLA.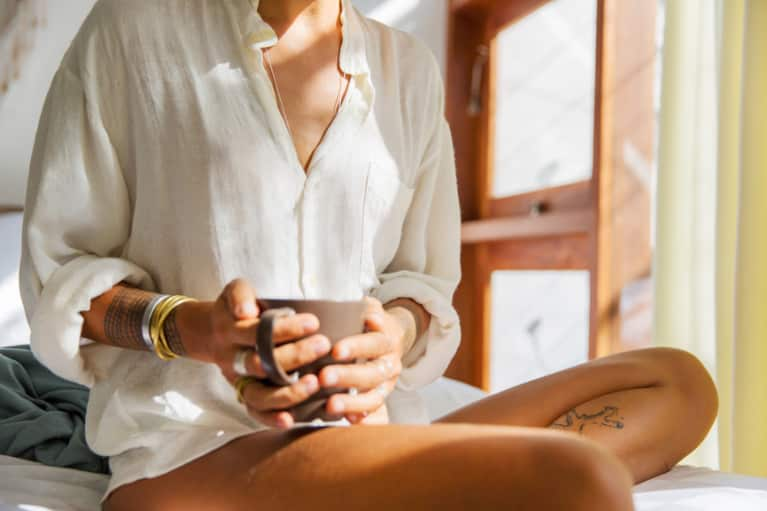 I am sharing this story because I hope it will help someone else in a similar situation. I realize what you are about to read may seem hard to comprehend, but please realize that living with chronic fatigue is incredibly frustrating, exhausting, and sometimes downright miserable—there are no answers or accepted treatments. Suicide rates are nearly seven times higher than in the general population since many people are left with little hope and can no longer handle the suffering. Hopefully my story will inspire someone else to keep fighting.
5 doctors, 8 months of testing, and finally something to show. (And I am not crazy!)
In January 2013, I officially crashed―the walls just came tumbling down as my physical well-being deteriorated. Inevitably, I had to withdraw from graduate school, quit my job, and move home with my parents. I couldn't move and was bedridden for a number of days. My mom actually left my room crying on a number of occasions because I was in such bad shape.
After five different doctors and eight months of testing, I was officially diagnosed with mycoplasma pneumonia by an M.D., Ph.D. in September 2013. Mycoplasma pneumonia is a potential culprit in chronic fatigue. It was estimated that after two to three months of intensive antibiotic therapy, I would fully recover. Long story short, that didn't happen. For nearly one and a half years, I was cycled on endless antibiotics (prescription, herbal, and inhalation) in an effort to get me well.
Side effects from antibiotic treatment became rather unbearable.
Once I started treatment, I had the same exhaustion problem but it was compounded with additional side effects. The doctor said this was all part of a "die off" response (or Herxheimer reaction)―as the infection is decimated, your body feels the effects, essentially getting sicker. He did warn me of this before commencement of treatment, but I had no idea what I was in for! There were hours of the day (many days, all day) that I literally thought I was going to die—kidney pain, burning joints, migraines, nausea, chilling, hypotension (down to as low as 70/40), and more. It was like a permanent flu that would never leave. And this went on for nearly four years. To move one step forward, I had to take 10 steps back and crawl my way out. I had to learn to occupy my mind in an effort to distract myself from the unrelenting pain.
After a year and a half of treatment, I am deemed a "mystery patient."
After one and a half years of treatment to clear mycoplasma pneumonia, I was finally deemed a "mystery patient." Although I was doing better, I was by no means well. As such, I was referred out for unconventional testing, which indicated I was harboring a number of infections (in addition to mycoplasma pneumonia): Epstein-Barr virus, human herpesvirus 6, Lyme disease, babesia, and more. And because of all these other infections, I wasn't recovering as originally expected. It should be noted that I had been tested for all these infections using conventional tests before, but results were repetitively negative.
Treatment for my seemingly endless infections begins.
So I started undergoing experimental treatments for endless infections. This lasted for approximately 16 months, and the Herxheimer reactions continued without any reprieve. My immune system had essentially crashed and there was no immediate solution for repairing it. I finally reached a point where I was on medications, prescription and herbal, for just about every known pathogen and immune booster—or so it seemed. I was making progress, but my health still remained severely compromised. Although I had an extensive team of medical professionals treating me at this point—with the lead being an M.D., Ph.D.—it wasn't enough. Inevitably, I had to join my own team and solve my own problem.
Self-experimentation leads to a full recovery, finally.
The first item I uncovered with the help of professionals, of course, was EMF sensitivity—you can read the full story on that here. The second item I uncovered was extreme levels of drug-resistant biofilms, which I successfully treated with light therapy while being monitored by a physician. And the third (and final) item I uncovered was heavy metal toxicity, which has been linked with severe complications with mycoplasma pneumonia.
So, where am I know? As of April 2017, I am fully recovered. That is, I am no longer undergoing "torturous" treatments, which were all necessary to get to where I am today, and I finally have the energy to accomplish normal activities without crashing to bed. I have even found my way back into the gym after over a four-year and three-month sabbatical.
Although my story may seem incomprehensible, I have suffered from a condition that affects millions of people around the globe that technically has no solution. The majority of people with the severity of my condition never recover―the most severe cases end up permanently bedridden, and this is where I was headed. Hopefully my story can inspire someone else in a similar predicament, as I have overcome a horrific illness that robs people of their lives.
Here are some key tools that led to my recovery, which I wish I had known at the beginning:
1. I found a competent doctor (an M.D., Ph.D.) with extensive experience in treating and diagnosing difficult conditions. Although he, alone, was unable to cure me, I couldn't have done it without him. The majority of the medicines I am on or have been on, both herbal and prescription, are because of him.
2. I found someone (Ph.D.) with extensive experience in muscle testing, which is an unconventional method for determining what medications to take and how much. I am exceedingly sensitive to everything and suffer from dangerous drops in blood pressure from poor choices in medication or too high dosages. Initially, my overseeing physician wasn't too happy with me for deviating from his protocols, but once he saw the results, he started recommending referring patients to the person I was seeing.
3. I found a psychologist (Ph.D.) with extensive experience in energy psychology. He taught me tapping, which played a pivotal role in my recovery. I was able to use tapping to keep myself mentally sane, enhance my immunity, and hasten the decimation of pathogens and the clearing of toxins, including heavy metals. And all of this, too, was exceedingly painful. Tapping was essential to my recovery. As a preventive measure, I'll do it indefinitely.
4. I will be doing light therapy, daily, indefinitely to keep my immune system strong and to prevent the development of drug-resistant biofilms.
5. I will be using EMF protection for the rest of my life.
6. I will be remaining on endless herbals indefinitely. It took me months and years to add all 35, as anything that killed a pathogen or strengthened my immune function caused severe die-off that was initially unbearable.
Here's why 2017 is projected to be the worst year for Lyme yet and here's what you can do to prevent it. Plus, here's another account of what living with Lyme is really like.
Editor's note: We think sharing Rachel's journey can be helpful for others suffering from Lyme and/or chronic fatigue, but this regimen and these opinions are her own. We recommend talking to your health care provider before starting any new supplements.