The European City You're About To Add To Your Bucket List
mbg Contributor
By Leigh Weingus
mbg Contributor
Leigh Weingus is a New York City based freelance journalist writing about health, wellness, feminism, entertainment, personal finance, and more. She received her bachelor's in English and Communication from the University of California, Davis.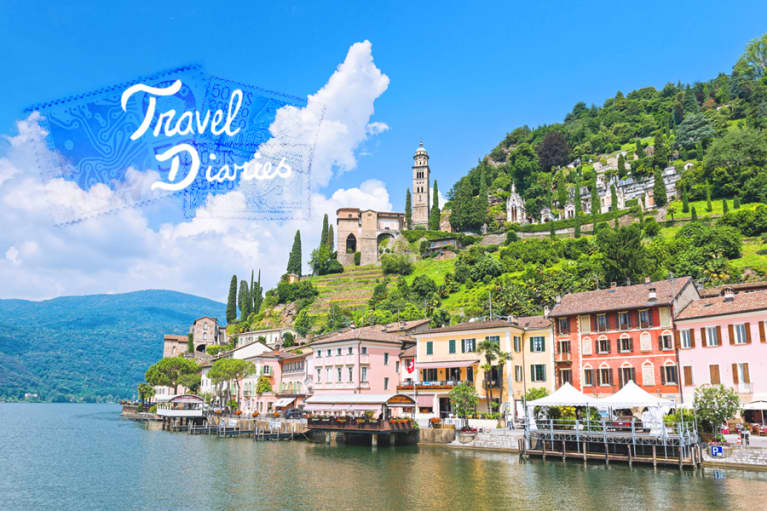 Consider our Travel Diaries series your digital passport this summer. Follow along as we give you a sneak peek into where our wellness-centric contributors are headed for some R&R. This week, we're tagging along with yogi, runner, smoothie-bowl enthusiast, and mbg's fitness editor Leigh Weingus on her recent Swiss vacation.
As a little kid obsessed with The Sound of Music, there was nothing I wanted more than to frolic in the hills of Austria...or at least somewhere near them. So when my boyfriend and I decided to plan a trip to Italy, I suggested we pick a Northern Italian city so we could pop over to Switzerland for a few days. I wanted to soak up the magic of the Swiss Alps and still have access to all the mouthwatering pizza, pasta, and pistachio gelato my heart desired. Can you blame me?
I didn't know much about Lugano when we committed to it, but a quick Google image search told me I was in for a treat: Photo after photo featured a luminous blue lake dotted with sailboats, and the lake fell between tall green mountains decorated with pink and yellow houses.
Six months and one canceled flight later (don't ask), we arrived in Lugano bleary-eyed and nearly blinded by the city's bright colors in the early morning light. While I was expecting to be blown away by Lugano's beauty and charmed by the Swiss-Italian locals, I wasn't expecting my few days there to be filled with so much adventure.
Here are some of the highlights.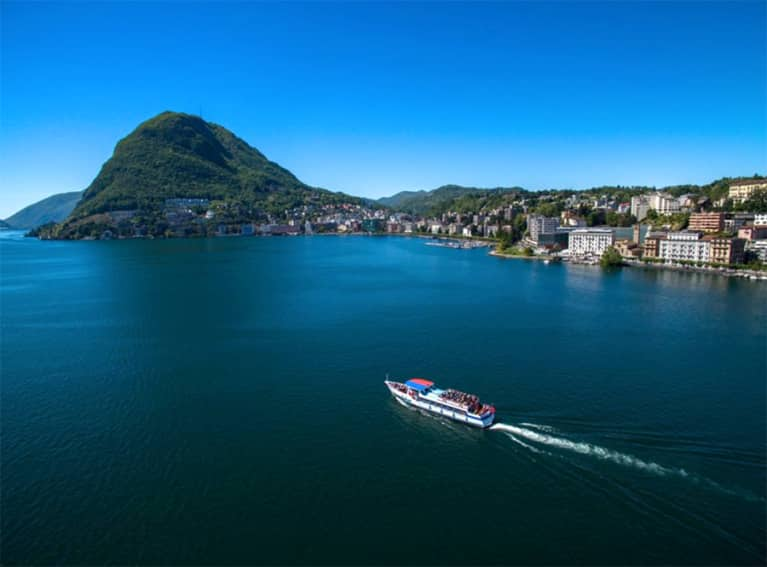 While walking along the lake on our first day in Lugano, we found that a variety of boat tours of different lengths were offered. The most popular tour is an hourlong loop around the lake, but you can also spend a few hours or even days traveling to nearby towns and cities.
2. Take a cable car to the top of Mont Bre.
For 20 euro, we were transported 933 meters above sea level to the top of Mont Bre in a cable car. As a roller coaster lover, I was enthralled—but for anyone afraid of heights (ahem, my boyfriend), the trip up might be a little nerve-wracking. The payoff is worth it, though—you can take scenic hikes with spectacular views of Lugano, and the hilly trails will take you to tiny nearby towns.
My favorite part of this adventure was probably sipping espresso at Osteria Funicolare, a restaurant on the mountain with some of the most stunning views I've ever seen.
3. Explore the outdoor markets.
From farmers markets teeming with fresh fruit to flea markets featuring vintage denim and antique trinkets, I couldn't get enough of everything the outdoor markets of Lugano had to offer. Even if you don't buy anything, spend a few hours poking around. You'll have a blast.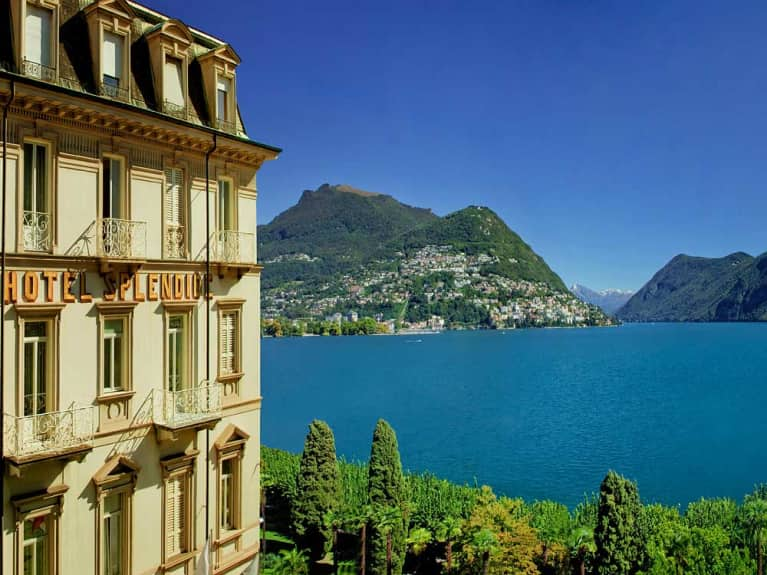 1. Hotel Splendide Royale.
With sister locations in Paris and Rome, Hotel Splendide Royale will transport you back in time with its elegant, old-fashioned rooms and breathtaking lake views. Even if you don't stay here (it's a bit on the pricier side), stop by for lunch or coffee and take it all in.
Villa Sassa has it all—the location is prime, the food is delicious, the views are top-notch, and it includes a spa and gym. What more do you need?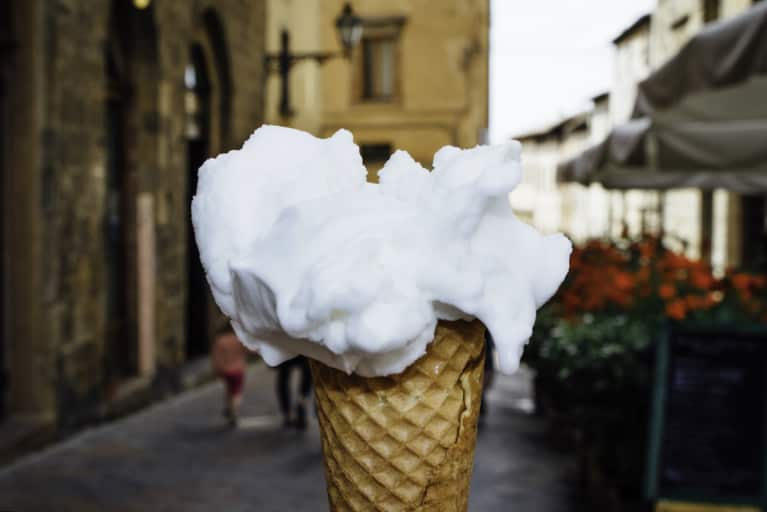 Lugano isn't exactly bursting with vegetarian fare, so La Tinera is a welcome break from the prosciutto and Bolognese. Hidden in a cozy, charming basement on a side street, La Tinera is a typical Ticinese restaurant that is also reasonably priced and features veggie-filled dishes.
2. Bistrot & Pizza Argentino.
The proximity to Italy shines through at Bistrot & Pizza Argentino, which is in the heart of Lugano and has some of the best pizza I've ever tasted. Dine al fresco in the warmer months, and if you are so inclined, wash your pizza down with a glass of (surprisingly inexpensive) Chianti.
One thing Lugano definitely does not have a shortage of is gelato shops. Not unlike Italy, you can get a cone of gelato at several spots along the lake and on nearly every corner of the downtown area.
For more travel inspo, check out the rest of mbg's Travel Diaries.