This Is Lucy Hale's Go-To Morning Routine (Yes, It Involves Meditation)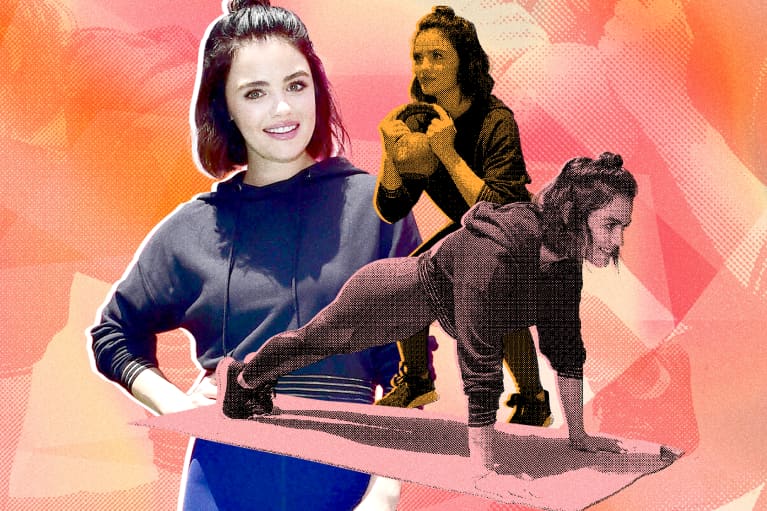 Lucy Hale is 30 and thriving.
It's been only two years since the former Pretty Little Liars star left Rosewood, but to say that Hale has come a long way from her days portraying the spunky and mysterious Aria Montgomery would be an understatement at best. The actress recently secured her spot as leading lady in the upcoming Riverdale spinoff, Katy Keene, and with a few films scheduled to release in 2020, Hale seems to be welcoming the big 3-0—and all the opportunities that lie ahead—with open arms.
"I think that, in general, women are starting to feel empowered as they age to own their happiness, and I feel like the 30s are something to look forward to," Hale tells mbg. "I'm looking at the next decade as an exciting opportunity and can't wait to see what comes next!"
Hale is one of the few people who appears effortlessly cheery at all times, but don't be fooled. She'll be the first to admit a lot of work went into developing her positive outlook on this next chapter in life. The secret, she says, is to constantly be checking in with herself, to make sure that, first and foremost, her mental health is being taken care of.
Making mental health a top priority.
"Mental health awareness is something I'm passionate about, which is why I feel the need to open up and share my story with others," Hale tells mbg. The statement is in reference to a recent post on Instagram, in which the 30-year-old opened up about her experience with anxiety. ("I'm an extremely anxious person. I worry about anything and everything," she captioned that photo. "I worry about things that haven't even happened. I take on other people's worries. I would even go to say that my anxiety controls my life on certain days." Who here can relate?)
Hale says she's begun utilizing meditative practices and setting positive intentions to not only help her cope through moments of anxiety but to also continue to stay emotionally and mentally grounded each day.
"Making time to meditate has really helped me cope with my anxiety. Preferably, I try to do this in the morning to set the right intention for my day. But if that isn't feasible based on my schedule, I will step away and give myself five minutes alone to regroup whenever I am feeling anxious or overwhelmed," she says. It doesn't have to be a large window of time; it just has to be open.
On sticking to a morning routine.
According to Hale, how you start your morning sets the tone for the rest of the day. She starts hers with a breakfast of champions—coffee—and by spending some quality time with Elvis, her adorable maltipoo (who, if you're curious, happens to have an Instagram of his own).
"My morning routine is sacred to me and really keeps me mentally grounded," Hale tells mbg. "After waking up, coffee is a must, which I typically enjoy while walking my dog. I also like to work out in the morning, when my schedule allows, to clear my head and set the tone for the day." That and meditation whenever possible.
On turning to fitness as a form of self-care. 
Spin biking, circuit, and strength training are all forms of exercise the Life Sentence alum dabbles in, but her go-to for a good sweat is a high-intensity interval session. "Everyone has different things that make them feel good, and I genuinely enjoy exercise and have made it my form of self-care," she tells mbg. "I like to switch it up and challenge myself—doing a high-intensity workout is my favorite because you leave feeling sweaty and accomplished."
Hale recently taught a class alongside Training Mate trainer Luke Milton at the Propel Co:Labs Fitness Festival in Los Angeles, an experience she says definitely took her outside her comfort zone. But that didn't matter: Her fitness isn't something Hale puts pressure on herself to perfect. Rather, fitness is both a hobby and a tool for the actress; it keeps her feeling good mentally and physically.
"It may sound cliché, but exercising really helps me relax and puts me in a good mindset to tackle my day," she tells mbg. "Fitness has made me more focused, confident, and brings balance to my life, and I want other people to discover that for themselves too."
Not everyone enjoys exercising, and not every wellness fad you see on social media is going to be a fit for you—a lesson Hale learned through her own trial and error.
"I tried a celery juice cleanse—those fads don't work for me. They don't taste good, aren't satisfying, and are hard to stick to long term," she tells mbg. "I just try to be generally healthy, but for me, that means switching it up. I love a good smoothie after a workout—one of my favorite places in L.A. is called Creation. And overnight oats are a good source of protein and super easy. I also love fish—especially sushi. When I lived in Vancouver, poke is huge there, and it's right along the Pacific."
Hale firmly believes that finding your own definition of self-care, whatever that may be, is important. For her, that means trying to live a balanced lifestyle in which she stays generally healthy, taking what works for her, and leaving what doesn't.
Her perhaps most quirky self-care ritual? Hitting the grocery store.
"Weirdly enough, grocery shopping is super therapeutic to me. Walking through the aisles and looking at what's new and reading labels is extremely enjoyable for me," Hale tells mbg. "For other women, I believe that everyone should find their own definition of what wellness means to them—it could be taking a bath, spending time with pets and loved ones, or walking grocery aisles like me! Setting aside time for self-care is so important to your mental and physical health, and I encourage everyone to find their thing!"