The Self-Love Routine That Helped Me Finally Feel Confident In My Swimsuit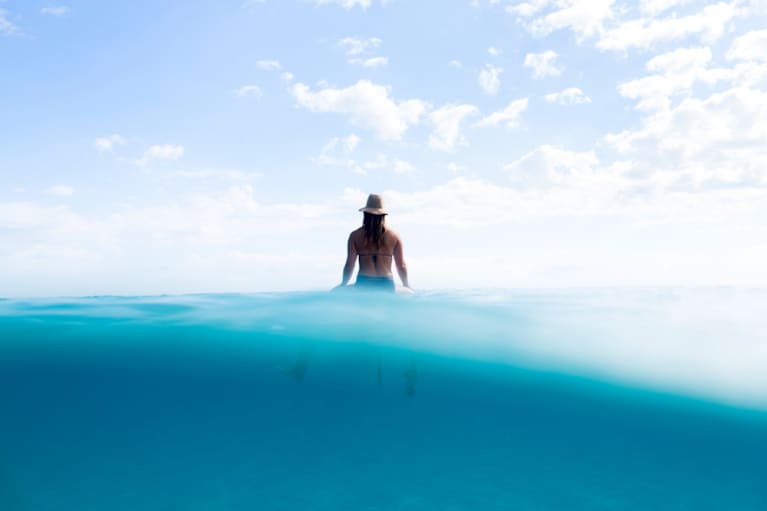 When I was in my 40s, I lost 60 pounds. While I've never been more proud of my body than I am today, here's the thing: I don't have a six-pack. I have some extra fluff around my midsection. At the ripe old age of 47, should I wear a one-piece? Some might say so. I disagree.
A few weeks ago, I pulled on my brand-new string bikini and was pleasantly surprised by the reflection in my bathroom mirror. I couldn't believe how good I looked. Although I was just heading to my local pool, I quickly started fantasized about heading to Greece and sipping margaritas on the beach while I watched the cobalt blue waves roll in. I may not have rock-hard abs, but I've worked long and hard for this. I look great, I thought to myself.
Standing in front of the bathroom mirror is very different from prancing around the pool in front of strangers, though. My confidence turned to self-criticism quickly as I compared myself to other women. Dangerous territory, I know! Suddenly I was focusing on the cellulite and stretch marks as I picked out my lounge chair, trying hard to ignore the roll of fat covering up my abdominal muscles as I took off my coverup and sat down. What were you thinking, Samantha?
Intellectually, it seems absurd I'm so critical of my healthy, fit body. So in that moment, I decide to tell my self-sabotaging voice to shut up.
Instead, I made a mental list of all the things I love about my body.
Here's what was on my (impressive, at least in my opinion!) list of things I love about my body: I've given birth to two healthy boys. I've run three marathons (so far). I've lost weight in a healthy, mindful way and kept it off. I've got sexy curves, and my husband loves every part of me.
Since that day, I've become more comfortable. Will I ever see my abs? Maybe not, but I can live with that. Yes, I have imperfections—but I love myself anyway.
I'm the first to admit that learning to love your body exactly as it is, curves and all, isn't easy. So here's my advice.
Focus on your favorite part of your body.
I love how defined my quads are. I could stare at them all day! When you shift your perspective, your mood improves, and you can enjoy your time more. Resist the urge to compare yourself to other bodies, and keep coming back to that thing you love about your body—even if it's superficial and physical. Remember the saying, "what others think of you is none of your business." It's so true!
Find a suit that flatters your natural curves.
I never tried on a string bikini bottom because I thought you had to have a lean midsection to wear one. My advice? Try on a few suits to see which one you feel most comfortable in. It turned out the string bottom made me feel more confident in a two-piece suit. Bigger isn't always better with bikinis; it's all about what cut flatters you.
Talk to yourself like you love yourself.
I pushed outside my comfort zone, and it wasn't easy. We are often our own worst enemies when it comes to body image. Become your own best friend! Having a hard time losing that internal critic? Treat yourself like you would treat a close friend. Turn every negative comment you have for your body into something positive.
Life is a journey, and it's meant to be enjoyed. Treat yourself with kind words, good food, and exercise. Your body will thank you! And if you want to wear a bikini, do it. Wear it, and be proud.
Want to lose weight mindfully? Consider going on one of these stunning day hikes and learn an R.D.'s top tricks for eating well.