On Top Of The Wildfires, New Air Quality Concerns Arise In California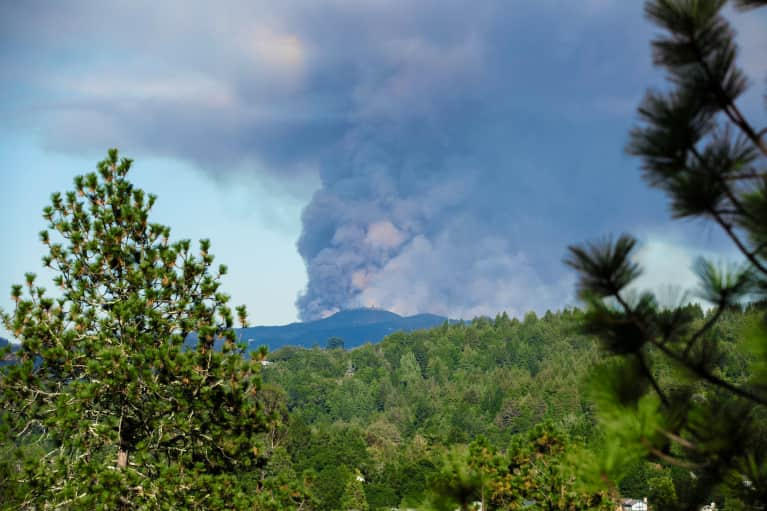 November 19, 2018 — 21:00 PM
The smoke has just begun to clear across some parts of California, but the true cost of the recent wildfires is unknown. Nearly 1,000 people are still reported missing, and Camp Fire, the deadliest in state history, was only 66 percent contained at the time of this writing.
This weekend, the state started thinking about the flame's lingering impact when the air in Northern California spiked to become the dirtiest in the world. The U.S. Environmental Protection Agency's health alert is still in effect for regions being choked by the smog, prompting those across the Bay Area to stay inside—at least for the next few days.
"How long the smoke sticks around can hugely depend on weather conditions," says Sarah Zahedi, the public information officer at Bay Area Air Quality Management District. "For example, wind strong enough to blow the smoke out of the Bay Area is the first weather system that can help reduce smoke impacts. Rain also can help, as it combines with particulate matter in the air and is brought down to the ground level."
Northern California is due for rain on Tuesday night, which should bring reprieve, but some health experts are concerned that the dangers of this poor air quality could be longer-lasting, especially for vulnerable populations like children, the elderly, and those with pre-existing cardiovascular or respiratory conditions.
What are the long-term impacts of poor-air-quality events like this?
Air quality is something we should take seriously: A recent review out of the Lancet Commission on Health and Pollution found that one in six deaths around the world are related to pollution of some kind, with air pollution being the most dangerous. And though there isn't much research out there on the continuing impact of flash exposure to poor air quality, we do know that in the short-term, it seems to lead to more cardiovascular- and cerebrovascular-related emergency room visits, especially in adults over 65, according to a 2015 study on California's wildfires.
Air pollution from wildfire smoke is particularly harsh because it's high in particulate matter—an irritant that is small enough to make its way deep into the body and has been linked to heart and lung disease and aggravated asthma. Breathing in this type of pollution can also cause an irregular heartbeat and even heart attack in some cases since the heart and lungs are connected. Once in the lungs, these tiny particles can also make their way into the bloodstream and cause widespread inflammation in the body, Len Horovitz, M.D., an internist and pulmonologist at Lenox Hill Hospital, tells the New York Times.
One instance of increased inflammation shouldn't be a big deal for those who are otherwise healthy, but it becomes a problem when repeated and compounded over time, as shown by this 2015 Lancet study on the danger of developing asthma after repeated exposure to air pollution. "There are literally thousands of scientific studies showing a connection between poor air quality, whether indoors or outdoors, and cardiovascular health," cardiologist Joel Kahn, M.D., tells mbg. "The risk is short-term in terms of respiratory distress and blood pressure, and long-term in terms of inflammation and atherosclerosis."
Basically, smoke triggers our body's stress response and could make us more susceptible to disease if it continues to be a concern in the future, which, unfortunately, it's expected to be. It's yet another reason to be overly cautious if you live in an affected area.
What can you do if you live in California?
"The best way for those in the affected areas in California to minimize health effects is to limit exposure to the contaminated air—a feat that is much easier said than done," says Nneka Leiba, director of the Environmental Working Group's healthy living science program.
Experts agree that the best thing to do is stay indoors with windows and doors closed, running your central air system and fans on to keep airflow going. "If you have a central air system, make sure it's fitted with the highest-rated filter it can accommodate," adds Leiba. "The American Lung Association recommends using filters with a Minimum Efficiency Reporting Value, or MERV, of 10 or higher. Replace HVAC filters frequently so they work with maximum efficiency."
The California public health department recommends wearing P100 masks and N95 respirators when going outside if you live in a high-risk area. (If you don't, these can do more harm than good because they restrict airflow and can rev up your heartbeat.) Learn more about the risk level in your area with this air-quality map or by downloading an air-quality phone app like Blueair Friend.
If you're not in California but want to help, here are 4 things you can do right now.