Period Activists Just Launched A Legal Campaign To End The Period Tax
Contributing Sex & Relationships Editor
By Kelly Gonsalves
Contributing Sex & Relationships Editor
Kelly Gonsalves is a sex educator and journalist. She received her journalism degree from Northwestern University, and her writings on sex, relationships, identity, and wellness have appeared at The Washington Post, Vice, Teen Vogue, Cosmopolitan, and elsewhere.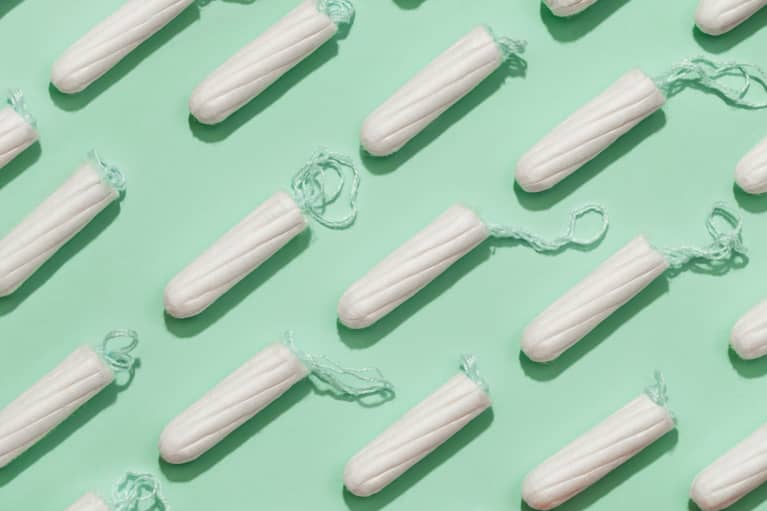 November 21, 2019 — 10:00 AM
For people who menstruate, period products are a necessity for moving through the world during a fourth of the year. So why are these health care essentials still taxed in 33 U.S. states? Some states tax tampons while exempting nonessentials like chocolate bars, hair loss treatment, lip balm, and baseball stadium souvenirs. This so-called tampon tax isn't just unfair for the half of the population (largely women) who menstruate; it can also be a serious economic barrier for low-income people. One in five American teens say they've struggled to afford period products, and one in five low-income women in one U.S. city say they face this problem every year.
If this state of affairs gets your blood boiling (menstrual, metaphorical, or otherwise), there's finally something tangible you can do to help fight the tampon tax. Yesterday, wellness company LOLA and law and policy organization Period Equity officially launched a concrete nationwide campaign to legally challenge the tax on period products. They're rallying consumers in those 33 states to take part in what they're calling "the largest sales tax protest in modern history."
"The tampon tax is a policy failure that has persisted for decades," Jennifer Weiss-Wolf, J.D., co-founder of Period Equity and vice president of the Brennan Center for Justice, tells mbg. "Our goal is to make the tampon tax a nonnegotiable. We are challenging its legality—calling it what it is, sex discrimination in violation of equal protection afforded by the Constitution—in the remaining 33 states that charge it."
The strategy? Pressure state leaders through collective action from consumers themselves challenging the taxes they're being charged when they buy their tampons, pads, and liners. With enough claims filed, Period Equity and fellow activists will be able to push forward formal legal action.
How can you participate? Four easy steps:
Purchase a pack of tampons, pads, or liners and keep the receipt.
Fill out a claim for refund contesting the sales tax on your receipt as unconstitutional. (You can easily access the form through the protest website.)
Mail in the form and receipt to your state's department of revenue. (The campaign folks will also send you everything you need to do this, easy-peasy.)
Get your friends to do it too by posting about the campaign online.
You can find the full instructions at the Tax Free. Period. website.
"Challenging this tax is about much more than the dollars and cents," LOLA co-founder Jordana Kier tells mbg. "We are fighting to eradicate a policy that is unfair. And with our partners at Period Equity, we are also prepared to make the case that it is discriminatory and illegal. This is an issue that's garnered strong bipartisan support and, quite frankly, is the least states can do to ensure menstrual equity for all. And when it prompts lawmakers to think about the broader access and affordability needs for those who menstruate, that's all the better."
Healthy, comfortable, and hygienic periods are a human right, and every single person who menstruates deserves access to that. Once you've challenged your state's tampon tax, here are a bunch of other ways to support menstrual equity.