Light Watkins On Making Meditation Accessible & Cultivating Inner Joy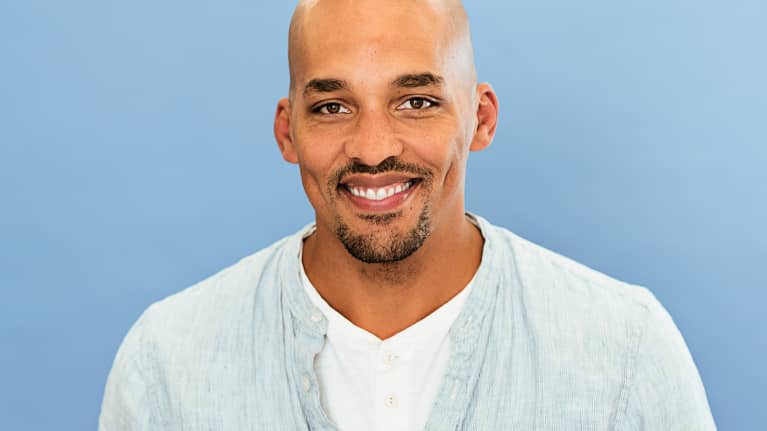 Our editors have independently chosen the products listed on this page. If you purchase something mentioned in this article, we may
earn a small commission
.
Love this? Want more? Stay up-to-date with the podcast by signing up for our newsletter. —The Editors
Teacher and innovator Light Watkins has been revolutionizing the practice of meditation since 1998—and now, he's on a mission to make meditation an everyday practice, for everyone. As first a meditation practitioner and then apprentice to his Vedic meditation teacher, Light has worked to deconstruct meditation and make the practice more accessible and sustainable.
He's the instructor of the mindbodygreen classes A Meditation Expert's 14-Day Guide and Meditation for Anxiety and founder of The Shine Movement, a global pop-up inspirational variety that spotlights the stories of everyday people. Light also takes his expertise on the road, traveling around the globe hosting workshops, panels, meditation trainings, and retreats. His TED Talk, "Debunking the 5 Most Common Meditation Myths," further echoes his uplifting efforts to bring meditation into the public sphere, along with a focus on cultivating inner strength, as demonstrated with his first book, titled The Inner Gym. And if that doesn't seal the deal, Light is dedicated to using his platform to spread positivity and inspiration in all ways, including his daily inspirational email called The Daily Dose and his new book, Bliss More: How to Succeed in Meditation Without Really Trying.
In this episode, Light recounts his many career paths—from yoga instructor to model and board game entrepreneur—and life-changing realizations that ultimately led him to meditation. We discussed the transformative power of using mantras while meditating, the resurgence of meditation, and the importance of introducing the practice to pop culture. Plus, Light shares his insights on building a healthy inner life and owning the shift of dialogue around meditation from one of productivity to sustainability.
Whether you're a bona fide meditation follower or a skeptic looking for more information, you won't want to miss Light Watkins' simple and refreshing real-life perspective on meditation as an art form, daily practice, and way of life.
Enjoy this episode! Don't forget to subscribe to our podcast on iTunes, Google Play, or Stitcher and sign up for our podcast newsletter!