So This Is What It's Like To Meditate With Light Watkins
Contributing Wellness & Beauty Editor
By Lindsay Kellner
Contributing Wellness & Beauty Editor
Lindsay is a freelance writer and certified yoga instructor based in Brooklyn, NY. She holds a journalism and psychology degree from New York University. Kellner is the co-author of "The Spirit Almanac: A Modern Guide to Ancient Self Care," with mbg Sustainability Editor Emma Loewe.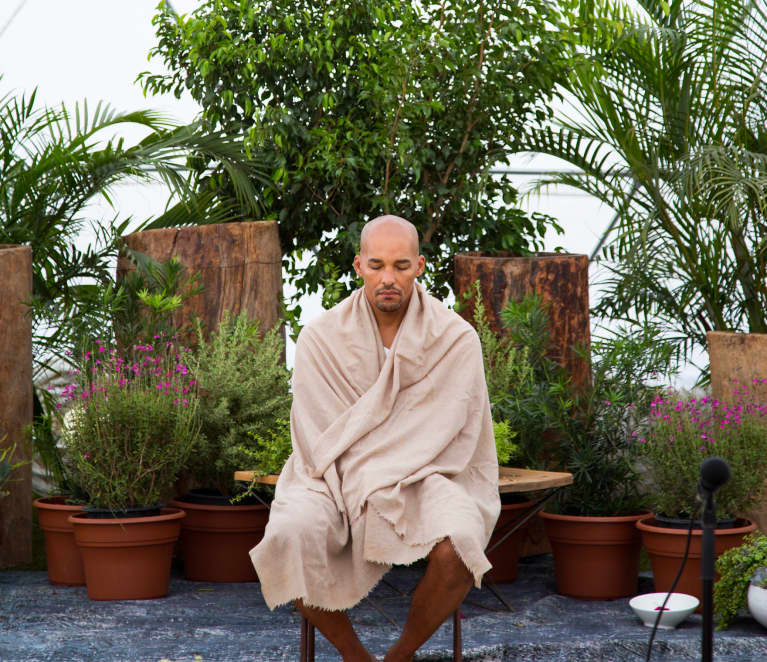 Dropping in with one of the world's most well-known meditation teachers isn't as out-of-touch as you might expect. In fact, the great thing about Light Watkins is that he's been in the meditation world for almost 20 years but maintains a lifestyle that elegantly integrates ancient wisdom from his teachers with the pace of modern life.
His goal is to equip busy, stressed, and burned-out people with the tools and techniques they need to feel better. Many times with meditation, this means overcoming the blocks that keep you from the practice.
1. Take it one practice at a time.
In Watkins' words, meditating is 1 percent technique and 99 percent showing up. So why is starting a meditation practice so darned difficult? Many of us—consciously or subconsciously—don't want the calm and quiet that comes with the practice. Maybe we're holding on to the chaos because some part of us likes it, whether as an excuse or a distraction from what lies within.
2. There are "rules," but make the practice yours.
Watkins primarily teaches Vedic meditation, which comes with its own set of rules and boundaries. But who's to say you can't meditate lying down or when walking or on the train? Adhering to the rules shouldn't create additional obstacles to your practice. First, you learn the structure of a formal practice from a teacher—his class on mbg is a great resource. Then you make the practice fit into your lifestyle once you understand the philosophy behind it.
If you still have trouble making your practice happen on the regular, devote it to a cause that's larger than yourself through intention. It can change over time, but for a stretch of 14 days or even a month, find the real why behind your practice and dedicate it there.
Come to mindbodygreen.com Saturday, September 9, at 9 a.m. PDT/12 p.m. EDT, to watch our livestream, presented by INFINITI, and follow #mbgrevitalize on social!