This Mom's Small Gesture Is Making Big Waves In The Climate-Change Movement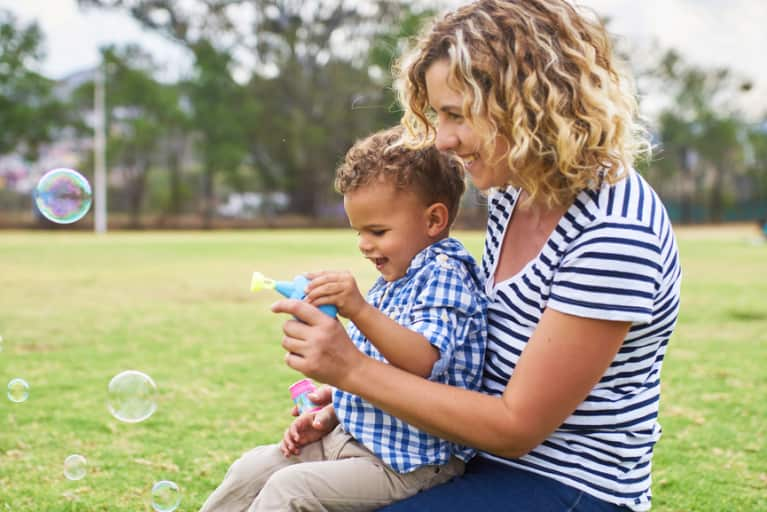 mbg is committed to sharing inspiration, tools, and resources to help you make a real difference in climate change. And as signatories of the We Are Still In pledge, we'll be taking action right there with you.
Jill Kubit is on a mission to make climate change personal.
An environmental activist with a background working in renewable-energy job creation, it wasn't until Kubit gave birth that she found her true calling. Her relationship with her son ultimately helped her pinpoint the missing piece in the fight against climate change: real, raw emotion.
"[Becoming a mom] immediately changed my perspective on the urgency of climate change," she tells mbg. "I began lining up the timeframes for action set up by the climate movement—2020, 2030, and 2050 with major milestones in his life." This newfound sense of urgency inspired her to co-found DearTomorrow alongside fellow new mom Dr. Trisha Shrum. The online platform seeks to get more people invested in the fight against climate change by asking them to approach the issue from a place of love. And what better stage for that passion and emotion than an old-fashioned letter?
To my son Michael,If you are reading this then you should be about the same age I am now. Today you figured out how to grab your toy zebra and your next mission is to fit him in your little mouth. You are the most important thing in the world to your mother and me. Wherever you are, whatever you're doing, I want you to know how much you are loved and how proud we are of you.I want you to have every opportunity in life to succeed and be happy. Your generation will likely experience a world very different from mine. Today the first effects of climate change are still being denied even as the evidence becomes more clear. It is easy for the individual to ignore climate change or to not feel responsible. The hard truth is that all of mankind has led us to this point, and that it will take all of us to correct things.I will do my part by doing my best to change my wasteful habits. I will seek ways to increase the sustainability of our home and I will find ways to decrease the trash I create. I will use my wallet to influence businesses to pursue sustainable practices and products. If more people make similar changes then perhaps your children will never know how close we came to destroying the earth.
"The project's purpose is to think and talk about climate change in a more personal way—through the eyes of our kids and grandkids who will face a drastically changing climate and more insecure world," Kubit explains. "The letter-writing process really shifted my perspective of time and also helped me articulate these ideas. In the early days, some people encouraged us to move away from letters, telling us that we should focus on something shorter and easier to do. We heard a lot of 'why not do a Twitter campaign' and 'nobody writes letters anymore.' But we both felt the power of the process of writing to our own child and we wanted the letters to open up a dialogue between the present and the future with those letters addressed to real people."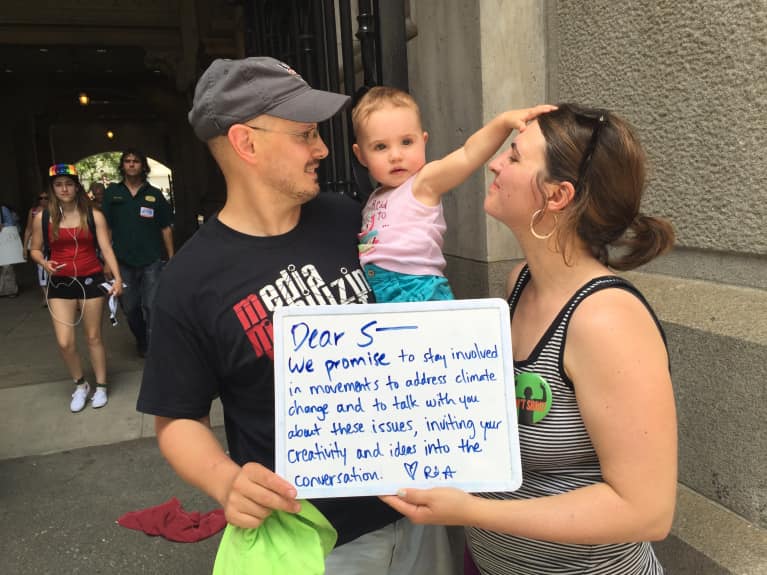 Since launching in 2015, the duo has amassed over 600 submissions, each one expressing its own combination of hope, despair, frustration, and drive. While many of the letters are parents writing to their kids, Kubit notes that she's also seen teachers encourage students to write letters to their future selves and entire communities pen notes during town meetings. Right now she's working with an archivist to compile the thousands upon thousands of words into an archive to be shared in the future they speak to.
To my precious children,The day you were born, it was love at first sight. As we cradled you in our arms, your dad and I vowed to do everything in our power to protect you and help you grow up strong and healthy. At first that meant concrete things, like researching the safest car seats, baby-proofing the house, and buying organic food. As you've grown older, I've become increasingly aware that protecting you means more than ensuring your short-term safety. It also means ensuring that you'll have a safe planet to live on. Sometimes you wonder why I talk so much about climate change, why I bring you to lobby our representatives, why we participate in climate marches and rallies. It's because everything you depend on for survival—clean air, safe water, food security, peace and stability, protection from extreme weather—is threatened by the pollution and climate disruption caused by burning fossil fuels. Here in California, we're already experiencing severe drought, rising sea levels, and raging wildfires. And if humans continue to burn fossil fuels unabated, the future—your future—looks even bleaker. But I'm not giving up hope. I'm doing everything in my power to help transition society onto a sustainable path. That means more than just reducing my own carbon footprint. It means speaking up, taking action, voting, mobilizing others, and demanding that our leaders implement policies that will drive a rapid and complete transition to clean energy.
In addition to writing a letter that encapsulates your emotions, Kubit urges people to take personal action on climate change by voting, calling their representatives, building support within their community by talking to friends and family, and implementing small green changes in their daily routines.
If you want to make sure your voice is heard in the fight against climate change, head over to DearTomorrow and consider making these sustainable promises to the planet.