This New App Wants To Help You Drink Alcohol Mindfully
mindbodygreen Editorial Assistant
By Sarah Regan
mindbodygreen Editorial Assistant
Sarah Regan is a writer, registered yoga instructor, and Editorial Assistant at mindbodygreen. She received her bachelor's in broadcasting and mass communication from SUNY Oswego, and lives in Brooklyn, New York.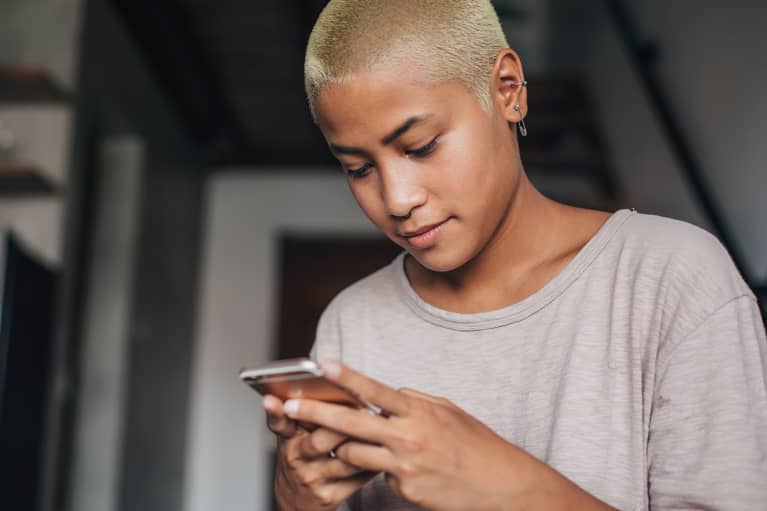 Here at mindbodygreen, we believe alcohol can be a part of a healthy lifestyle if done in moderation. But sometimes "moderation" slips up on you. If you're curious about your consumption or you want to change your weekly habits, this new app may give you a leg up.
It's called Less, and it was created by the same folks who created the intermittent fasting app Zero. It's meant to help those who drink alcohol monitor their consumption, stay aligned with their goals, and generally be more mindful about their drinking habits.
"As the saying goes, 'what gets measured gets managed,'" CEO of Big Sky Health Mike Maser said on Medium. "We wanted to create a simple way for people who do drink to be more aware of their consumption in a nonjudgmental way."
Less is described by Maser as "an intuitive tool to help people who drink alcohol do so more mindfully and make space for more drink-free days."
It includes a lot of features outside simply logging your drinks, with alcohol research, drinking tips, and even mocktail recipes. After using the app for a while, you'll get a better sense of your consumption through their calendar view, which gives a big-picture look at what you've logged.
The app also shows you your drinking stats, including a seven-day and 28-day rolling average, how many drinks you've had this year versus how many drink-free days you've had, and even estimations on calories and money spent. The idea is that by having the numbers in front of you, you'll be encouraged to approach drinking more mindfully.
"By simply tracking your behaviors, you can often improve them," Maser says.
To be clear, this app isn't for people who want to stop drinking altogether: "We strived to create a judgment-free zone for people wanting to be more aware of their actions over the long term," adds Maser. "We let you define your goals, and we provide what we feel are helpful articles and podcasts to educate along the way."
With the app's weekly limit marker, you can stay within your unique drinking boundaries discreetly and with intention. After all, we know the resveratrol you get from a little red wine may actually offer some heart-healthy benefits, but too much, on the other hand, may have the opposite effect. So balance is really the key.
Since I've used the app, for example, it's helped me get a feel for my drinking patterns, as well as encouraged a little more discretion when it comes to going for that second or third drink. Having the app on hand definitely makes you think twice.
So, whether you want to hit certain fitness goals or you're trying to be more budget-conscious, looking at your alcohol consumption may be a good move for you, especially if you are trying to change some of your habits. And when you do indulge, don't forget to check out our top eight picks for healthy drinks.