How To Make Last-Minute Kids' Halloween Costumes Using What You Already Have In Your House, Right Now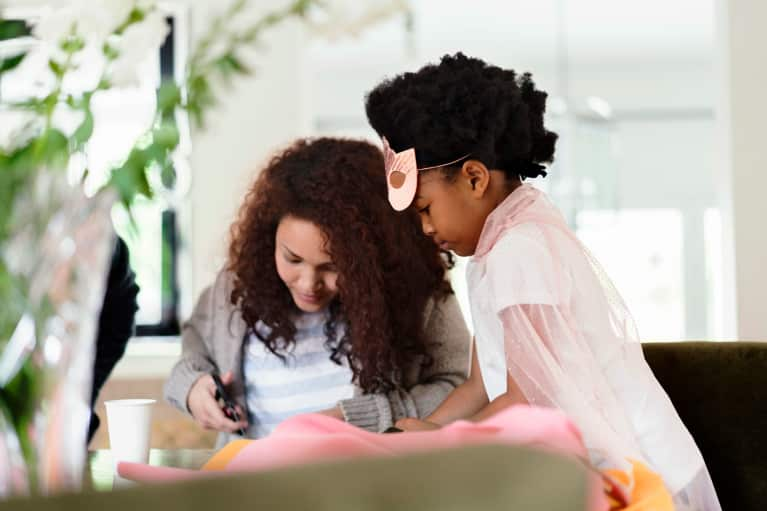 Another year, another frantic scramble to get your family's Halloween costumes together. But we're proposing a new type of costume tradition: one that's less about spending money on something you're only going to use once, and more about getting a little crafty with your kids—and maybe even teaching them a thing or two about the value of reusing things along the way.
"With a cardboard box and some imagination, the possibilities are wide," says Renee Loux, a chef, author, environmentalist, and mom. We asked Loux to share some of her favorite ideas for upcycling stuff you have lying around the house into a creative getup. These are just thought starters to get your creative juices flowing, but feel free to riff and tweak her ideas into something that is unique to you.
4 creative costume ideas using stuff you would have thrown away anyway.
One large cardboard box (big enough to fit the shoulders across)
3 to 4 cereal boxes
Aluminum foil
Tape
String
1. Cut a hole for the head in the bottom of the box (the un-open side) and armholes in the sides.
2. Cover the outside of the box with aluminum foil using shipping tape.
3. Open the bottoms of the empty cereal boxes and open one of the side seams, so the box lays flat. Roll the two boxes into cylinders large enough to cover the arms and tape them securely the cylinders.
4. Use another cereal box to make a cylinder that fits comfortably on the head, like a hat. Cover all the cylinders with aluminum foil.
5. Use a hole punch or scissors to make a hole at one end of the arm cylinders and a hole above each armhole of the larger box. Tie a piece of string to each hole to help support the arm cylinders to stay on comfortably.
One large cardboard box
Acrylic paints
1. Cut a hole for the head in the bottom of the box (the unopened side) and armholes in the sides.
2. Paint to resemble the casing and "home screen" of a cellphone.
One large cardboard box
Paper bags
Empty food and snack packaging for decoration
Elastic or some kind of strong cloth or paper
A stapler
1. Cut leg holes in the bottom of the box (the unopened side). Tape the open side flaps together to make square.
2. Cover the box with paper bags and secure with clear shipping tape.
3. Use the elastic and stapler to make suspenders of each shoulder to hold up the box.
4. Staple empty snack packages like boxes and bags to the inside of the box to look like it is full of groceries.
4 pairs of old tights (the more colorful and mismatched, the better!)
Newspaper
An elastic band or some kind of strong cloth or paper
Craft paper
1. Cut the legs off of old tights. Stuff with crumpled-up newspaper to create tentacles (don't stuff too tight or they will be too heavy).
2. Staple the "tentacles" to an elastic band or an older pair of leggings or tights you don't mind stapling. Your kiddo will wear this around their waste.
2. Make a headband out of craft paper. Draw eyes in black and white onto your headband.
If all else fails, organize a clothing swap with your friends.
Even if crafting isn't your thing, you can still put an old costume to new use by organizing a small get-together with friends in the name of costume crowdsourcing.
"Most kids have a few costumes in their dressing-up boxes but don't want to wear the same costume at Halloween as the one they did last year. Swap last year's costume with friends, and your kid gets a new costume without having to purchase a new one," proposes Wendy Graham, a green blogger in the United Kingdom.
Bonus: This will build upon the sense of community of Halloween, which is too often lost in the trick-or-treating shuffle. There are other ways you can make the night more about connection, like vowing to eat a special dinner together before the festivities begin.
"The whole evening can be chaotic. Now, even as my kids have gotten older, we still meet up for a quick bite and either give candy out together or walk the neighborhood trailing our youngest ones," says psychologist Bobbi Wegner, Ph.D. "The shared sense of responsibility for our combined gaggle and the fun we had has made Halloween a parent-friendly holiday too. It brought pleasure to us even on a very kid-focused night."
Seasonal games can add some more fun and camaraderie to the night too. "As a way of re-enacting my childhood Halloween parties, we always get together with other families to play some games, bob for apples, eat dinner, and help one another finalize their costumes," says health coach Jenny Carr. "In truth, it's an opportunity to connect and focus on relationships rather than banging down each door for candy before the trick or treating ensues." Cheers to new traditions.