Largest Study Of Its Kind Finds This Can Prevent Premature Death
mindbodygreen Editorial Assistant
By Sarah Regan
mindbodygreen Editorial Assistant
Sarah Regan is a writer, registered yoga instructor, and Editorial Assistant at mindbodygreen. She received her bachelor's in broadcasting and mass communication from SUNY Oswego, and lives in Brooklyn, New York.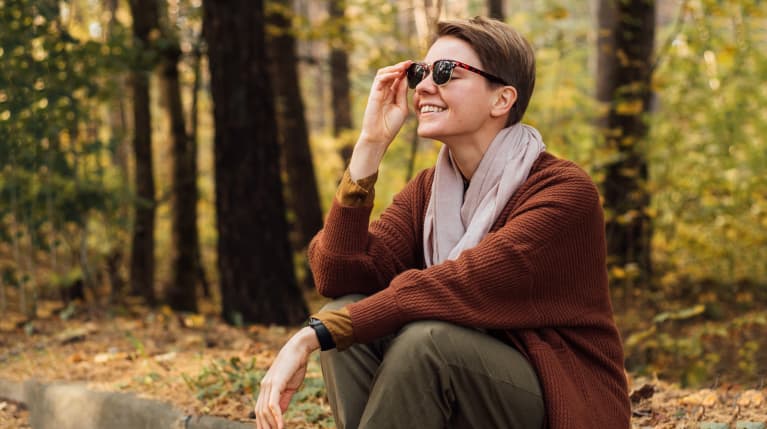 November 23, 2019 — 21:14 PM
It's become widely accepted that living near green space offers us a ton of health benefits. From boosting immunity to decreasing stress, there are lots of reasons to prioritize nature. And now, a new study says there may be one more reason: preventing premature death.
As the largest study of its kind, researchers analyzed nine longitudinal studies across seven countries, dealing with over eight million people. And what they found suggests green space can protect against premature death.
What researchers discovered
The study, which was a collaboration between the Barcelona Institute for Global Health (ISGlobal), Colorado State University, and the World Health Organization (WHO), analyzed data from over eight million people around the world and found green space near homes was strongly linked to less premature death. And that's death of any kind, or "all cause mortality," as the study refers to it.
Moreover, it would appear the amount of greenery makes a big difference. The findings suggested the more greenery there was within 500 meters of a home, the greater the reduction in premature death, with a 4% reduction for every increase of 0.1 in the vegetation observed via satellite image.
What comes next for the research
As more and more research highlights the importance of proximity to nature, it offers insight into an important factor to public health and encourages officials to take note.
"This is the largest and most comprehensive synthesis to date on green space and premature mortality," notes David Rojas, researcher at ISGlobal and Colorado State University and first author of the study, "and the results support interventions and policies to increase green spaces as a strategy to improve public health."
After all, living just a 10-minute walk from a park has been found to reduce the risk of chronic disease by getting you moving. Not to mention the improved air quality in surrounding areas and the opportunity for community green spaces provide.
"Urban greening programs are not only key to promoting public health," says Mark Nieuwenhuijsen, director of the Urban Planning, Environment and Health Initiative at ISGlobal, "but they also increase biodiversity and mitigate the impacts of climate change, making our cities more sustainable and livable."
Now, the researchers will take these findings to get an estimate on the number of premature deaths that could be prevented in the world's cities should green space be increased.
In the meantime, there are plenty of ways to make sure you're getting your green time, like gardening, earthing (walking barefoot on the Earth's surface), or making offerings to nature.