This Woman Is Bringing Yoga To Those Who Need It Most — But She Needs Your Help
mbg Sustainability Editor
By Emma Loewe
mbg Sustainability Editor
Emma Loewe is the Sustainability Editor at mindbodygreen and the author of "The Spirit Almanac: A Modern Guide To Ancient Self Care."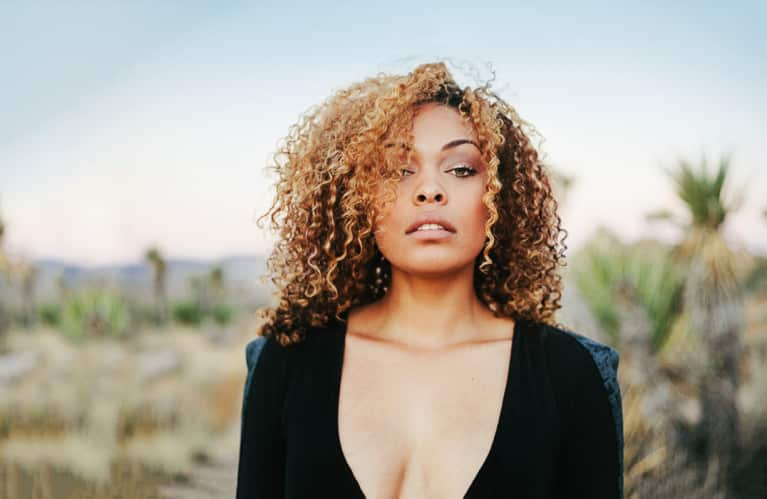 December 28, 2018 — 10:00 AM
To LaRayia Gaston, "charity" is a dirty word.
Gaston has dedicated her life to serving those on Skid Row, a stretch of Los Angeles less than a mile long but packed with thousands of homeless men and women. To her, the traditional notion of charity—a person who has more tangible resources giving to those who have less—is a tangled web of power and privilege. It leads to dependency, and it only serves to further divide us.
"If you think you're greater than the person you serve, you're not in the position to be of service," Gaston tells mbg. True service isn't about handouts—it's sharing what you have with love and gratitude and being open to receiving too.
People can save themselves, but you have to give them the room to do it.
Gaston and her team of five run a Lunch on Me program that delivers nutritious, plant-based, and organic meals to Skid Row six days a week. They always eat with those they serve and hold space for them in the process.
They nourish with more than just food, also holding regular healing ceremonies that incorporate yoga, breathwork, crystals, and essential oils to give people tools to work through blocks and past traumas. "People can save themselves, but you have to give them the room to do it. There is no us saving anyone—we're just empowering them and giving them spaces to work out their stuff."
She's seen how valuable spiritual practices like these can be to the homeless, especially those who suffer from PTSD: "Yoga is healing for them, just like it's healing everybody in the billion-dollar wellness industry. The difference is that people who don't have access usually need it the most."
A new home base for Lunch on Me.
Right now, Gaston creates these classes piecemeal, renting out rooms throughout the city as they become available. But looking forward to 2019, she's hoping to build a healing space of her own. Her cafe and yoga studio will employ 20 to 30 homeless people and offer them the opportunity to get certified in Reiki, breathwork, and yoga teaching if they're interested.
"People aren't hired because they don't have an address. It's that simple. The system was created to suppress people, and they can't get out of their situation without people giving them a chance."
Beyond employing those who wouldn't have otherwise been able to secure a job, Gaston will make all classes donation-based so that anyone who wants to participate is able to. She'll open the floor to yogis who want to teach a class and share their energy with people who could really use it. She'll reserve areas for donated yoga pants and spiritual books to break down any barriers keeping people out. She'll invite people from all walks of life to practice together—in the process showing that we can all learn something from each other; we just need to be sure there are enough mats.
"It's a space that benefits everyone because you're bringing two different worlds together," she says. "There are enough divides in this world. It's such a beautiful thing to create that kind of togetherness."
To help bring Gaston's vision to life, you can donate from now until January 2 through the mindbodygreen Crowdrise link here.