Lana Del Rey Sports A New 'Do Using An All-Natural Kitchen Ingredient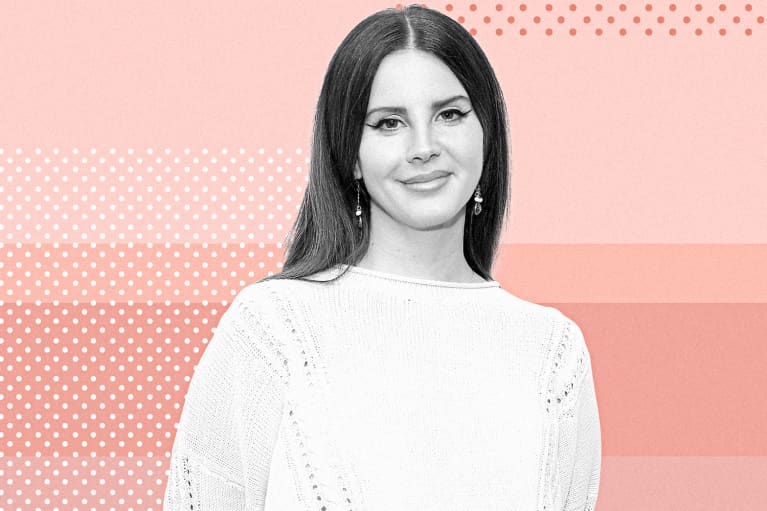 Our editors have independently chosen the products listed on this page. If you purchase something mentioned in this article, we may
earn a small commission
.
Considering it may be a while before salons open their doors, those who color their hair may be pulling out all the stops to make do between root touchups. But whether you opt for at-home hair dye or hide brassy color with some new styles (which, more often than not, may become purposefully messy topknots), at some point those roots may still show. Rather than shamefully wrapping your hair up in a scarf or throwing on a hat, why not own your natural color? Enhance it, even?
It's what Lana Del Rey seems to be doing: The dreamy pop star's signature long, dark tresses are tinged honey-blond in a makeup-free bathroom selfie she shared yesterday with her 16.3 million Instagram followers. The caption reads, "When you have no choice but to go back to being a blonde because Kevin Tracey and Jacob are gone and there's nothing but lemons left to cover your roots for nine weeks."
The singer no longer has access to her usual glam squad—presumably LA-based colorist Tracey Cunningham and Co., per her caption—and has reverted to her lighter roots. But rather than braving the at-home dye kit, it looks like Del Rey is owning her natural look, even finding ways to enhance her given shade with a common kitchen ingredient: lemons. And we at mbg are certainly here for it.
So, lemons probably won't have you sporting a whole new 'do, but they can provide necessary touchups here and there, á la Del Rey. That's because lemons have a fair amount of vitamin C, known for its antioxidant and brightening properties. Just as a vitamin C serum can help dark spots fade on your skin, the ingredient can similarly lighten up your hair.
But don't get your hopes up too much—while lemons can certainly lighten the hue, it'll only enhance the color you already have. "Drastic changes in color are usually not possible," naturopathic doctor Tess Marshall, N.D., tells us about all-natural hair toners. "So stick to shades of your natural color." That said, lemons may fare better for those with already lighter tones (on too-dark hair, the natural dye job may even look a bit orange).
How to lighten your hair with lemons.
If you do decide to go the lemon route, you don't have to sit in the sun with the juice coating your strands (as you might have done during your youth); rather, lemons do the brightening job just fine on their own. For a better-for-you hair toner, try this easy DIY mask:
Mix ¾ lemon juice to ¼ conditioner.
Apply the mixture to your hair, combing it through from root to tip.
Leave on for at least 1½ hours or overnight (if leaving on overnight, be sure to wrap your hair in a shower cap or something of the like).
Rinse with warm water, followed by a deep conditioner to restore moisture.
Steep ½ cup of chamomile tea in 2 cups of boiling water for 45 minutes to an hour before straining.
Allow to cool completely, then add to a spray bottle along with half a lemon and some honey.
Spray onto clean hair, massage throughout, then rinse with cold water after about two hours.
Consider this a natural take on the lemon juice hack you might have tried as a teen—it yields the same results (better, even!) without having to bake in the sun for hours on end. If Del Rey's newly highlighted locks have anything to say for it, it's that the age-old remedy actually carries some weight.