4 Things You Need To Know Today (August 2, 2018)
Contributing Wellness & Beauty Editor
By Lindsay Kellner
Contributing Wellness & Beauty Editor
Lindsay is a freelance writer and certified yoga instructor based in Brooklyn, NY. She holds a journalism and psychology degree from New York University. Kellner is the co-author of "The Spirit Almanac: A Modern Guide to Ancient Self Care," with mbg Sustainability Editor Emma Loewe.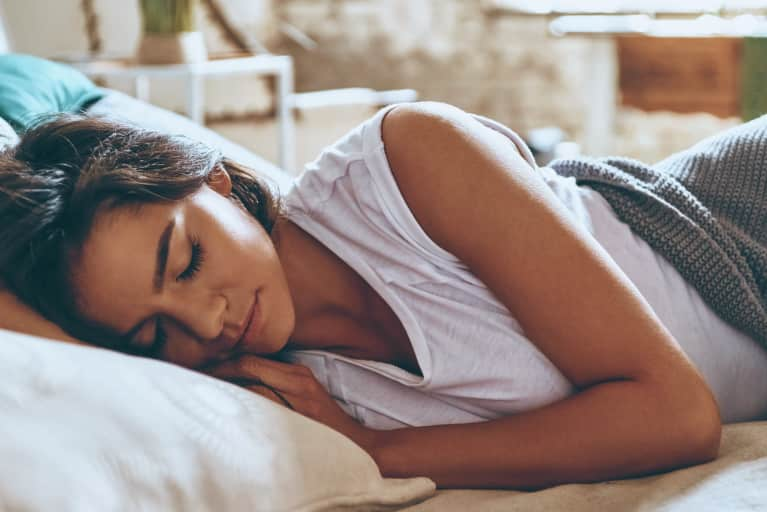 1. A new treatment therapy for insomnia shows it's all about how you think about sleep.
According to a new study published in the journal Behavior Change, mindfulness-based therapy is just as effective as cognitive therapy for treating insomnia. Cognitive behavioral therapy has long been an accepted treatment for insomnia, but the success of mindfulness therapy helps researchers better understand the underlying mechanisms for coping with insomnia. Both therapies help participants change their thought patterns toward sleep, which reduces anxiety and improves sleep quality. (PsyPost)
2. Would you eat meat that's been grown in a lab?
That's the question that Faunalytics and the Good Food Institute asked 1,200 Americans in a recent survey. The results were fascinating: Though many people polled weren't aware that lab-raised meat was a thing, 66 percent of them walked away saying that they'd try it—especially considering the benefits it could have on the environment.
3. Get ready to get ClassPass—no matter where you are.
The popular fitness class booking service has just raised an additional $85 million (for a total of $255 million) and released ClassPass Go, an audio fitness class that allows users to work out anywhere. "Audio workouts are one of the fastest growing categories in digital fitness given the convenience and flexibility," said Fritz Lanman, ClassPass's CEO. (Fast Company)
4. Taking a break from exercise can wreak havoc on your blood sugar.
Thankfully, it's most likely reversible. Recent research shows that even a short two-week break from exercise can have adverse effects on metabolism. Forty-five healthy adults were measured for certain health metrics before the study, after two weeks of being sedentary, and again after two weeks of resuming their habitual activity levels. Everyone in the study experienced a decrease in whole-body insulin sensitivity, an increase in body fat, and increased "bad" cholesterol after decreasing their activity levels, but almost all markers of health were restored after two weeks of normal activity. Phew! (mindbodygreen)