This New Serum Deodorant Can Fight Summer Sweat & Nourish Your Sensitive Skin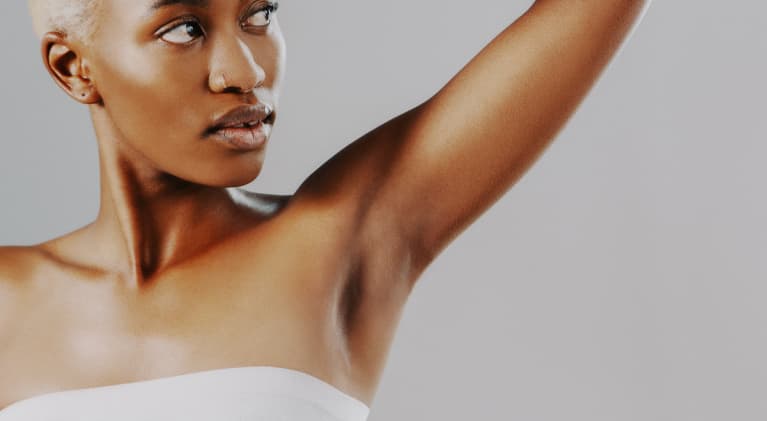 Our editors have independently chosen the products listed on this page. If you purchase something mentioned in this article, we may
earn a small commission
.
The natural deodorant category is one that garners quite a bit of heat. Sure, we recognize that aluminum-free is the way to go, but for some, a natural deo just doesn't cut it. For instance, you might find aluminum-free options are simply unable to pass the sweat test, leaving you, uh, stinky. And that rumored "detox period"? Shudder.
Good news: The natural deodorant game is leveling up, with a new iteration of the few pH-balancing options out there. Today, cult-favorite clean beauty brand Kosas just dropped their new Chemistry AHA Serum Deodorant, and it doesn't just limit odor and sweat—it also gently exfoliates and leaves your skin even-toned and free of painful bumps and ingrowns. Hear-hear!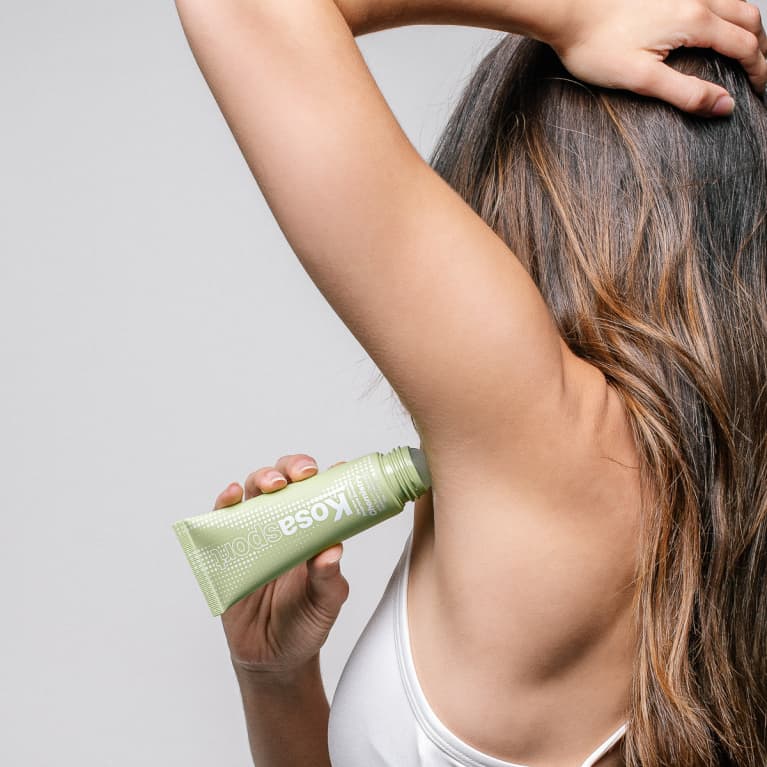 How does this new serum deodorant work? 
Many beauty enthusiasts, insiders, and experts alike are familiar with alpha-hydroxy acids in skin care (in case you're not, read all about 'em here). And if you scour enough Reddit threads, you'll find that many people find success using them on their pits.
It makes total sense that the chemical exfoliant is fit for a perfect deodorant; after all, traditional deos typically fall on the acidic side, so they lower your skin's pH level and make it too acidic for odor-causing bacteria to thrive. That's exactly what this AHA blend is doing here, along with an exfoliating punch: With shikimic acid, mandelic acid, and lactic acid (a fan favorite here at mbg), it also works to slough off dead skin cells and leave your pits smooth and bump-free, while you're at it. And thus, the serum deodorant was born.
Like most serums, it has a super-thin consistency, meaning it dries quite quickly on the skin. Think of a cooling roll-on deodorant, only it doesn't leave you with that sticky feeling post-swipe. Just shake, roll, and you're golden.
And for sensitive skin, it's even better.
For those with sensitive armpit skin, the hunt for a natural deo is a particularly frustrating journey. That's because many options use baking soda, which has a basic pH (your armpits already have a slightly acidic pH, so combining the two can cause irritation). A serum deodorant may be just what those sensitive-skinned folks need; if you find an AHA gentle enough for your face, chances are it'll be just as fit for your armpit skin. Plus, the Kosas number is populated with other soothing ingredients, like aloe vera juice for its anti-inflammatory properties, hyaluronic acid for hydration, and peptides to firm and condition the skin.
You can snag it today for $15 on the brand's website, as well as at clean beauty retailer Credo. Heads up: Until July 13, Kosas is also donating $5 from every purchase to the Loveland Foundation, a nonprofit founded by activist Rachel Cargle, committed to bringing "opportunity and healing to communities of color, especially to Black women and girls."
So let's add "serum" to the growing list of creative deodorant options (herbal tonic sprays, charcoal pastes, and crystals, to name a few). Needless to say, natural deodorant has once again stepped up its game.
Want to turn your passion for wellbeing into a fulfilling career? Become a Certified Health Coach! Learn more here.