This New Probiotic Skin Care Brand Is The First To Use Ocean Waste Plastic
mbg Editorial Assistant
By Jamie Schneider
mbg Editorial Assistant
Jamie Schneider is the Editorial Assistant at mindbodygreen with a B.A. in Organizational Studies and English from the University of Michigan. She's previously written for Coveteur, The Chill Times, and Wyld Skincare.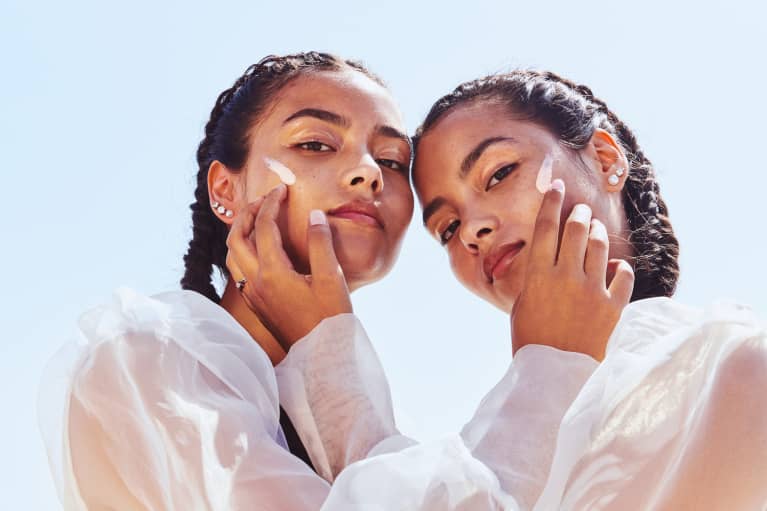 Our editors have independently chosen the products listed on this page. If you purchase something mentioned in this article, we may
earn a small commission
.
November 13, 2019 — 22:45 PM
When it comes to clean beauty, minimalist ingredients and sustainable sourcing are quickly becoming an iconic duo. So when we came across Kinship, a probiotic skin care line with packaging made from ocean waste plastic, it's safe to say we were pretty excited. It's a beauty win for two of the most beloved topics here at mbg: sustainability and the microbiome.
With a minimal, easy-to-read ingredient list (free of sulfates, silicones, parabens, and more of the 1,300 ingredients banned by the European Union), the brand's formulas still pack a punch. At the core of the products is Kinbiome technology: a formula derived from a plant-based prebiotic (called lactobacillus) that balances the skin microbiome and supports a strong natural skin barrier. As we know, the skin microbiome is the key to healthy-looking skin. Similar to the gut, keeping our skin microbiome diverse is crucial for optimal health and the vibrant, glowy look we all yearn for.
"It increases the good bacteria and reinforces your skin's natural defense system so that your skin barrier is stronger," co-founder and CEO Christin Powell tells mbg. "We're the first to launch with this technology in a way that targets acne in a bioavailable way, not in an aggressive way like benzoyl peroxide, as the skin develops resistance to that over time."
That said, Powell notes their prebiotic base formula has the potential to minimize skin sensitivities, calm irritation (goodbye itchy, eczema-prone skin), and even help balance oil levels.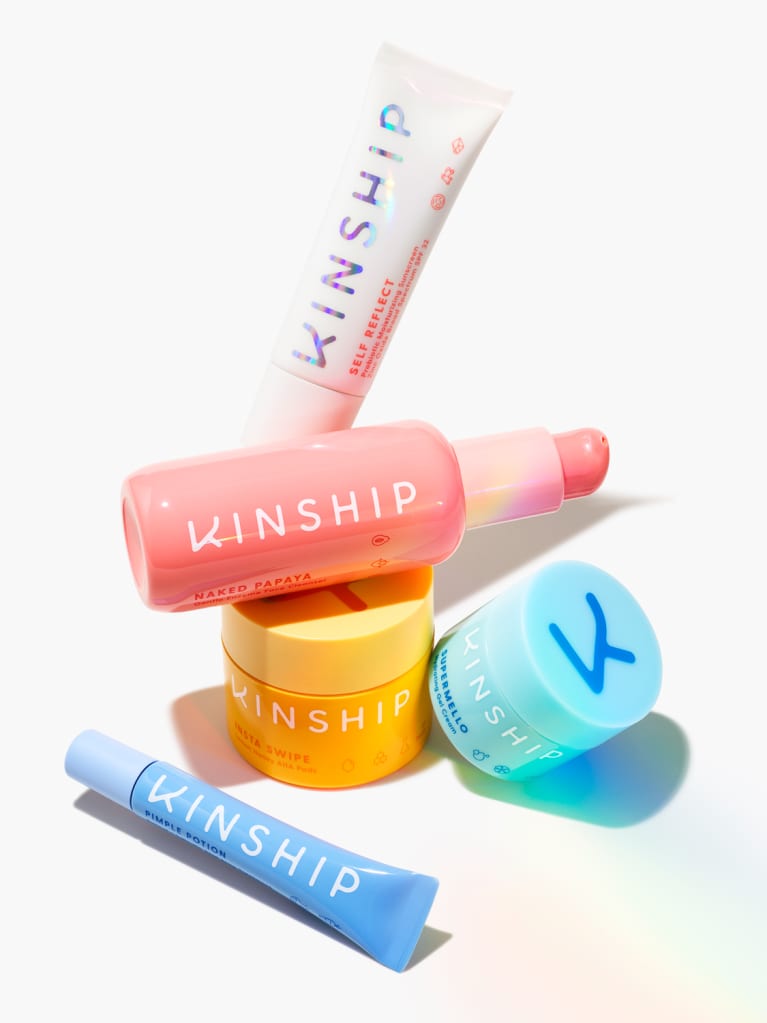 The brand launched today with five essential products—an enzyme face cleanser, lemon honey AHA pads, a gel cream moisturizer, retinol and salicylic acid spot treatment, and a reef-safe sunscreen—all in bright-colored hues. At first glance, you might regard it as just another direct-to-consumer beauty brand with minimalist packaging and a Gen-Z target market—but Kinship is way more than what you see on the surface, quite literally. The brand is actually the first in the natural skin care industry to launch products packaged in ocean waste plastic (OWP), and not just in a one-off campaign.
How do they turn ocean plastic into bottles?
They collect these ocean plastics from a network of local fishermen around the Java Sea, Bali, and the Mahanadi and Mithi rivers in India, and convert them into new raw materials. The result is the beautiful pastel packaging you can see on Kinship's website.
While Kinship's jars are only 50% OWP as of now, the products are 100% post-consumer recycled plastic (that's any recycled waste that was created by people). Even with this 50%, the launch has already eliminated 1.5 tons of plastic from our oceans—talk about making an ecological impact.
The brand also adds an interactive feature for consumers—you can scan the QR code on each jar with your phone, and it'll tell you the exact coordinates where the plastic was sourced from.
"We wanted to take it a step further from just using OWP—we also wanted to be able to tell a powerful story," Kinship co-founder and president Alison Haljun tells mbg.
In case you needed any more evidence of Kinship's forward-thinking design, the brand also prioritizes genderless skin care—a trend they recognize as the future of the beauty industry. Take one glimpse of the website, and you'll see individuals of all genders gracing the pages of the campaign, their Kinship products proudly in hand.
"We both have sons, and they both are going to have acne," Powell says. "We thought, 'Why not develop products that speak to everyone?' We go through the same hormonal changes, and we all have the same bacteria."
Perhaps my favorite part of this new launch is that Kinship reinforces this new wave of beauty where we don't have to sacrifice luxury or efficacy for sustainability—investing in eco-friendly brands is not only great for our planet but can give us great (and sometimes even better) results for our skin.
With gentle formulas, buttery textures, and a killer mission statement, the brand is truly recognizing what it means to be a conscious beauty consumer in this day and age: demanding policy change and getting behind brands that positively affect the world—with hydrated, glowing skin to boot. We're certainly here for it.