Everything You Need To Know To Have A Keto-Friendly Thanksgiving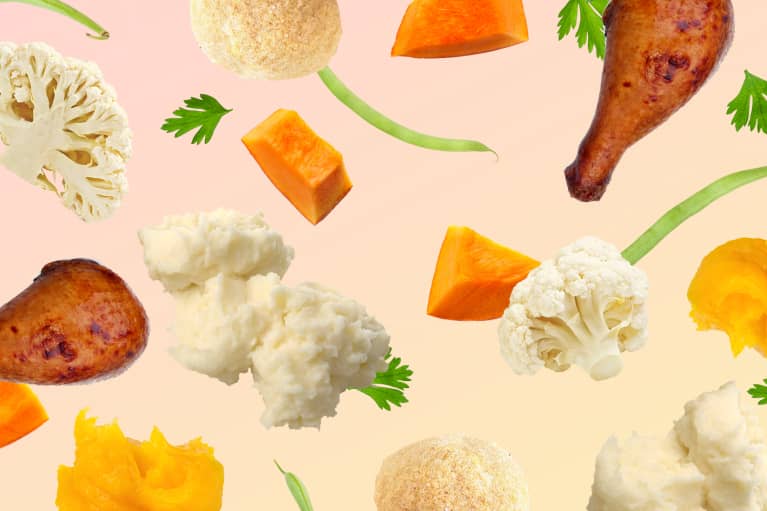 Arguably no other holiday holds a candle to Thanksgiving when it comes to being all about food.
All. The. Food.
On this day, meals become the center piece, offering a starting point for family and friends to gather around and reflect on everything to be thankful about from the past year.
As a functional medicine practitioner, people often ask me how to enjoy the holidays in a way that their body will also be thankful for. And by that they mean, won't leave them feeling bloated and inflamed afterwards. For those people that are tapping into the the benefits of a clean ketogenic diet (i.e. high fat, moderate protein, low carbohydrate, with a focus on quality whole-food ingredients). Fear not. My day job is making healthy stuff not only realistic but delicious.
How to have a keto-friendly Thanksgiving
Ultimately, you can modify or find a substitution for almost any food to make it keto-friendly (i.e higher in healthy fats, low in carbs and sugar). But with how much cooking Thanksgiving already involves and how many dishes there are to choose from, sometimes you want a clear-cut guide to what you can eat with either little modification or none.
Here's your go-to guide for the ultimate keto Thanksgiving.
Thanksgiving foods that are already keto-friendly
Turkey
Even though turkey is typically considered a lean meat, what it lacks in fat content it also lacks in carbohydrates. So, you don't have to skip out or modify this Thanksgiving staple. Of course, opt for organic and ethically raised whenever possible.
Roasted non-starchy vegetables
Whether you love Brussels sprouts, cauliflower, or something else, this side-dish is another option that you don't have to modify. Also, if you roast them with avocado or coconut oil you're getting in additional healthy fats. Try these bacon Brussels sprouts for a delicious take on the classic side dish.
Thanksgiving foods that you can make keto-friendly
Mashed potatoes
Yes, potatoes are carb-heavy and not keto-friendly. But cauliflower is. And if you haven't already noticed, cauliflower is enjoying its time in the spotlight as the star substitute for everything from pizza crust to rice. It even makes delicious "mashed potatoes" and takes no more time to prepare than traditional mashed potatoes. Sneak in some ghee, butter, or avocado oil for additional creaminess and fat content. If cauliflower can be all these things, you can do anything!
Gravy
Traditionally, gravy is made by mixing the pan drippings from the turkey with seasonings and flour, a keto nightmare of sorts. But a simple swap from wheat flour to arrowroot flour or xantham gum and you have a low-carb gravy to enjoy alongside your mashed cauliflower.
Cranberry sauce
When you choose a sweetener like stevia or monk fruit you can make this traditional side to pair with any of the above dishes in moderation.
Sweet potato casserole
Again, swapping out conventional sugar for monk fruit or stevia can help keto-fy this favorite. Just replace the standard flour-based topping for chopped nuts, like walnuts, to make this dish lower-carb.
Rolls
You can make keto alternatives to these bread-based Thanksgiving staples using low-carb and grain-free baking ingredients like almond flour, psyllium husk and golden flaxseed meal. I prefer to keep it simple in the keto bread department and purchase all ready finished rolls or already prepared easy-to-do keto bread mixes.
Stuffing
Making stuffing keto-compliant is a little more time intensive but it totally doable. It involves making some of the keto bread options above and allowing them to dry it out to use as the base of your stuffing mix.
Keto-friendly Thanksgiving dessert
Dessert is one of the easiest things to modify. With various options for sweeteners you can still have a pumpkin filled dessert that is also high-fat when you choose the right ingredients. My favorite Thanksgiving Day treat options are pumpkin spice fat bombs that help curb my sweet tooth and keep me both satisfied and away from the high-carb snacks before dinner. Then, crustless pumpkin pie is the perfect end to the meal without the need for a carb-loaded crust. To make them, check out the recipes here.
Still craving all the Thanksgiving carbs?
Can't say no to Thanksgiving favorites? Not to worry, there is a way to eat that carb-filled traditional stuffing and stay keto: Cyclic Keto Thanksgiving. Consider implementing a variation of a cyclical ketogenic diet (which I do), where you can moderate your carbs on Thanksgiving. Focus on clean carbs and go back into a lower carb keto day the next day.
Remember to give yourself grace on Thanksgiving Day (and every day for that matter). Be in a state of gratitude for your body and all that you have in this life. Stressing about macros and eating healthy is antithetical to sustainable wellness. Enjoy these clean keto foods, relax, and enjoy the day.