You'll Never Guess What Gadget This Nutritionist Packs To Stay Healthy On The Road
Our editors have independently chosen the products listed on this page. If you purchase something mentioned in this article, we may
earn a small commission
.
In our new Suitcase Lookbook series, we'll ask wellness leaders to open their travel bags and reveal the essentials that keep them grounded, energized, and glowing on all their adventures. Today we're chatting with holistic nutritionist to the stars Kelly LeVeque to get her healthy must-packs.
Between a business that caters to celebrities like Jessica Alba and Molly Sims and a brand-new book, it's safe to say Kelly LeVeque is busier than ever. The holistic nutritionist's science-backed food philosophy is sending her around the globe for meetings, book events, and special projects (like the super-exciting one she's working on with mbg—stay tuned!).
Kelly is a pro at keeping her own routine steady through all that travel, and she makes healthy eating on the road look easy. Here, Kelly shares the suitcase staples keeping her smiling, energized, and downright magnetic through life's more frenzied moments.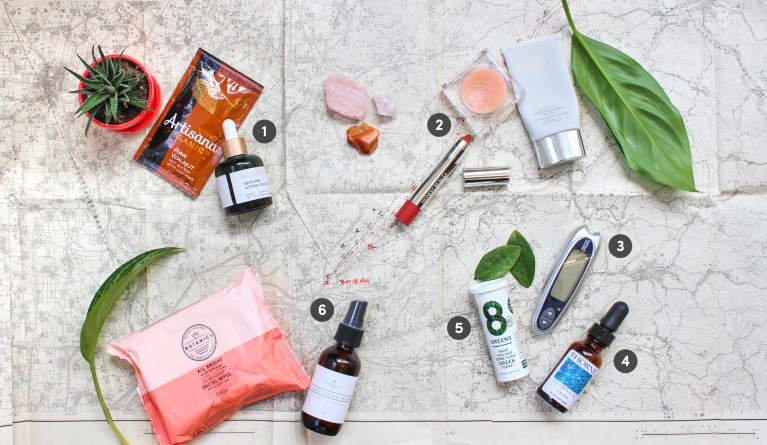 1. Plenty of portable snacks
2. Fresh, minimalist beauty products
Kelly's beauty routine on the road is intentionally minimalist, and she sticks to the basics: Primally Pure's Rose + Mint complexion mist and Botanics hibiscus facial wipes for freshening the skin, Honest Beauty makeup for a bit of color, and Biossance rose oil for scent. She loves playing around with essential oils to craft a portable, personalized aromatherapy.
Though she's not a diabetic, Kelly uses a glucometer every morning to measure her blood sugar. She'll also monitor it throughout the day, especially after a big meal. Her food philosophy is all about keeping these levels steady so you can go a few hours between meals to promote healthy hormone production.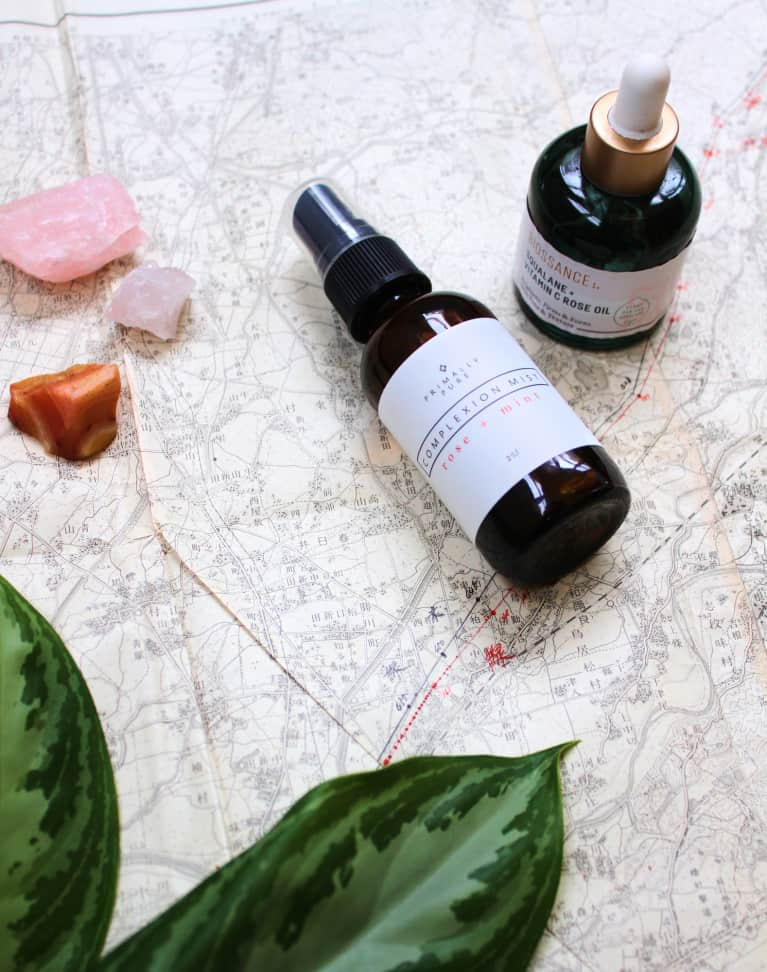 5. A caffeine alternative
Kelly adjusts her afternoon pick-me-up based on her mood and energy levels, so she'll keep a few different vitamin packets on hand that she can combine with water come 3 p.m. Oxylent 5-in-1 multivitamin packs and 8Greens dietary supplements (which are packed with as many vitamins as 15 cups of broccoli) are her current obsessions.
6. A breath freshener (that isn't gum)
Kelly doesn't chew gum, instead opting for a more natural breath-refresh mint spray.
Next up? Check out jet-setting yogi Caley Alyssa's high-vibe packing list.
And do you want to turn your passion for wellbeing into a fulfilling career? Become a Certified Health Coach! Learn more here.