You'll Want To Steal Kate Hudson's Favorite Healthy Holiday Dessert
Contributing Food Editor
By Liz Moody
Contributing Food Editor
Liz Moody is a food editor, recipe developer and green smoothie enthusiast. She received her creative writing and psychology degree from The University of California, Berkeley. Moody is the author of two cookbooks: Healthier Together and Glow Pops and the host of the Healthier Together podcast.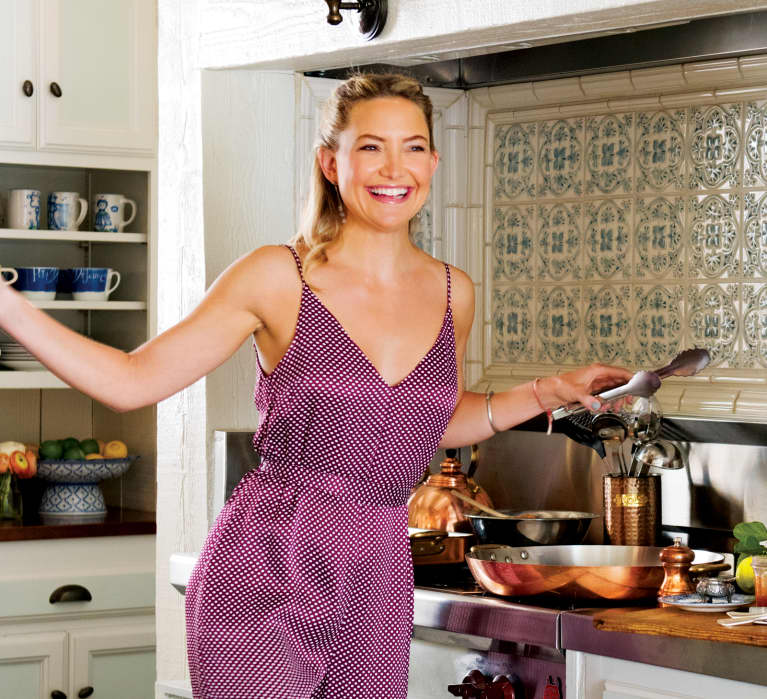 Our editors have independently chosen the products listed on this page. If you purchase something mentioned in this article, we may
earn a small commission
.
To say Kate Hudson is into celebrating is an extreme understatement. The actress, author, and businesswoman (she's the co-founder of apparel line Fabletics) seems to move through life as if each moment were an occasion to party, and in her new book, Pretty Fun: Creating and Celebrating a Lifetime of Tradition, she shares her festive ways. Kate's philosophy on partying is, interestingly, grounded in ayurvedic medicine. "(It) teaches that true wellness is achieved only when you treat the whole person," she explains. "I'm a firm believer that even if I'm honoring my body with the most healthful foods and exercise and being super-disciplined with meditation and breathwork, I won't feel even-keeled unless I'm also taking care of my spirit... Taking care of (the people I love), and creating a space to have a good time is how I feel nourished."
These Gluten-Free Baked Mini-Churros With Dairy-Free Dulce de Leche prove that you can take care of your body and soul simultaneously. Whip up a batch, invite your friends over, and let the pretty fun times commence!
Gluten-Free Baked Mini-Churros With Dairy-Free Dulce de Leche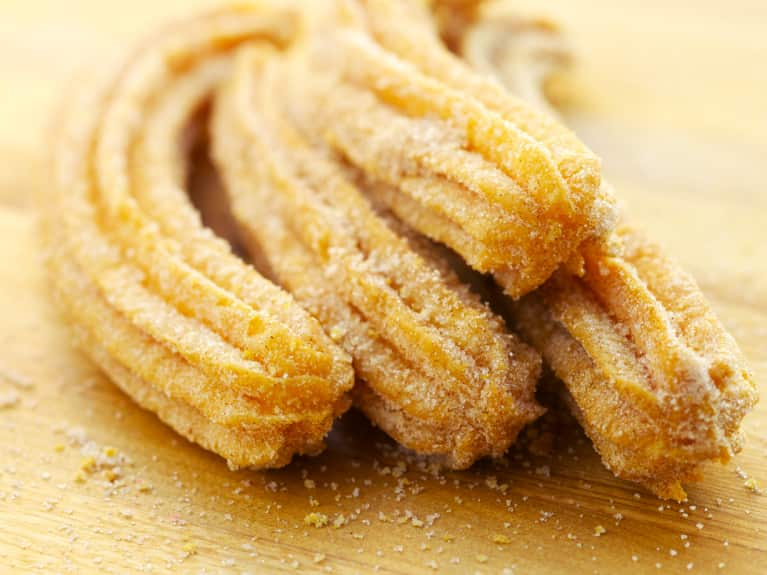 These mini-churros are about as healthy as you can possibly get with a dessert that's usually fried—and still totally delicious (and adorably festive), complete with a dulce de leche dipping sauce that's unbelievably rich yet free of dairy and processed sugar.
Makes about 20 mini Churros
Ingredients
2 large eggs
1 tablespoon plus 1 teaspoon ground cinnamon
1 teaspoon vanilla extract
2 tablespoons brown rice syrup
½ teaspoon salt
⅓ cup unsalted butter
2½ cups Bob's Red Mill paleo baking flour
¼ cup ground flaxseeds
¼ cup coconut sugar
Preheat the oven to 400°F. Cover 2 baking sheets with parchment paper or silicone baking pads and set aside.
In a medium bowl, whisk the eggs with 1 tablespoon of the cinnamon and the vanilla. Set aside.
In a medium saucepan, stir together the brown rice syrup and salt with 1 cup water.
Add the butter and raise the temperature to medium-high heat.
Heat until the butter is melted and the mixture starts to boil.
Remove the pan from the heat and add the flour, and flaxseeds, stirring with a wooden spoon to break up any clumps. The mixture will start to take on a doughy consistency and pull away from the sides of the pan.
Stir in the egg mixture until fully incorporated.
Transfer the dough to a piping bag fitted with a 1-inch star tip or a large Ziploc bag with the corner snipped with a 1-inch opening.
Pipe the dough into 3-inch pieces on the prepared baking pans. Leave about 2 inches between the churros.
Bake for 10 to 12 minutes, rotating halfway through, until the churros are cooked through and golden brown. Remove from the oven and let cool slightly before transferring to a wire cooling rack.
On a plate or in a shallow bowl, combine the coconut sugar and remaining 1 teaspoon of cinnamon. Roll the churros in the cinnamon-sugar coating and serve immediately.
Dairy-Free Dulce de Leche
Makes about 1½ cups
Ingredients
1 cup packed pitted medjool dates, soaked in warm water for 15 minutes
¼ cup plus 1 tablespoon warm water
¼ cup brown rice syrup
1 teaspoon vanilla extract
½ teaspoon fleur de sel
Combine all the ingredients in a blender and blend until smooth. Adjust the consistency with water as desired.
Store at room temperature for 2 to 3 days or in the fridge for 2 to 3 weeks. The mixture will solidify when it gets cold, so leave it at room temperature for a couple of hours before serving or gently warm it in a pan.