Your Weekly Horoscope Is Here: What's In The Stars For You?
mbg Contributors
By The AstroTwins
mbg Contributors
Ophira and Tali Edut, known as the AstroTwins, are professional astrologers based out of New York and Seattle. Their work has been featured in The New York Times, Elle Magazine, Vogue and Good Morning America and they are the authors AstroStyle, Love Zodiac, Shoestrology, and Momstrology.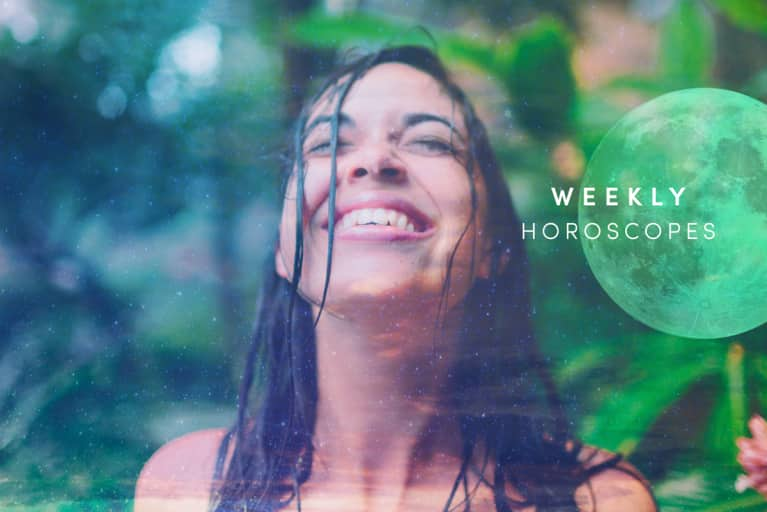 And now for something a little more sensual… This Tuesday, June 6, amorous Venus breaks ground in tender, tactile Taurus. Since February 3, the cosmic love goddess has been gliding in and out of fiery, frisky, and fickle Aries—an extra-long cycle that included a retrograde from March 4 to April 15. Romantic developments came in fits and starts since early 2017. Like pulling petals off a daisy, we've all been a little "I love you, I love you not" since February. But that all changes this week as Venus settles into steady earth sign Taurus until July 4.
The sign of the bull is Venus' home turf (as is Libra) and her powers can be quite potent here.
What seemed boring last week could now feel quite heartwarming. After months of shameless sexting, old-fashioned courtship rituals may suddenly be en vogue. (Is that an actual love letter you just got in the mail?!) A higher premium is placed on comfortable, consistent companionship than the adrenaline rush of a "here today, gone tomorrow, back again next week" affair.
Sure, a physical attraction is always going to be essential, as are common interests. But when it comes to socializing, Venus in Taurus underscores the importance of surrounding ourselves with people who share our values. Tighten up the purse strings, too, because this discerningly indulgent Venus phase helps us scrutinize our spending. If we're going to insert a chip card into a reader, it better be for something in the "practical luxury" category. Instead of splurging on summer trends (those drop-crotch pants cost HOW much?) save up for investment pieces—handcrafted, high-quality, and with a lifetime guarantee.
Messenger Mercury is also celebrating a homecoming this week.
From Tuesday until June 21, he'll buzz through Gemini, one of the two signs he rules. (The other is analytical Virgo.) This curiosity-inducing cycle draws us out of our cocoons. Flutter around and find those kindred spirits and playmates who share common interests. This is the perfect time for pairing up on projects or finding a go-to buddy for festivals, beach trips, and dancing under the stars. But don't sleep on the local action!
Mercury in Gemini heats up happenings close to home. Gemini rules the hands and the DIY-doyens and makers will truly enjoy this tactile phase. Writers, teachers, and media makers also have a golden two weeks—sharing information and ideas is a Mercury-in-Gemini specialty. Unfortunately, this quicksilver energy won't give us the longest attention spans. Our interests could change daily—hourly even—so committing to our craft may take some extra discipline.
Another push toward partnership comes this Friday, June 9, as worldly Jupiter in Libra rouses from a retrograde that began on February 6.
Have your important relationships hit a speed bump, stalling or even sputtering out? If those engines are worth restarting, optimistic Jupiter arrives with a pair of planetary jumper cables. Perhaps all that's needed is a better sense of give and take. Jupiter's about-face in Libra—the sign of balance—can help you speak honestly about your needs and long-range goals. But don't forget: Your mate is also your mirror. What irritates you about other people may be a quality you need to tune up within yourself. If it seems like no one is taking care of you, for example, don't point fingers; deploy deep self-care with massages, beach time, and sessions with supportive mentors. Inner harmony attracts peaceful, prosperous relationships outside of ourselves.
Jupiter's pivot could also bring justice on the world stage, even forcing certain pacts and peace treaties to be signed. The fight for equality has certainly ramped up since outspoken Jupiter entered Libra last September 9. We have four more months to see this energy play out, so keep the picket signs handy and peace in your heart while the "great benefic" rides this wave until October 10.
But wait…there's more! Friday also features a full moon in outspoken, adventurous Sagittarius—the sign, coincidentally, that is ruled by Jupiter.
Like an echo of the red-spotted planet's pivot out of retrograde, these moonbeams may illuminate some major truths that have been hidden from the world. There could be some jaw-dropping headlines near the weekend—yes, again. On a personal note, this full moon brings a potent reminder that honesty is the best policy. Confessing is always better than having someone else expose your story.
Ready to see more of the wide world? Sagittarius is the zodiac's global nomad and this full moon might be the cue we all need to break out our passports and go visit some unexplored terrain. No matter our coordinates, multicultural connections will get a powerful boost from this full moon. Time to work together and cross those invisible lines!
Want more insights on how to level up your life? Check out your June Horoscope, then try these three steps to getting out of your own way and finally getting what you want.