Your Weekly Horoscope Is Here: What's In The Stars For You?
mbg Contributors
By The AstroTwins
mbg Contributors
Ophira and Tali Edut, known as the AstroTwins, are professional astrologers based out of New York and Seattle. Their work has been featured in The New York Times, Elle Magazine, Vogue and Good Morning America and they are the authors AstroStyle, Love Zodiac, Shoestrology, and Momstrology.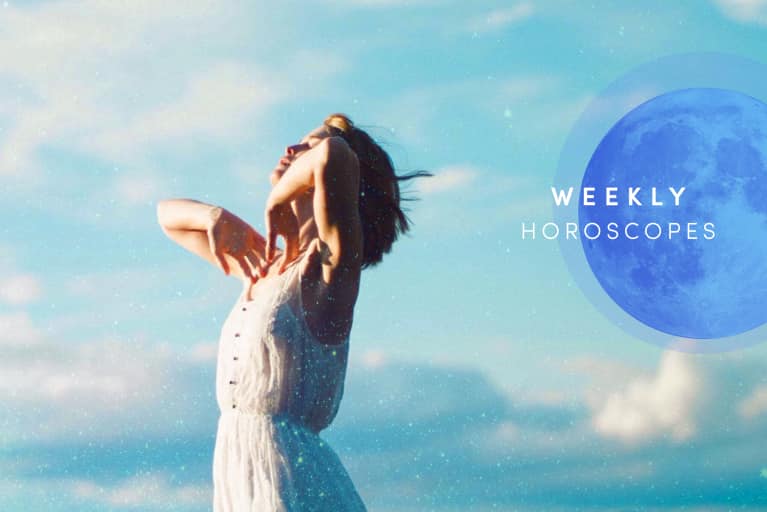 Our editors have independently chosen the products listed on this page. If you purchase something mentioned in this article, we may
earn a small commission
.
Say it again...with feeling! All week long, mouthy Mercury will get a nudge from assertive Mars as the two planets row together through Cancer's sensitive waters. The current will be strong on the emotion ocean, for better or for worse.
On the one hand, we may have heartwarming realizations about how much we adore certain people.
When the warm-fuzzies strike, go ahead and gush. "Words of affirmation" can be a hella strong love language under these skies. (A nod to Gary Chapman's The Five Love Languages here.) True friendships could emerge under the pressure of intense circumstances—and it will feel great to know who has our backs. We may be motivated to get in touch with old friends or to make a plan with family who we haven't seen in a while. Mars loves when we take initiative, and variety is the spice of frenetic Mercury's life.
But both planets can get a little impatient with mapping out the finer points and details. Careful not to double book or make a promise to visit that you'll have to cancel. If you're going to organize any hangouts, keep them simple. A potluck pool party or day at the beach could be the jam! Just set a time and meeting spot and let everyone take it from there.
Warning: We could also be surprised by the intensity of our own reactions, especially if we've been trying to keep certain irritations disguised behind the veil of diplomacy or professionalism.
Good luck with that. Niceties won't make the cut as Mars forces Mercury to keep it real. Thankfully, you can do some damage control. If the dynamics are off in a particular connection, sit down to discuss on Monday when soul-searcher Neptune will form a flowing trine to forthright Mars, helping us express ourselves compassionately and with grace. Tuesday and Wednesday, however, should be off-limits for touchy topics. Big-mouthed Jupiter will clash with Mercury on Tuesday with feisty Mars joining their cosmic confab the next day, pushing buried anger to the surface.
And on Sunday, volcanic Pluto will oppose Mars—a biennial dust-up that can make everyone quite combative.
Like a tsunami, the rush of resentment could do some serious damage. But hey, those feelings do need to come out. Pro tip: Process them with proper support. Book a therapy session or plan a dinner with a wise mentor, nurturing friend or an older relative. A little mood management can go a long way. Hit the gym or yoga studio, say no to stressful activities and steer clear of agitating people and stimulants like sugar and caffeine.
On a global level, Sunday's Mars-Pluto opposition can force secrets and scandals to the surface. Power struggles may erupt and battle lines could be drawn. This might be a moment where the best defense is a strong offense—or solidly self-protective measures. Trust your vibes. If your intuition (Pluto) senses an agitated environment (Mars), turn and walk in the opposite direction. There's no need to fuel that fire! Make a conscious decision to stand on the side of peace. As the saying goes—as within, so without.
Want more astrological insight? Check out your June horoscope, then learn what your moon sign is (and what it says about you).